9:53 pm - 12/08/2012
2012: Something for everyone? [Year In Review, Part 1]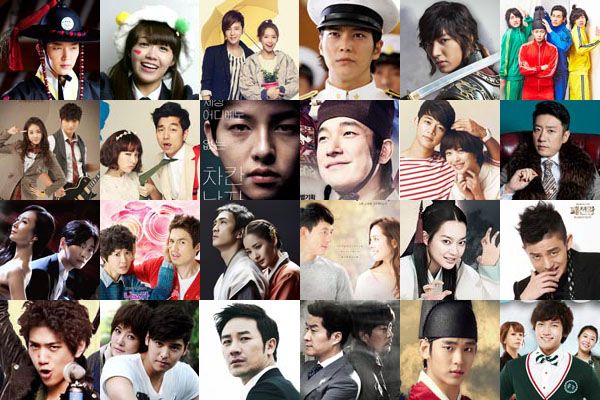 Review extravaganza time!
I know: Already? It feels like just the other day I was killing myself to corral all my thoughts in coherent fashion in a monster review of 2011′s dramas, and already it's time to lose sleep wrangling my thoughts together for 2012. Time sure flies when you're having fun, or old. Guess which one I am?
These days I shy away from blanket statements like "This was an awesome year" or "This was a terrible year." Dramaland has been putting out so much material that all the nuance gets sucked out of a flattening statement like that. If anything, 2012 was the year it overflowed with variety—so yes, there were terrible shows, and there were awesome shows, and there were shows every step in between. But thanks to the explosion of cable programming—aided by the launching of not one, not two, but four new cable stations boasting big drama lineups—there was just about something for everyone.
I'll start with the non-drama series, since they're a different format than our standard prime-time miniseries. It seems apt to talk about them together, to compare apples to apples. As with all years, I add the caveat that not all the year's dramas are talked about in this post, but future reviews in our year-end series will do a pretty good job covering the spread.

THE SITCOM

(
Vampire Idol
Collapse
)
(
You're Here, You're Here, You're Really Here
Collapse
)
(
Standby
Collapse
)
MINI-DRAMA

(
Ma Boy
Collapse
)
THE DRAMAS
(
Color of Woman
Collapse
)
(
History of the Salaryman
Collapse
)
(
The Moon That Embraces the Sun
Collapse
)
(
Dream High 2
Collapse
)
(
Shut Up: Flower Boy Band
Collapse
)
(
Rooftop Prince
Collapse
)
(
Queen In-hyun's Man
Collapse
)
(
Dr. Jin
Collapse
)
(
Gaksital
Collapse
)
(
I Do, I Do
Collapse
)
(
Big
Collapse
)
(
Arang and the Magistrate
Collapse
)
(
Answer Me, 1997
Collapse
)
(
Faith
Collapse
)
(
Vampire Prosecutor 2
Collapse
)
(
Nice Guy
Collapse
)
(
Oohlala Spouses
Collapse
)
STILL IN PROGRESS…
I'm setting these dramas off in their own section, because as of this writing they're all still airing. But some are already near the halfway mark and next year's a long way off, so I'll touch on them briefly here.
(
I Miss You
Collapse
)
(
King of Dramas
Collapse
)
(
Jeon Woo-chi
Collapse
)
(
School 2013
Collapse
)
Source: Dramabeans
What did you think of dramaland this year?
Old school dramas were the best anyway
My favourite by far this year (and one of my favourite period) was Arang. What about you guys?