11:51 pm - 03/23/2013
GD Confirms He likes 'em Flexible, Min is somehow here + Articles from 'Thank You' Special
For those off the social networking grid, G-dragon updated his Instagram and Twitter with photos featuring the Canadian singer, DJ, and music video director Grimes last night, which caused several stans to flip their shit... before they found out who she was, that is. (Plus the fact that TROLL!GD instagrammed a photo with "Very Rare Love" before those...but I'm sure that had something to do with the fashion show).
The block image is a kissy smiley face ;*
From G-Dragon's Twitter:
From Artist/DJ Grimes' Twitter Update:
Bonus:
From GD's Instagram, feat.
the swagdope original rump shakin wanksta /end sarcasm
Min from Miss A. From Min's Instagram:
GD's sweet, supportive tweet to the wonderful Daesung:
Translated by: ygfamilyy@tumblr
G-Dragon reveals he finds ballerinas to be attractive on 'Thank You'
Fans would assume that G-Dragon hates ballet after previously recalling his negative memories of wearing pink tights. But not only does G-Dragon want to have his future daughter learn ballet, he also finds ballerinas to be very attractive!
While filming for the upcoming episode of 'Thank You' G-Dragon shared, "During my school days, I attended a performing arts middle and high school. The female students who majored in dancing and ballet looked pretty in my eyes" Ballerina Kang Soo Jin happened to sit next to him during the interview and she smiled after G-Dragon's statement.
G-Dragon also revealed his wish for ballet to run in his future family, "I want to have a daughter, and if I were to have a daughter, I would like it if she learned ballet." Cha In Pyo responded, "Does this mean you're going to marry a ballerina later on?"
Source: AKP
G-Dragon might possibly retire one day?
G-Dragon shocked VIPs all over the world by revealing his plans to possibly retire from his career as an idol artist on 'Thank You'.
G-Dragon shared, "I am experiencing a big blessing right now, but I don't think that I'll be doing the same thing forever."
"When I see myself not being handsome [on stage] and unable to share good music anymore, I will leave the stage. I perform on stage to give a good energy. But if I become in a position when I can't give good energy, I will leave the stage with no regrets."
"Probably around that time, I will have a happy family. I will get to share stories about how I met my wife and so forth, and I want to have those kind of stories to tell soon."
Source: AKP
G-Dragon Says His Love Confessions Were Rejected in the Past
Though it may seem G-Dragon would have been popular all his life, the singer said himself that his confessions of love were often turned down in the past.
The singer spoke up on the March 22 broadcast of SBS′ Thank You, revealing "I was often turned down after a confession when I was little. I don′t know why," he said.
Ballerina Kang Su Jin replied with a big smile, "I bet they′re really regretting it now."
When asked by Cha In Pyo on whether he prefers women who are older or younger than him, G-Dragon also answered, "I don′t care about her age. Age is just a number."
Source: eNewsworld
G-Dragon Says Yang Hyun Suk Once Called Him the Source of Evil
G-Dragon confessed that YG′s Yang Hyun Suk said some harsh things to him in the past.
The singer appeared on the March 22 broadcast of SBS "Thank You" with ballerina Kang Su Jin, comedienne Kim Mi Hwa and actor Cha In Pyo.
G-Dragon said on the show that Yang Hyun Suk was "the man who made me," and added, "Now, he′s softened up, but even three years ago he never really smiled much."
He picked the worst comment he had heard from Yang Hyun Suk to be "You′re the source of evil for our company and Big Bang."
G-Dragon emphasized, however, that Yang Hyun Suk said such things with the idol star′s best interest in mind, saying that he was trying to train G-Dragon to prepare him for the outside world.
G-Dragon then joked that thanks to Yang Hyun Suk, he never got really hurt when people shot him down for his looks.
He finished by calling Yang Hyun Suk a "great partner."
Source: eNewsworld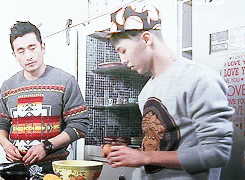 Anyone know more of Grimes' visit? My guess is that she (helped) direct his new music video. And does Min know where Compton is? And still waiting on subbed videos of his 'TY' episode, though unsubbed video is released, can be found in sources.
Sources:
Min's Instagram
,
Big Bang Updates 1
&
Big Bang Updates 2
,
Grimes' Twitter
,
G-Dragon's Instagram
,
G-dragon's Twitter