JYJ-SM Come To An Agreement: SM "It Was For The Best", JYJ "A Battle That Had Already Been Won"

The legal dispute between SM Entertainment and JYJ (Kim Junsu, Kim Jaejoong, Park Yoochun) has finally come to an end through an agreement after three years and four months.

According to judicial circles, SM Entertainment and the three members of JYJ came to an agreement on the 28th to settle the termination date of any and all contracts between the two parties as the 31st of July, 2009, the date that JYJ filed their injunction of nullification. Also, it has been found that they have decided to drop all related lawsuits and have signed an agreement stating that they will not interfere with any activities that the other party pursues.

SM Entertainment said, "The trio stated that they have no intention of performing as members of the group 'TVXQ', so SM has come to the decision that we no longer have a reason to be in charge of management for the trio. We have come to a mutual agreement to not interfere with the other party's activities as our paths will not cross in the future, and the lawsuit has come to an end through this agreement. Also, we have come to the decision that the best course of action was to end this lawsuit to ensure that there will be no more additional damages or unnecessary issues that arise because of the lawsuit that may harm U-Know Yunho and Choikang Changmin, who are currently active as 'TVXQ'."

CEO Baek Chang Joo of C-JeS Entertainment stated, "We believed that this was a battle that had already been won three years ago when the courts accepted our injunction. To be honest, we don't believe that there will be much change to JYJ's activities after the verdict because the interference of JYJ's activities isn't a legal issue, but a battle between David and Goliath." He also added, "We are currently walking down a path that only JYJ could take, and we will continue to pursue our own activities, as planned," and "We hope that the success of this agreement will rectify the various limitations placed upon JYJ that used the lawsuit as an excuse, and we would like to once more sincerely thank the domestic and international fans who have given JYJ their unwavering support from the start."

Source: [Nate News] | Translated & Shared by: dongbangdata.net


JYJ Finishes legal dispute with SM – "Won't disturb each other's activities"

The group JYJ (Jaejoong Kim, Yuchun Park and Junsu Kim) has got free from SM Entertainment.

The dispute between SM Entertainment and JYJ has been completed based on mutual agreement , 3 years and 4 months later since it started.

According to legal circles, SM Entertainment and the three members of JYJ agreed to finish their all contracts based on the date of July 31st, 2009. Also the both parties made written agreement containing that 1) the both would cancel all lawsuit filed against each other, 2) will not disturb any activities against each other.

Jaejoong, Yuchun and Junsu who debuted as the group TVXQ in 2004, filed a lawsuit to clarify invalidity of exclusive contract on July 31st 2009 and have had their activities as JYJ since Sep, 2010.

Original Link: Asia Today via Nate | Translated by: http://dedicatee.wordpress.com | Shared by JYJ3


SM and JYJ Put an End to Their Long, Winding Legal Suit

SM Entertainment and JYJ′s long three-year-and-four-month-long legal fight has come to an end with a mutual agreement.

Through an official press release issued on November 28, SM Entertainment said it decided to wrap up the issue "to avoid bringing additional harm to U-Know Yunho and Max Changmin, who are active as TVXQ (DBSK), and to avoid making any more unneeded issues."

It added, "The three (JYJ) have confirmed that they are not willing to be active any longer as TVXQ, and so SM Entertainment has decided that there is no need for the company to continue to manage the three. We have also decided not to interfere in each other′s matters in the future, and this is how the trial has come to an end with today′s hearing."

With the end of the long legal journey, attention has been paid to whether JYJ will be able to appear again in the three major channels.

About the reason JYJ has not been appearing in KBS2′s Music Bank or its variety shows such as Win Win, KBS has previously said, "Because the issue between JYJ and its former agency isn′t finished, KBS has been keeping its eye on the results of the trial with as objective an attitude as possible. Normally, celebrities involved in a legal battle refrain from appearing [in such shows], as their appearances can affect the results of the legal processions. We plan to invite them or book their appearance in shows depending on the results of the trial."

Ever since JYJ filed for a cancellation of its contract against SM Entertainment on July 31, 2009, Kim Jae Joong, Park Yoo Chun and Kim Junsu haven′t been able to appear in variety or music shows on the three major channels. They have, instead, made appearances in dramas produced by outsourced productions.

Now that the legal battle has come to an end, there is a chance that the group will start to appear on main channel shows as singers again.

After filing their suit against SM Entertainment, the members of JYJ have signed a new management contract with C-JeS Entertainment, and have since been active in film, drama and musicals.

Credit: enewsworld | Shared By: JYJ3


Contract dispute between SM Entertainment and JYJ finally ends

The contract dispute between SM Entertainment and JYJ (Kim Jaejoong, Park Yoochun, Kim Junsu) has finally ended after 3 years and 4 months.

According to several reports on November 28th, SM Entertainment and JYJ have resolved the contract dispute, with both sides deciding to end the files for injunction that were filed on July 31st, 2009.

In addition, both sides withdrew all related litigation, signing a contract that they will not embark in mutual matters again.

A representative from SM Entertainment said through a press release on the 28th, "The three no longer wanted to be part of TVXQ as there is no reason to be under the management of SM Entertainment. And so, it was decided to end the case and negotiation today with the agreement that there will be no mutual connections."

"In order to prevent any further discomfort and unnecessary issues for the current TVXQ members, U-Know Yunho and Max Changmin, who have continued to proceed with their activities, the judge decided that it was best to end this trial."

C-JeS representative Baek Changju said, "Three years ago when the court accepted our injunction, we thought that this was a fight we had already won. The legal situation isn't what interfered with JYJ's activities, but this was more of a David vs. Goliath situation. We don't see it as a big change in their activities. JYJ is going to continue with their future plans and activities as planned."

"With this final court verdict, we hope that the restriction that was involved in this case will improve. We want to send our sincere thanks to fans who have been continuously giving their support without any changes."

JYJ first made their entrance into the music industry as part of the 5-member group TVXQ, until the trio filed an injunction at the Seoul Central District Court against SM Entertainment on July 31st, 2009, disputing their contract with the agency. Since September 2010, they formed the group JYJ under C-JeS and have been relatively active in the music industry, going on world tours, and achieving high success in the acting scene since then.

Source: Asia Today, OSEN and Kuki News | Credit: koreaboo | Shared By: JYJ3


Article 1: Original Link: Asia Today via Nate | Translated by: http://dedicatee.wordpress.com | Shared by JYJ3
Article 2: Credit: enewsworld | Shared By: JYJ3
Article 3: Source: Asia Today, OSEN and Kuki News | Credit: koreaboo | Shared By: JYJ3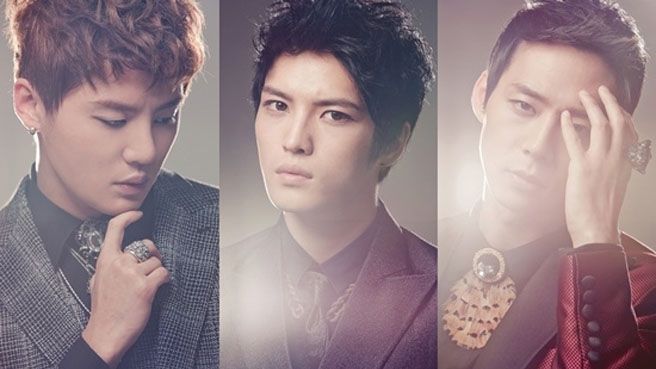 K-Netizens' Responses

Article: JYJ is a free man… lawsuit with SM comes to an end
Source: Yonhap News via Nate

1. [+827, -354] I really hope that we can see them on music programs now. We'll have to watch and see what SM does from here on out… We'll always be cautious… JYJ, fighting!

2. [+854, -393] Honestly speaking, vocal talent = JYJ

3. [+639, -385] Congrats.. ^^ and to the haters, how about you guys live your own lives instead of spreading hate here… Y'all should be studying at this time ㅠㅠ

4. [+188, -74] SM should stop blocking them from broadcasts. What is such a big company doing? It's pathetic. Scared of JYJ winning fair and square?

5. [+145, -55] Can we see them on TV now??

6. [+136, -47] Now that the lawsuit's over… I'm praying that they can promote and smile

7. [+114, -26] Finally, it's over… See you on public broadcast, JYJ

8. [+112, -41] You can't trust anything until you see what happens. They're not free until they can finally perform on music programs and promote as they wish. You have to admit that SM has been pulling strings for quite some time.

9. [+111, -41] ㅋㅋㅋㅋ do well <3

10. [+109, -35] You guys suffered!!!!!!!!!!!!!!!!!!!!!!!!!! ㅠㅠㅠㅠㅠ

-

Article: JYJ's reps "We won the lawsuit but nothing changes" ambiguous response
Source: X Sports News via Nate

1. [+119, -24] They're basically saying that the fact that JYJ can't perform on music programs and other public broadcast varieties won't change… Imagine how much the broadcasts suck up to SM ㅡㅡ^

2. [+106, -24] I've hated SM since they let H.O.T. go like that. I really want to see JYJ on public broadcast soon.

3. [+92, -24] SM's really scary ㅋㅋ Imagine how much worse it is for their artists… Every day must be like walking on thin ice for them

Source: Article 1: Yonhap News via Nate | Article 2: X Sports News via Nate | Via Netizen Buzz | Shared by: JYJ3




JYJ's Lawsuit with SM – The Reactions of Chief Directors & Other Directors of KBS, MBC and SBS

SUMMARIZE: The Reactions of Chief Directors and other directors at the entertainment part in the Broadcasting Company…- about end of the ruling and the future

KBS:
(Chon Jinkook-Chief Director)
I heard the news this afternoon..
I think we can tell about our position after the taking and arranging the situation..
As the main reason was ruling..
So, in my opinion, there's no reason to block their appearances on our programs if it is clearly solved.

MBC:
(Won Mansik-Chief Director)
Although the ruling was over.. I think their appearances need the time.

(and other officer said...)
We have no discussion about their appearances on our programs (including our music programs and entertainment programs) until now..
I think the whole entertainment part should think about this for now.

SBS:
(Park Seungmin-SBS ingigayo PD) It's the problem of the whole entertainment part. We still have no discussion about this. So I have no words about this.

Source: OSEN | Translated by: Min (@theyoungestmin) | Shared by: JYJ3

I am confused. If they're not expecting any changes then why settle at all? Unless they got more out of it that they are letting on? There's probably a gag order so we'll never know.