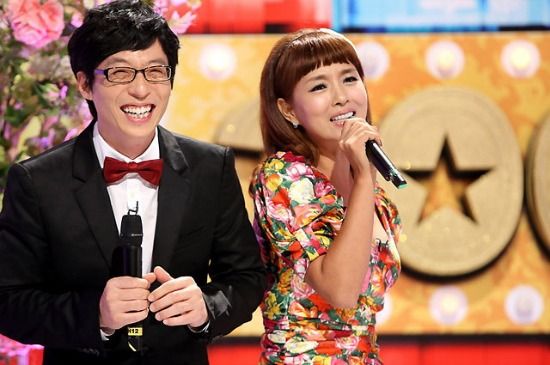 Wow, someone's gone trigger-happy over at MBC — right on the heels of the network's sitcom cancellation (What Is a Mom? and the sitcom time slot along with it) the broadcaster has announced the sudden cancellation of Yoo Jae-suk talk show Come to Play, after eight years on the air as a variety mainstay.

The Monday night multi-guest studio talk show co-hosted with Kim Won-hee is eight years in the running and was just about to hit the 400-episode mark. It's also had a stable of rotating guest hosts, and is the show Eun Ji-won joined post-1 Night 2 Days. The ratings are the biggest reason for the cancellation, as they've been regularly dipping below 5% against SBS talk show Healing Camp and KBS talk show Hello.

An underperforming show getting the axe isn't unusual, but Come to Play was cut with no warning to producers and stars, and will not be given a chance to shoot a farewell episode. They're just going to air what's in the can and let it quietly fade out, which is a really strange way to handle a show that's headlined by star MC Yoo Jae-suk, and been on the air for so long. The fan reaction seems decidedly shocked and upset at the way the cancellation was handled.



(

Read more...Collapse

)

Via Newsen, E Daily, Star News Shared by Dramabeans

Wow at the way they're handling this.