12:56 am - 12/18/2012
More Brown Eyed Girls on SNL Korea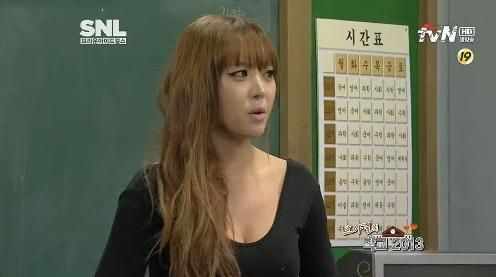 Brown Eyed Girls' Narsha Reveals Her Real Tattoo on "SNL Korea"

In a skit on "Saturday Night Live Korea", Narsha of Brown Eyed Girls excited several of her male students.
On the December 15 episode of "SNL Korea" Narsha, who was one of the hosts along with her fellow BEG members, played a high school teacher who say saying good bye to her students. When a student came in late, she punished him by slapping him on the butt with the palm of her hand. After seeing this, another male student cried out, "I was late too!"
Narsha then told her students to turn to page sixty-nine in their language book while taking off her jacket. Underneath, Narsha was wearing a skin-tight backless black body suit that exposed her bra strap and her butterfly tattoo, making the male students cry.
In the same episode, Narsha did a very sexy reading of a poem and performed sexy dances that just increased the sadness of her devastated students.
Ga In also revealed something sexy in another skit in the same episode.
Brown Eyed Girls' Ga In Channels "Basic Instinct" Sharon Stone in "SNL Korea"
Brown Eyed Girls' Ga In ups the sexy ante for their first hosting stint on "SNL Korea." In the episode aired on December 15 called "SNL Korea – The X Files," Ga In puts on the "femme fatale" persona for one of the skits in the show.
The sketch had Ga In portraying a woman accused of infidelity, and thus, facing a tribunal to defend her innocence. She was seen in a black micro-mini that highlighted her legs, chunky jewelry and makeup that featured a mole on her cheek. At one point, she spread her legs wide and bowed with her back to the audience, flashing her underwear. The scene and her actions were reminiscent of Hollywood actress Sharon Stone in the film "Basic Instinct."
"SNL Korea" has started to feature R-rated sketches since its second season. Ga In and the Brown Eyed Girls' stint for the show was the first time all members of a girl group have hosted "SNL Korea," now currently on its third season.
source: (1)
soompi
Video:
TheChtvn
(2)
soompi
Video:
TheChtvn