11:38 pm - 12/20/2012
Who Whore It Better: Mega Edition!
Pure vs Sexy: Kang Min Kyung vs Ga In, Who Wore It Better?
Photos of singers Kang Min Kyung and Brown Eyed Girls' maknae Ga In wearing the same sweater surfaced portraying different auras.
On December 20, a photo of 'Kang Min Kyung vs Ga In' wearing the same angora red knitted sweater was found. Although the clothing is the same, they gave off different attractions and the reactions were posted on an online community message board.
Kang Min Kyung's long hair made the overall atmosphere feel very pure, while Ga In wore presented a sensual charm with her black shorts singing her newest song "Bloom."
Netizens who viewed both Kang Min Kyung and Ga In's photo stated, "Ga In is very sexy," "Though their moods are different, they are both my style," "Ga In's sexy concept works" and "If only I had a girlfriend like that," were some of the various comments made.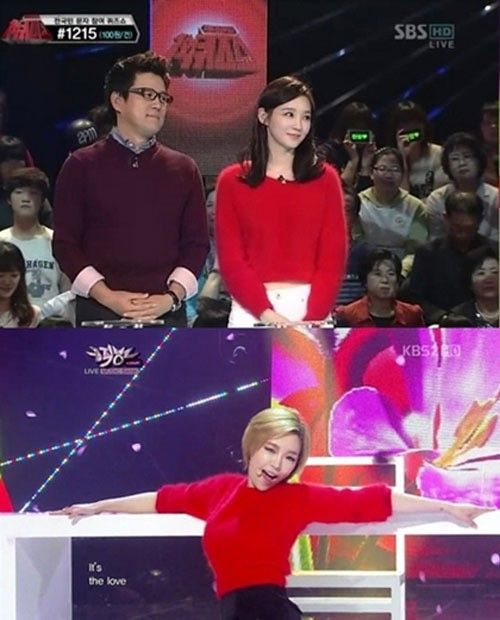 Who Wore It Better: Song Joong Ki vs. Won Bin
Actors Song Joong Ki and Won Bin have worn the same coat, and netizens are currently voting as to who wore it better.
Song Joong Ki seemed to have worn a brown-colored tailored coat on the recently ended KBS drama "Nice Guy." As for Won Bin, he wore the same coat for a magazine pictorial.
Many believe that whereas Song Joong Ki gives off a sweet and warm autumn-like allure, Won Bin shows off a chic and semi-formal vibe with a knitted sweater.
Netizens who viewed these two pictures wrote, "The two have that special something no one can ever imitate," "Their handsome faces make the clothes stand out even more," and "The mood that surrounds each of them is totally different."
Who Wore It Better: Kang Ji Young vs Lizzy
Girl group Kara's Kang Ji Young and After School's Lizzy chose to style themselves in "young girl" fashion.
On the latest KBS variety show,"Invincible Youth," Kang Ji Young chose a casual fashion style. On the show, the singer wore a cute dinosaur print 'Man to Man' shirt with black skinny jeans. She added a touch of cuteness by wearing a dotted pattern hat.
Lizzy wore the same dinosaur print shirt with her hair in pig tails on the MBC drama"Rascal Sons."
The "Man to Man"shirts are Mango-Steen brand clothes. The colorful dinosaur print with wine colored neck line creates a feminine look.
The Mango-Steen representative said, "Kang Ji Young and Lizzy are both the youngest members in their groups and thus they wore their clothes like young girls." "The clothes can be matched with anything, making them very popular."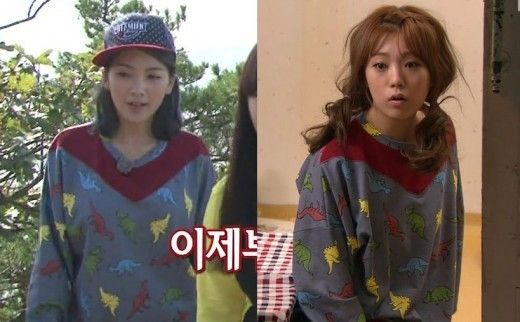 Who Wore It Better: Big Bang's G-Dragon vs. Super Junior's Choi Si Won
Big Bang's G-Dragon and Super Junior's Choi Si Won have been caught by observant netizens wearing the same thing and you know what that means, there will be some comparing involved.
Both of the stars are big in their own right and their groups are the leading idol groups of hallyu, making this "Who Wore It Better" battle even more fierce. They are both wearing a purple scarf decorated with black hearts, which is from Acne- a Swedish fashion brand. It's around 160,000 KRW (~$160).
This photo of G-Dragon was taken on December 13 at Incheon International Airport. He let the scarf flow inside his red and black checkered jacket and tops it off with a black Russian fur hat proving his sense of style.
Choi Si Won is seen wearing this outfit in one of the scenes for drama "King of Dramas" as Kang Hyun Min. Known as a diva within the series, he wraps the scarf to hide his lower face and uses sunglasses to make himself less noticeable.
sources: (1)
soompi
(2)
soompi
(3)
soompi
(4)
soompi
added sources