3:50 pm - 12/24/2012
Seulong is disgusted and JYPE is gonna get 'em!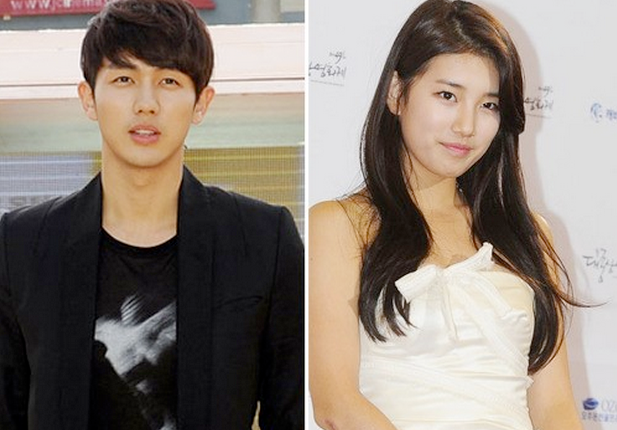 2AM's Im Seulong expressed his disgust at the netizen who harassed his labelmate Suzy of miss A on Twitter.
On December 24, he tweeted, "Imagine something like this happening to your family or seomone you care about. We'll know more after investigation, but if a public figure, who had power and influence, this something like this to someone else, I wouldn't stop until things are made right. "
Over the weekend, one netizen tweeted an obscene photo of an unidentified man with a life-size cardboard cut-out of Suzy. JYP Entertainment announced that they have reported the incident to the Cyber Crimes Agency and will take legal action against the netizen.
Recently, a photo with the intention of sexually harassing miss A's Suzy has been uploaded on the internet, shocking and disgusting netizens. On December 22, a male netizen tweeted an obscene photo to the singer . He also wrote the word "skate," a malicious term used to show contempt to the people from Jeolla Province.
On December 24, JYP Entertainment announced that they would take legal action against the uploader for sexually harassing Suzy, who is still a minor. A representative of JYPE stated, "Before she is a celebrity, Suzy is a woman and a minor. We are going to send a request for investigation to the cyber crimes agency.
Netizens who saw the photo commented, "That's disgusting," "That person should go to jail," How could he," "Suzy must have been shocked when she saw that photo," They should sue him," and more.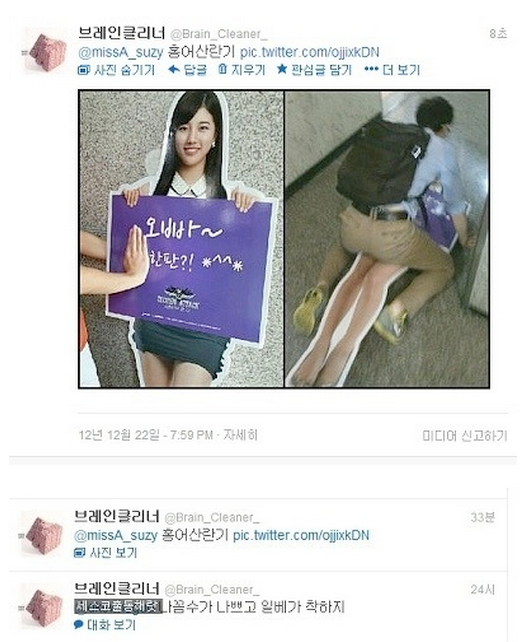 source: (1)
soompi
and (2)
soompi
Kudos to Seulong and JYPE! Even if you expect this kind of thing to happen to celebrities, it doesn't mean you should by, and let people get away with it. If I were Suzy and my agency had just said "oh well, that's what happens" I would not have felt very cared for or respected! Do you guys think legal action is necessary?