10:44 pm - 01/01/2013
Teasers for 'Night King' and 'That Winter The Wind Blows' revealed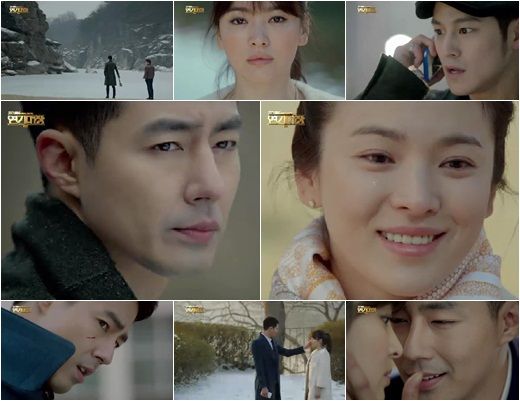 A short teaser clip for upcoming SBS drama series 'Night King' and 'That Winter The Wind Blows' has been revealed, heightening up fans' anticipation.
The teaser video was revealed on December 31 during the 2012 SBS Drama Awards, which was held at the SBS Prism Tower in Seoul.
The clip started off with cuts of actress Soo Ae and actor Kwon Sang Woo in the upcoming drama, 'Night King' which will air on January 14. The teaser then showed the much-awaited Song Hye Gyo and Cho In Sung's series, 'That Winter The Wind Blows'.
The video clip showed Cho In Sung and Song Hye Gyo giving emotional performances, while actor Kim Bum showed off his manly appeal. The beautiful video drew a lot of attention and made the audience eagerly anticipate the series.
Description of "Night King/Queen of Ambition"
Queen of Ambition [tells the] story of Yoon Na Ri (Soo Ae), a very poor woman who dreams of being the first lady, and a man, Choi Kang Chan (Kwon Sang Woo) who sacrifices everything to help her. During the journey, they experience love, betrayal, unstoppable greed and conspiracy. This is based on the third installment of the 21-part Daemul comic series by famed Korean comic writer Park In Kwon, that was published in 2006.
OP Note: Yunho is also in this drama.
Description of That "Winter The Wind Blows"
"The Winter, The Wind Blows" is a story about a man (Jo In-Sung) who is known to be the best gambler in Cheongdam neighborhood. He lives a meaningless life after being abandoned by his parents and failing at his first love relationship. In order to pay his debt, he starts living with a rich girl (Song Hye-Kyo) who is the heir to a large corporation. However, he falls in love with the girl, who is also as lonely as him. She has also lived a difficult life. She has lost her eyesight and her father has passed away. She will have to protect herself from those around her.
sources:
dkpopnews
Video:
SBSNOW1
and
Night King @ mydramalist
and
That Winter The Wind Blows @ mydramalist