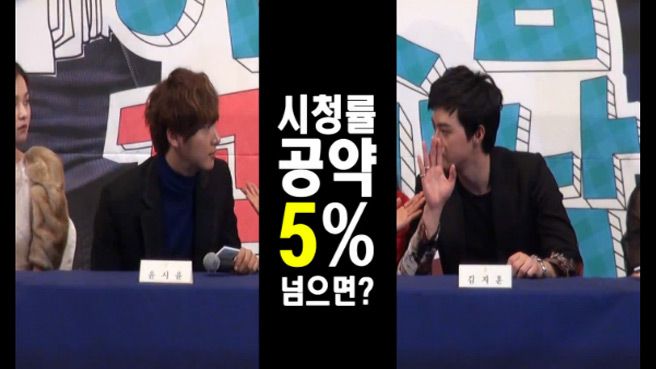 It's become a recent trend for celebrities to keep promises if their drama or movies hit a certain number, and it was the same for tvN's Flower Boys Next Door.

During the press conference for the drama on January 3, Park Shin Hye promised a free hug event if the drama's ratings reached 5%.

As the female lead made her promise, the two male leads whispered and discussed what they would do if the drama reached 5 percent.

After much consideration, Park Shin Hye announced that Yoon Shi Yoon and Kim Ji Hoon will kiss and uploaded a snapshot of it online.

With the promise declared in front of the many reporters at the press conference, Yoon Shi Yoon jokingly added that he will lead. "I'm not passive when it comes to dating."

Seeming like he gave up, Kim Ji Hoon replied, "I definitely want to kiss Yoon Shi Yoon."
Stuttering a bit, Yoon Shi Yoon said, "Your jawline is very pretty."

The only way to find out if they meant a kiss on the lips or a kiss on the cheeks is to watch Flower Boy Next Door starting January 7 on tvN.



source: enewsworld + CJENMMEDIA

I really want this to happen, just for the scandal it would cause ahahaha!