2:06 pm - 01/17/2013
Infinity Challenge responds to criticism from the Korean Entertainment Producers' Association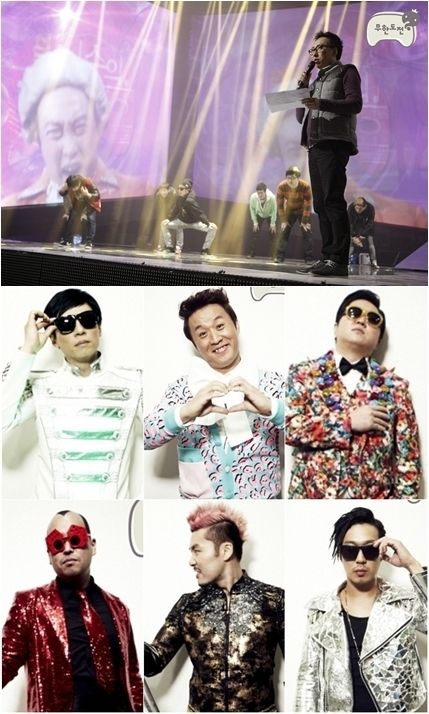 'Infinity Challenge'
recently responded to the criticisms that have been aimed towards the show with the music of
Park Myung Soo
and the other cast members' sweeping the music charts.
The
KEPA (Korean Entertainment Producers' Association)
criticized the program and the
immensely popular music
that it recently put out from
'Park Myung Soo's Some Song' special
, saying that what the show was doing was
essentially the same as already-large companies spreading into other enterprises, taking away even more opportunities for smaller companies and their musicians.
The popular show had held a concert in a recent past episode, in which they revealed songs sang by the cast members and
composed by Park Myung Soo
. They then released the songs from the show on music sites, and
have been ranking at the top of charts
after the airing of the episode.
Seeing the immense popularity of these songs taking away the spotlight of producers and musicians,
KEPA
said,
"A broadcast company that releases music to increase awareness about the program isn't much different from a conglomerate branching out into other divisions. It has created a monopoly in the music industry and has caused producers to lose their will to make music. It can bring the destruction of the market, can destroy the variance in the market, and we are worried that it will have an effect on the growth of Hallyu."
They continued,
"Media groups with large budgets and influence earn popularity easily through their programs. Because of that, the producers who work hard to provide various genres of music has a smaller market. This only grows a distorted music market that only has special parts, and can shrink the market to destroy the longevity of K-Pop".
'Infinity Challenge'
responded,
"We released our music with good intentions, but we're in a difficult position because of how the situation has been progressing. We donate all our profits to charity, so we're sad and regret that this kind of problem has risen."
Source: Osen, Kuki News | Allkpop
It's stupid, they're just pressed imo.