10:38 pm - 01/25/2013
Yunho & Changmin interviews
Yunho "We Had No Choice But To Throw A Fast Ball Again"
TVXQ is a group that everyone knows. But could anyone actually say that they really know who they are? Having made their debut in 2004, they have been around for 9 years. They have elicited crazed enthusiasm, been through so much and have stepped foot on a new beginning. And, TVXQ's new album 'Catch Me' is a direction that defines the TVXQ we see today. They introduced us to Choikang Changmin and U-Know Yunho's TVXQ in their last album 'Why (Keep Your Head Down)', and the two people are now forming their identity with 'Catch Me'. The energetic and grand pictures that they have formed on stage with their music from the very beginning enable us to imagine the future of this 9-year-old group. So we want to ask them,
what is it like to start a new beginning and shape a new dream for a team that's been at the top of the world for the past nine years?
To this question,
U-Know Yunho said that the past nine years have been like 'puberty'.
A passionate dash towards the future, full of worry and without a sound answer. But the path they have walked upon till now is engraved within him and made him who he is.
Like the title of the drama he appeared in, he is an idol who has crashed headlong into the future as though it was a 'heading to the ground' and can now talk about his 'ING' rather than his past. This is the story of a man in his 20s. U-Know Yunho.
-How do you feel about wrapping up your activities for your sixth album?
U-Know Yunho: If you saw our 2011 release of 'Why' as a show of our determination of what we could do, I think our current album can be seen as the first keyword that determines the kind of music the two of us need to pursue in the future. People can have different opinions about 'Catch Me' depending on their point of view, but I'm satisfied because I feel we've matched the first button with the right hole.
-You appeared in a lot of variety shows like KBS' 'Gag Concert', MBC's 'Sunday Night – God of Victory' and SBS' 'I Like Sunday – Running Man'. What was the response to that?
U-Know Yunho:
What was funny was that during the beginning stages of our activities, we half-jokingly said that we wanted to get ourselves known to elementary school kids and after we started appearing in variety shows, more kids were asking us for autographs. They recognize us more often now and ask us to take photos with them. I still have an elephant-shaped ring that one of our fans gave us. (laughter) I like meeting innocent and genuine people. I get so much energy to work harder when I meet and greet younger kids because they like us with such innocent hearts.
"We, the two members of TVXQ, need to look back on the road we've walked on and break our own records"
-What were you most worried about as you released your second album as a two-member TVXQ?
U-Know Yunho:
From the beginning, I've been a member who was known for my dancing more than my singing. I have a pretty deep and heavy voice, so when I changed my tone and sang falsetto, some people thought it was Changmin singing and not me. There were times when I thought 'Ah. This isn't it…' but to be honest, even I saw that we sounded similar the higher the notes got. (laughter) But since becoming a duo, we've worked really hard to widen each other's vocal range, and like how Changmin's shown a lot of improvement in his dancing abilities, I wanted to do the same with my singing.
-Overall, your vocal abilities have increased in the album and the two of you were able to fill 'How are you' with a two-person harmony, how did that go?
U-Know Yunho:
I had so much fun with it. But because it's hard to change your habits to try something new, I worried about it a lot. I would incorporate the maximum amount of individuality that I could when I sang the main melody, but I would relax in the chorus so that people wouldn't be put off by my singing. 'How are you' is my favorite song and we've sung it on the radio and in special events. TVXQ has been defined too strongly as a group with intense performances and personality, but we also sang a lot of ballads in the early stages that were easy on the ears like 'Hug' and 'I Believe'. Like how we performed 'Before U Go' and 'Words I Don't Want To Believe' for our fifth album, I'd like for us to be known for our softer songs as well.
-'Catch Me' shows off all the styles you've shown us till now, including fast steps, intense military-precise group dances and fluid choreography, in four minutes. Have your thoughts about dancing or the stage changed through your work with Choreographer Tony Testa?
U-Know Yunho:
At first, I was so surprised because Tony's vision of the stage and performances was completely different from what I've known. Most people would think about placing the two members in the center of the spotlight, but Tony wanted the dancers to be a part of TVXQ, and he created a story with his work as he thought about the big picture of the entire performance. It felt like we were performing a musical number. Military precision was a trend of the 90s, and it's more about urban street dancing that showcases individuality now and working with Tony has helped me see that we could also infuse a more classical feel to our dances.
-You must have been very worried about creating a concert with just two people when you toured Japan and Asia last year?
U-Know Yunho:
Because there are a limited number of ways we could express ourselves as a pair, we naturally have to be more physical if we want to leave a bigger impact; we have to overcome the physical limitations of our bodies and to do that, we had to come up with more ideas. We also had to create our own unique color that defines who we are. In our last tour, we sang a lot of past songs. They're songs that have brought us to where we are now, and we thought that in order to take the next step, we needed to give our answer to the doubts surrounding us on how we would express the TVXQ of the past as a two-member TVXQ. It was a great experience as it gave us the opportunity to take on the challenge of looking back on the path we've walked on till now and of breaking our own records. Of course, singing 'O-Jung.Ban.Hap' made me think, 'I didn't know a song as tiring as this existed on earth.' (laughter)
-When you're singing bright and upbeat songs like 'Easy mind', instead of songs with intense and elaborate performances, you have unexpectedly cute expressions and choreography.
U-Know Yunho:
I think the most important thing about holding a concert is to enjoy the moment, rather than showing off. So I replicate the gesture of little kids for those songs. It's a method I've discovered because I've found that little kids show a more distinct reaction when the songs are ones that everyone can enjoy together. Because people's preferences change with the different countries we visit, I go through trial and error to figure things out.
"I heard that elementary school kids recognize us and follow our choreography, and I find that really meaningful."
-You've now passed your mid-twenties and are now headed towards your late-twenties, I'm sure you've thought about your physical limitations as a performance-based singer.
U-Know Yunho:
I think it'll be the end for me if I start thinking like that. Once the heart, the engine, starts cooling down, it will keep cooling down. Of course, there are times when I think, 'Ah, I feel like I'm going to die'. It felt like that with 'Catch Me' and with 'Humanoids' as well, though it seemed to be a less intense song, we had to keep our upper body still, so our legs felt like they were constantly moving like that of swans underwater. (laughter) What's important is what we show people, rather than the limitations of our bodies. It makes me think of things like what it would be like to match a quick-step dance to lyrical ballads. We still need to work on appealing to the public with our music, but we want to create something new by adding our own unique performance to such songs.
-If we look back, your 'Catch Me' activities were part of a process that started from the basics, and overcame so much as you had to start from scratch and show off TVXQ's style and personality to the public once again. Basically, it was a group that had been around for eight years suddenly going back to the beginning. What was it like going through that process?
U-Know Yunho:
I listened to all the songs we sang from our first album till now. We had no choice but to throw a fast ball again with our activities, and if people didn't like what they heard, we would accept their decision, practice harder and try again. If you think about it, once you reach the top of the mountain and you want to climb the next one, you have to slowly make your way down that first mountain. Trying to jump from the summit would get you hurt or killed. To be honest, I was scared. Because I was the leader. Well, now that we're a duo, I'm just a leader by name but I'm still technically the leader. (laughter) But I felt like this was how we needed to do things to move forward. When we threw that fast ball, our pace may have faltered but I liked that we ran headlong into the fray, and because of that, we'll be able to take our next step forward. I heard that elementary school kids recognize us and follow our choreography, and I find that really meaningful. And I earned so much from the love we got for our appearance in variety shows. (laughter)
-SBS' 'Queen of Ambition', your second drama since your acting debut 'Heading to the Ground', will be airing soon, what are your thoughts about this new challenge?
U-Know Yunho:
I can't say that I will do 'this much' with my acting. But in the past four years, I think I've gained a littler more experience. I wasn't a kid who was good at singing and dancing from the very beginning. I worked hard whenever I could and improved my skills. If you start from the bottom, you can work your way up through hard work. In 'Queen Of Ambition', I'll be playing a character who is right for my age and is more sincere, so I just want to be seen as 'Baek Do Hoon' instead of U-Know Yunho when I act. It won't be easy, but it's something important that I need to do.
-You've always been a top star since the moment you made your debut as TVXQ. I don't think you've ever fallen astray from composure, even when you faced so many difficulties and dealt with a high level of stress. What does deviation mean for Jung Yunho?
U-Know Yunho:
I think I'm the kind of person who would go out with a bang if I ever felt like deviating from the norm, but I don't think I've ever down that before. (laughter) I was just a kid who wanted to sing and stand on stage, amd TVXQ gave me the opportunity to stand on stage to dance and sing That led to wealth and fame and I'm always grateful for that. Of course, because I do so many things, I sometimes worry that I've lost my original intentions. I'm usually quite honest about expressing what I feel but there are times when I let things pile up inside me and the hurt feelings take over. I'm a blood type A person after all. (laughter) Though people see me in a good light all the time, I turn off my phone and take time to have a good conversation with myself while enjoying nature alone when I'm having a hard time.
-In KBS' 'Story Show – Do Dream', you described yourself as a 'Boy Chasing His Dream'. What's a dream who have right now?
U-Know Yunho:
What's similar between me and Changmin is that we don't set a specific dream to fulfill. Because we believe that from the moment you make a decision, you lock your thoughts in a set mold. I like to keep my curiosity alive and question everything, and because I hate leaving something undone once I start it, I think far into the future. This year will be TVXQ's 10th anniversary. We've had the title of idol singers since the beginning, and I'm proud of that title. I'd like for us to be a group that lasts for a long time, like Shinhwa. My overall goal is for TVXQ to be a group that never stops taking on new challenges and shows constant improvement. My idol is Michael Jackson, and he kept singing and dancing into his fifties. If we can be a group that sings and dances till we're in our forties or fifties like him, I think we could make things come true that we haven't yet accomplished.
-TVXQ's 10th anniversary is coming up this year. What are your thoughts about the last 10 years and your twenties?
U-Know Yunho:
It felt like puberty. But I don't mean it in a bad way. I think people solidify the direction they want to go and the style they want to have once their puberty passes. I think your twenties is when you learn new things and you have the opportunity to give your all to something, whether it's work or love. I believe that TVXQ is in a state of ING because we dedicated our youth to our work.
10asia | Translated & Shared by: dongbangdata.net
Changmin "I Find Joy In The Thought That Today Is Always Better Than Yesterday"
TVXQ's 'maknae' (youngest member). A small and quiet voice. The face of a person who grew up well. These were the few images we remembered of Max Changmin before the interview. Even during it, he was quiet, well-mannered, and gave us a peek at the humor that befits the youngest of the group. With these characteristics, Max Changmin talked about the TVXQ we know today. A group that has a very distinct divide between passionate fans and the public. A group that is creating its identity from scratch yet again. Max
Changmin calmly discussed these points that others may have been hurt to hear about.
And in that calmness, he is nurturing his competitiveness. He knows he is lacking in his dancing skills, so he works on it like a madman. He is nurturing his competitiveness to
"never regress and nurture my promising skills whenever I start something."
The youngest who had always smiled is now starting to let his voice be heard, and he objectively looks back on his team's progression and thinks of what will come next. He says
he keeps moving forward with the thought that 'There must be something more to come'
, and it sounds more like a spell he places on himself rather than a mere wish. So many things have happened, but there must still be something more to come. For TVXQ. For Max Changmin.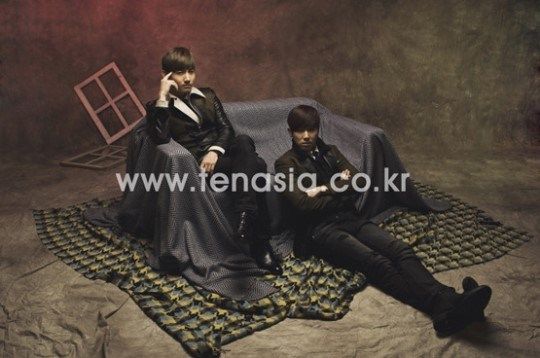 - You've completed all activities for your second album as a duo. How would you critique yourself?
Max Changmin:
Our activities for our fifth album 'Why' were filled with songs and lyrics that worked well with our situation at that time as a duo. We did have the intention of showing that we were still going strong. But when we were preparing for this album, we were really worried because we thought that since the fans and public match TVXQ's image with a 'strong, intense' performance, that image would just intensify more and more if we kept performing that kind of music. To be honest, 'Catch Me' wasn't a song that completely appealed to the public, so I won't go out on a limb and deny that there are as many people who didn't like the song as there are people who did. But we have to embrace that response, and when I look back on our activities, I believe it was a transition period that we had to experience eventually. It was another step we took to widen the spectrum we have.
"I fell for Choreographer Tony Testa's compliments"
- With regards to widening the spectrum, the performance of 'Catch Me' begins with the two of you facing each other like a mirror, battling it out and then expanding to include the dancers. You must have had to put in a lot of effort to go one on one with U-Know Yunho, whose biggest strength is in dancing?
Max Changmin:
Because everything was a new challenge, from the choreography to the song itself, I think I took on everything with more 'determination' than usual. Yunho is such a good performer to begin with and the 'Catch Me' choreography is about seeing another side of myself, so I was worried that the quality of the performance would be damaged if one person fell behind. I'm not someone who has a lot of confidence about my dancing, but Choreographer Tony Testa kept complimenting me over and over again. I fell for his sweet talk of, "Max, you're really great. You have talent. Have confidence in yourself." (laughter)
- If 'Catch Me' is a performance with a perfect concept, 'Humanoids' feels like it's less intense and more relaxed within a generalized style of choreography.
Max Changmin:
Tony Testa had to express the rage against a lover who is trying to leave with his 'Catch Me' choreography so I thought, 'Ah. We must be the only people this guy is doing this to.' (laughter) But then I saw Jong Hyun's expression in SHINee's 'Sherlock' and I could see that he had asked Jong Hyun to show intense emotions on his face as well. On the other hand, I felt like I could be more relaxed and enjoy dancing to 'Humanoids'.
- 'How are you' focuses on the two people's harmony, while songs like 'destiny' and 'getaway' utilize your vocal talents to the extreme. How was it recording an album as you increased your responsibilities as a vocalist and took on a new challenge?
Max Changmin:
In the past, we were given parts that really fit our vocal range from the part-division process, and I was usually in charge of what people call the 'screaming' part of the songs. But now that it's just the two of us, if we don't expand the range we can take on, people will look at us and think, 'As expected, they can't do it with just two people,' so we worked really hard on that. People around me tell me to take care of my throat and they tell me not to push it too far because I'll have a hard time when I get older, but thankfully, I'm still okay. I think I've discovered my own techniques, and I think we're able to carry a song from the beginning to the end better than before. Though that may be a cocky thought… (laughter)
- Though you were probably stimulated by your competitiveness, there must have been a fundamental change that took place?
Max Changmin:
I thought to myself that I needed to do really well during the promotions of our last album, and I think for this album, I was more sincere with the recording process than I've ever been before. But that doesn't mean that the pressure has increased. Producer Lee Soo Man said, "You shouldn't strain yourself for your songs." I think this applies to anything, though I didn't know that in the past. So I'm more sincere about my songs these days, but I try to enjoy the whole process.
"I really hate 'feeling inferior'."
- It feels as though you look back at, not only yourself, but the past and present of TVXQ, in an objective perspective in order to face what comes next. TVXQ is a team that has always had its own unique color with a passionate, large-scale fandom behind it and you're currently in the process of remaking that color. What do you worry about as a person in the center of such changes?
Max Changmin:
Songs like 'O-Jung.Ban.Hap' in the past or last year's 'Why' were ones that our fans liked more than the public. There's always been a distance that's stopped us from getting close to the public, so not only did we change our music, but we also appeared in variety programs to create more opportunities to interact with the public. If we get stuck in the mindset that 'We're this kind of group, so we should do this', we'll fall into mannerisms. We have to keep accepting the changes in the flow of music if we don't want to be static.
- Could you say that your individual activities, including your role in the Japanese movie 'Run With the Gold', are a part of your efforts to appeal to the masses?
Max Changmin:
I believe that Yunho and I have to shine brighter as individuals to create a synergy effect that pulls the team forward. And though we're a group that's known for our performances, it would be hard for us to keep performing at the intensity we pursue right now forever. As our bodies age, we'll be less able to perform at that level. (laughter) I think a natural change will come about our activities as we go through that process.
- During your interview for 'Run With the Gold', you said, "I've done a lot of things as a member of the TVXQ team for the past eight years, but I learned so much by working with such great actors." What was it like to go from working with TVXQ members you've done everything with for years, as well as familiar staff members, to working on something you've never done before with people who speak a different language?
Max Changmin:
If I had known from the start how hard it was going to be, I probably wouldn't have done it. (laughter) Because the filming schedule clashed with our live tour schedule, I had to go back and forth from the filming set to the concert venue and it was hard for me to accept the two worlds, that were completely different from each other, into my life. And because I was with actors and staff who were working so hard and giving their all for the movie, I was worried that even if I tried my best, the end result wouldn't be as good as it should be. But I think what helped was my personality to never regress and nurture my promising skills whenever I start something.
- Looking back at your transformation from when you made your debut to where you are now, it feels like you enjoy the process of running headlong into things and progressing.
Max Changmin:
What's quite strange is that from the beginning, I've never had the dream of 'I want to be a singer who sings this kind of music' or 'I want to be an actor who does that kind of acting'. Back when it hadn't been long since my debut, everyone else had a dream so I used to believe that I was wrong for thinking that way. Even now, I don't have an ultimate goal. But to use a common phrase to describe my personality, I really hate 'feeling inferior'. (laughter) I find joy in the thought that today is always better than yesterday, and I want to keep moving forward.
- You're only 24 but you've already accomplished so many things as a member of TVXQ, and you're going to be the first Korean singer to hold a five-leg Dome tour in Japan. What lies ahead of you after this?
Max Changmin:
I haven't really thought about what I should do next. But I have a vague anticipation that when we finish our Dome tour, there will be a bigger stage waiting for us, and there will be a new world that we haven't experienced yet. That anticipation of 'There must be something more to come' is what has kept me moving forward till now.
10asia | Translated & Shared by: dongbangdata.net
I'm surprised they weren't posted before. I didn't bold anything because they're such good interviews, so just read the whole thing.