A Good Heart

Joo Won is a kind man. He stresses on good etiquette and basics. He enjoys meeting people. He dislikes bad women. Before you grumble that it's not fair, this frank and bright 26 year old actor's heart has silently permeated your being.


Q: When 7th Level Civil Servant premiered, the response was very good.

A: I didn't expect it at all. At that time, the 3 broadcast station did not have very good viewership ratings, I thought the premier would have a certain ranking. Although I felt very good but because everyone's expectation was raised, I felt more burdened. I am like this, Kang Hee noona is also like this.

Q: Ever since he debut in 'Baker King Kim Tak Gu', all his dramas are big successes. What is the secret of "Infallible Joo Won"?

I don't feel that it's 'Infallible Joo Won', it is because the scripts I chose were good and therefore the results that came out are good.

Q: Previously, you acted in serious pieces of work, now in this romantic comedy, will we see a fresh new side of you?

A: I had thought of trying out this type of drama previously but I didn't have the chance. Now that I am doing it, I feel that it's difficult. On the film set, I interact a lot with Kang Hee noona and we work closely with each other. It's only then that I gradually became better.




Q: Last year, you acted in 'Bridal Mask'. When drama on a scale as huge as 'Bridal Mask' became a great success, as an actor, did you feel a sense of achievement?

A: When 'Bridal Mask' ended, I spend a long time getting out of the character. If you are asking what have I gained from 'Bridal Mask', it is that I have the confidence of bringing out a character. Also, in order to produce a piece of good work, it is impossible to do it alone, you must work together with other people to achieve it.

Q: Now you are also appearing in '1N2D'. As an actor appearing on a variety program, is it a gain or a loss?

A: This, I am still trying to adjust to it. Because I am not naturally gifted in variety so I feel a huge burden. Appearing on '1N2D', I got to know my hyungs and this is the biggest gain, everyone is like a family. It's really great to film together.

Q: On '1N2D' there's this feeling of you, the 'Little Sunshine' growing up in a harmonious home showered with the love of your sunbaes.

A: Yes. There is this feeling and spirit of not giving up once you start and persevering to the end. There's also this feeling of your responsibility as an actor and gratitude towards your parents.

Q: From arts course in middle school to arts in high school to film and television in university; and finally from theater to debut in dramas, up to now, which was the best decision you have ever made?

A: I have always remained committed to one thing, my heart is towards acting. But I don't feel hurried, slowly making my preparations. In times of difficulty, I tell myself "I can do it" then I overcome and persevere.

Q: As an actor what is your best innate quality?

A: Like a small child? This is a good point but also a flaw. As an actor, it's good to be adaptable like a child. That is very good to have as an actor. But as a man, that's flaw. But I still have to live with the personality which I am born with (laughs).




Q: What makes Joo Won angry?

A: If a person does not even have the basic etiquette, I'll be angry.

Q: To a person who has never been a celebrity, with regards to privacy, how is it still possible to continue playing soccer with your father in the morning?

A: At the moment, I have not felt any areas of inconvenience. It does not matter whether it's the morning soccer games or anything else, once I start, I will not give up so easily. There are times when I am very busy, I may not be able to join but after that, I will continue. I like to interact with people.

Q: Recently, who have you said "I love you" to?

A: During the Lunar New Year, towards the people in my agency as well as to my hyungs on '1N2D". They are people to whom I am very grateful.

Q: Heard that you can't drink?

A: When I drink one cup, even when I hear my hyungs talk, I will feel very good, very comfortable.

Q: Are you the type who understands women well?

A: It's difficult to understand women. Although I am the type who can listen to the other party and tries hard to understand but to really understand, it's very difficult.

Q: Heard that your ideal type is "A woman has the basics of treating her elders well"? In reality, from a woman's perspective, this is boring. Is there really a possibility that Joo Won never been attracted to 'bad woman'?

A: I don't like 'bad woman'. Boring people are better. The best is someone whom you feel very comfortable with. I dislike those who make it exhausting for me. If it's like that, I may be attracted for a while then break off.




Q: On "Win Win", you said that you regret to see that you have become very realistic.

A: I was miserable about it. As I grow older and working in the entertainment world, I couldn't help but change. In my heart, I kept repeating to myself "Don't change, don't change." To me, it's important that I do not lose my self. I want to preserve the 'Joo Won the human' now and persevere on.

Q: Very curious as to what are 'Joo Won the human' trivia? Like your preferred coffee? Favorite food when you eat out? What colours are you attracted to when you shop for clothes? KTV song? Choice of seat in a theater?

A: Americano coffee; When I am eating out, I will just choose any delicious food. When I shop for clothes, I like bright colours; KTV song is "Thinking of you"; Choice of seat in a theatre is in the centre.

Q: What do you want to be like in 10 to 20 years' time?

A: Living honestly. I will also want to be acting in the future. Thinking of myself in the future, now I am living earnestly every day. The biggest worth in life is to become a 'human'. My family and those around me, all the people that I have met are very precious. To me, this is the most important.

Q: Now, it's time to go back to filming '7th Level Civil Servant'. When this drama comes to an end, what do you hope to gain from it?

A: When I am filming a drama, I have never thought of gaining anything from it. If I receive many good reviews of my acting, will I have more confidence than before? As an actor, it allows me to enter into a broader sphere, that's all there is to it.


translation mrdimples | Source Elle Magazine | Pictures dcinside | 1n2d-season2
Esquire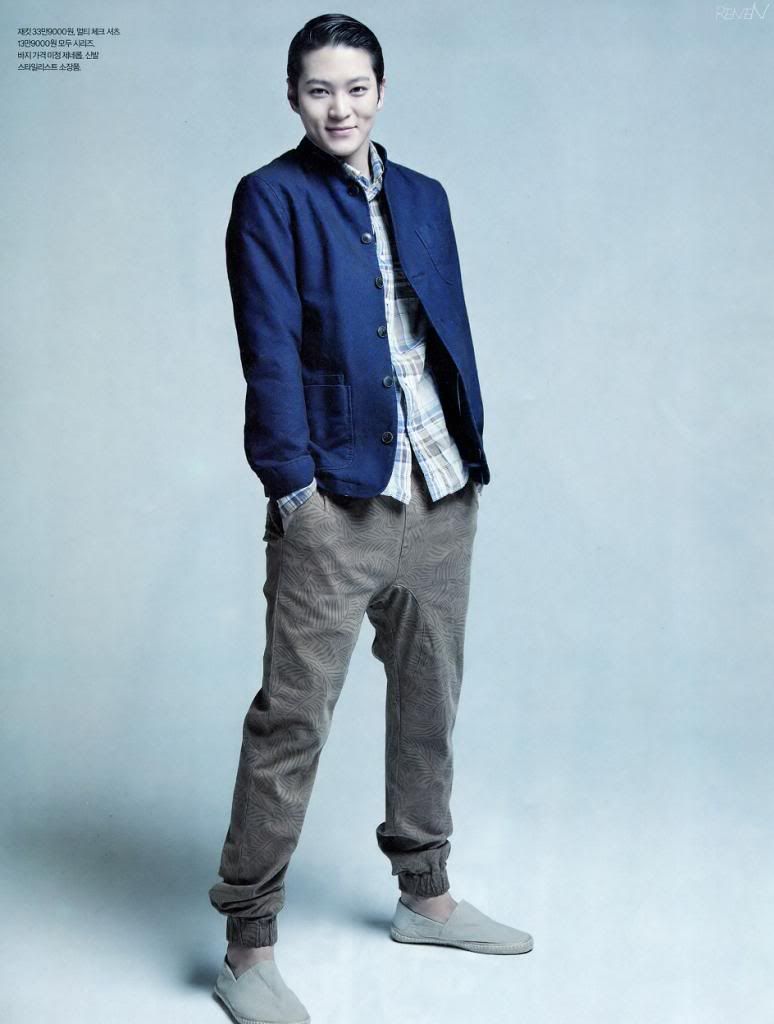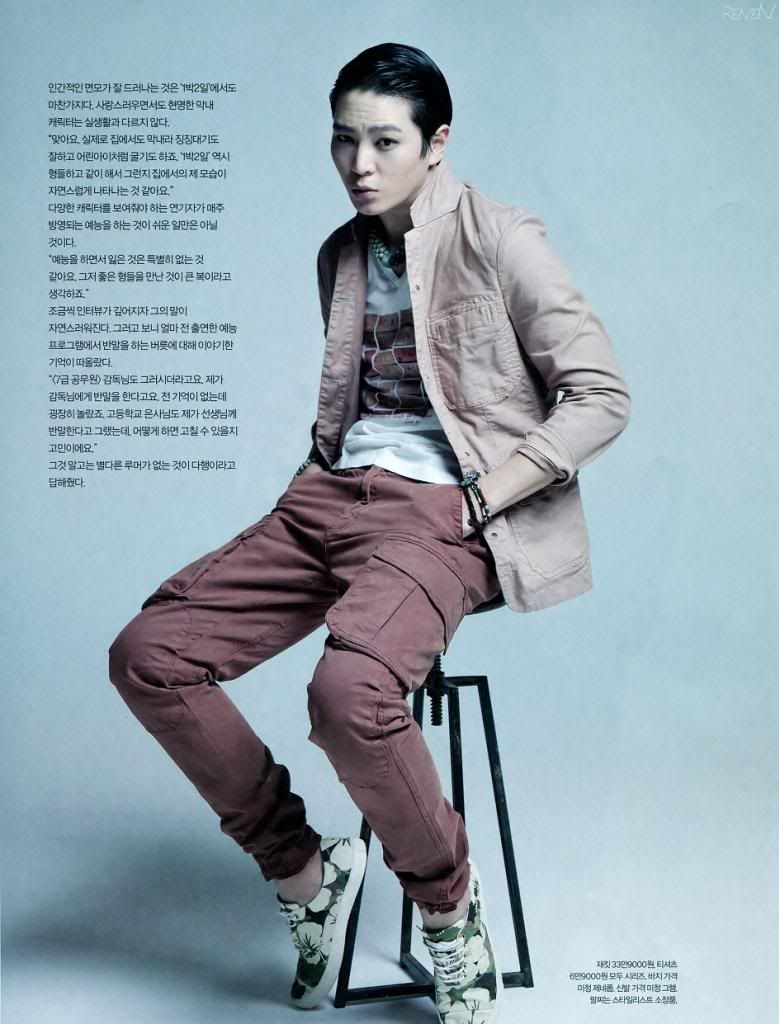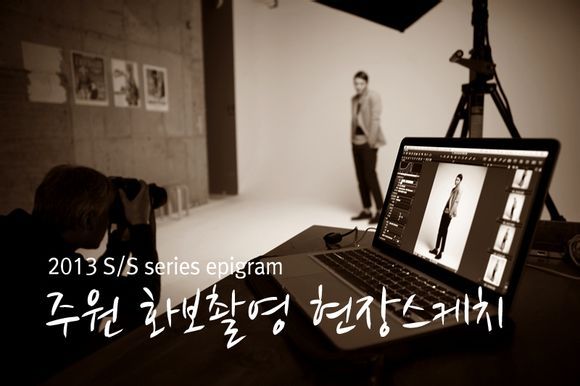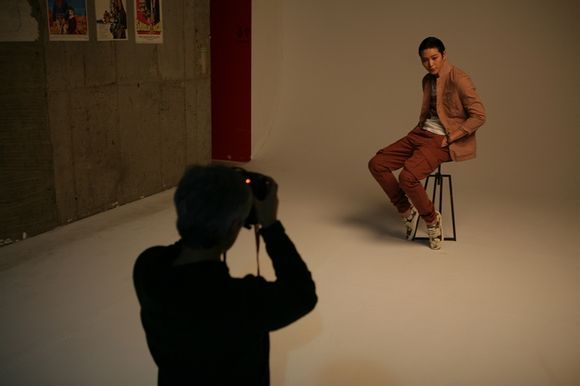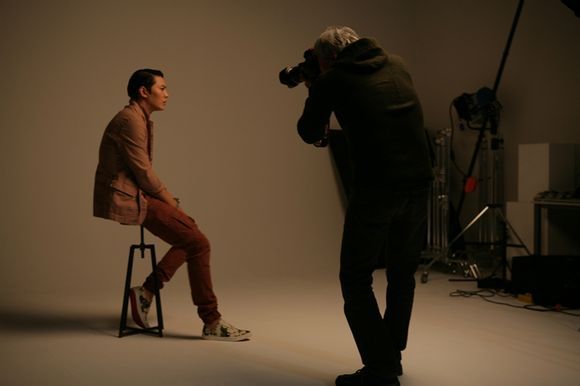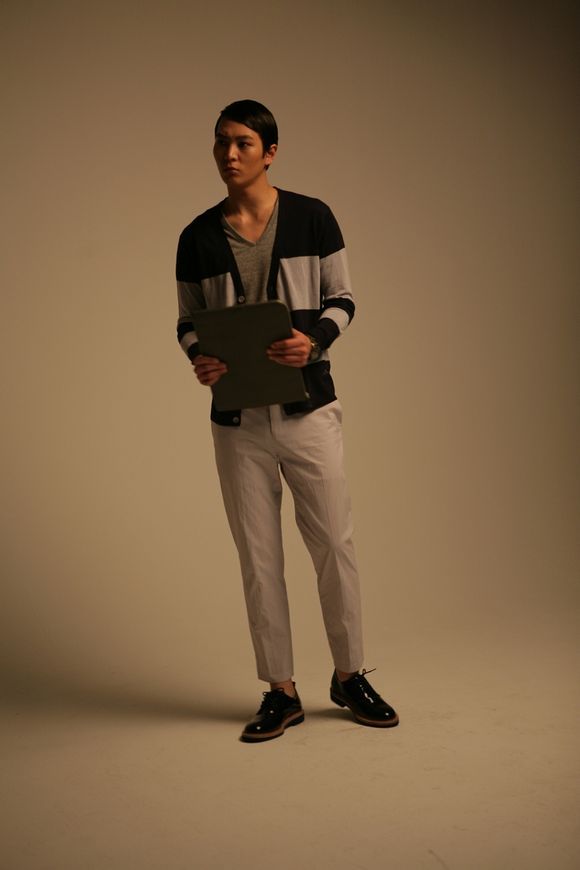 raito1310 + ctfrsgp
Edwin spring collection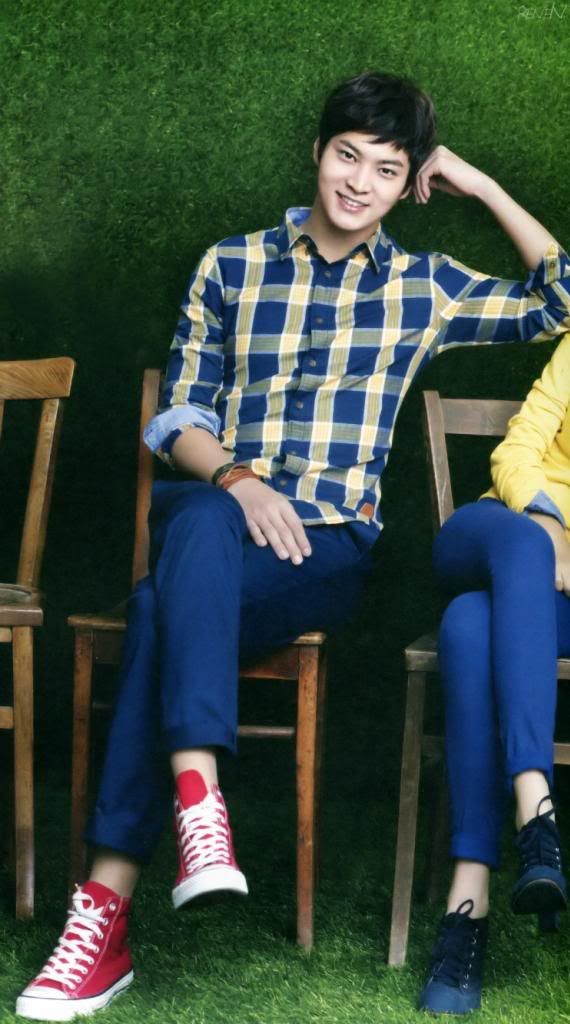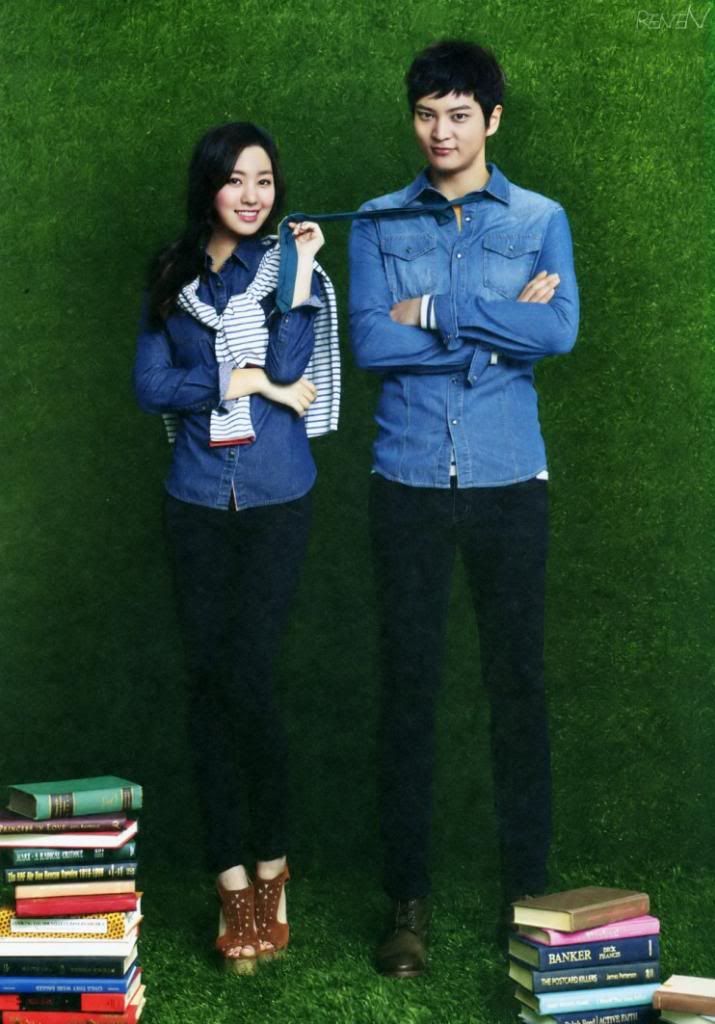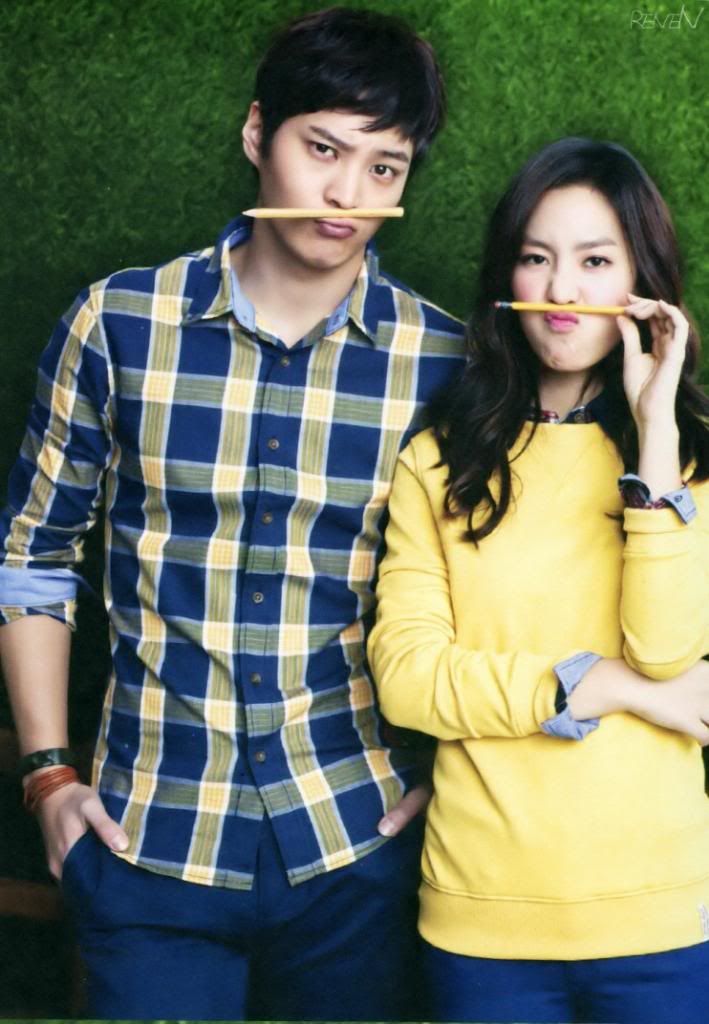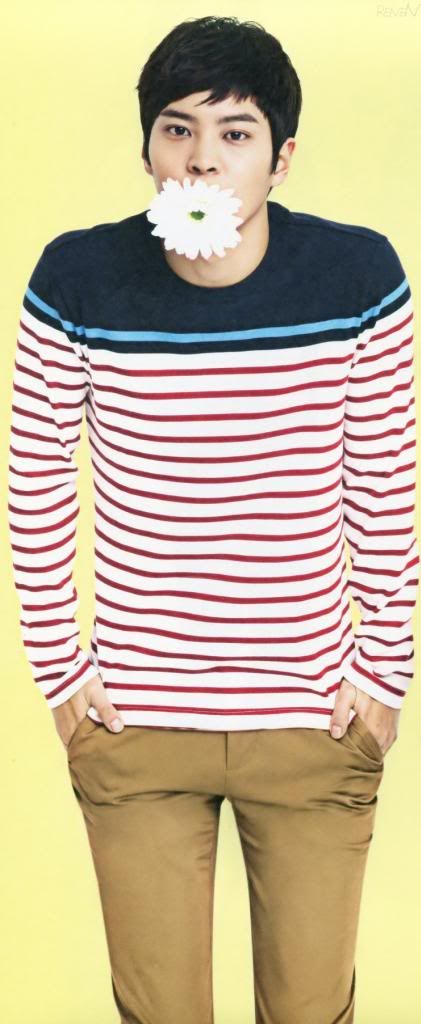 As tagged (RENEN) via juwon_seyun
Enter Joo Won's home! on 1N2D
Do you want Joo Won to have his own tag?