Translation of the relevant part (tl;dr: journalist couldn't focus on Song Ji Hyo's character in her new film 'New World' because she kept picturing Song Ji Hyo's image in 'Running Man' instead of her movie character. She thus concludes that Song Ji Hyo's 'Running Man' stint is ruining her image as an actress and she should choose between one or the other):

"Song Ji Hyo's character Shin Woo is not an important role or a role with a big impact on the plot, but the character is pivotal in helping Ja Sung view his emotions objectively and help bring the audience's focus into what's important.

But why is it that I can't help but burst into laughter? Right when Ja Sung expresses his emotional turmoil with the line, 'What am I to you guys? Even those gangsters have more trust in me than you...' and Shin Woo is about to respond, I'm suddenly seeing her image on SBS's 'Running Man' dissolve into her character on the screen, making me crack a smile. Of course, you can't laugh in the middle of such an emotional scene... but you are left with a drop in focus.

Song Ji Hyo's acting in 'New World' isn't that bad but I can already image her loosening her hand muscles while eyeing Lee Jung Jae's back. Instead of seeing Shin Woo aim to stab a dagger into Ja Sung's back, I'm picturing Song Ji Hyo aiming for his name tag.

Song Ji Hyo undeniably brings about great laughter as the female ace to viewers of 'Running Man'. It's great that she has a bright and healthy variety image but I believe it's time that she considers the negative effects being on variety shows can have to an actress' career.

To be an actress means to live off of your image. She's at a crossroad now where she needs to choose between living as 'actress Song Ji Hyo' or 'variety star Song Ji Hyo'. Although she went as far as to expose herself for the movie, 'New World' ultimately did nothing for her than prove that her variety image is eating away at her image as an actress."

-

1. [+519, -36] What the ㅡㅡ Why is the journalist writing her own personal book report into an article?

2. [+382, -30] I didn't see the movie... but I don't see why she can't do both movies and variety shows??? Variety shows are variety shows and movies are movies... This article just seems like it's trying to grab at anything it can to pull her down. The only person that can judge is the audience. People that haven't seen the movie yet but read this article will now have trouble focusing on the movie because of it. They'll image Song Ji Hyo going after Lee Jung Jae's name tag. What did Ji Ho-ssi do to you, journalist??

3. [+232, -16] I remember what Kusanagi Tsuyoshi said on Knee-Drop Guru. They asked him if he felt okay with letting himself go on variety shows but still showing a serious image in movies. He said that the viewers will recognize hard work no matter the form. I seriously think anyone can become a journalist these days when I read articles about personal opinions written as if they represent the entire public's opinion. Journalist, because of you, you're shaming your entire profession.

4. [+38, -3] Anyone who's seen 'New World' will know that this article is nothing but a lie

5. [+26, -2] 'TV Report' Jo Ji Young, the negative effects of being a bad journalist

6. [+23, -1] This person doesn't deserve to be a journalist... She's the type of idiot who'd watch 'We Got Married' and assume they're actually married

7. [+23, -1] I question the journalist's intelligence considering her inability to separate a fictional character from the actual actress

8. [+14, -0] I saw 'New World' yesterday and I wasn't reminded of Mung Ji from 'Running Man' at all. Song Ji Hyo's a great actress!

9. [+14, -1] As always, journalists are the start of rallying up hateful replies

10. [+13, -1] There's that old saying... "Every controversy starts with the journalist."

11. [+13, -0] Please, these thoughts belong in your diary...



KBS reconsiders initial casting of Lee Dong Wook and Song Ji Hyo for upcoming drama



Lee Dong Wook and Song Ji Hyo were originally in consideration for leading roles in KBS's upcoming 'Chun Myung' but KBS recently came out and said they are reconsidering their castings because they want to make sure that the actors' image fit with the drama perfectly. For now, it's up in the air.

Article: [Exclusive] Lee Dong Wook and Song Ji Hyo's casting for KBS 'Chun Myung' in reconsideration

1. [+163, -12] Just don't use idols

2. [+131, -16] I like both!

3. [+114, -7] If they want to change them out, they should do so quietly.... KBS is always so rude

-

Article: [Exclusive] Lee Dong Wook and Song Ji Hyo's casting for KBS 'Chun Myung' in reconsideration

1. [+209, -13] They seem to be feeling the fire under their a$$es now that Iris 2 is in bottom rank. I like Lee Dong Wook and Song Ji Hyo both but I can see why they're nervous considering they're both not known for ever hitting daebak in viewer ratings. On top of that, it's a historical drama.

2. [+175, -28] Yeah, I admit Lee Dong Wook's not worthy enough to go up against Shin Ha Kyun but I'd pick Song Ji Hyo over Lee Min Jung any day

3. [+158, -20] Garyyyyyyy

4. [+115, -1] The casting's important but it doesn't matter how big of a star is playing the role if the drama's plot sucks

5. [+146, -33] I hope they both get cast, I want to see Song Ji Hyo in a drama soon!

6. [+110, -2] How about they start with reconsidering IU's casting in The Best Lee Soon Shin..

7. [+151, -43] Song Ji Hyo's never had many antis so why are there so many people talking crap about her?? Jealous because she's so perfect? Why are people calling her the mafia's wife? They're not even married yet, and we're not even sure they're really dating ㅡㅡ Don't judge what you don't know, Song Ji Hyo's great

8. [+112, -14] I was looking forward to this for Lee Dong Wook but now they're reconsidering the whole cast ㅠㅠㅠ? Don't do this ㅠㅠㅠ

9. [+125, -33] Love Song Ji Hyo ♥

10. [+111, -20] I don't get why people don't think Lee Dong Wook can pull in the viewer ratings ㅋㅋㅋ I loved My Girl and Woman's Scent

11. [+97, -11] The competition for the next Wed/Thurs time slot seems tough so I can see why they're nervous with Lee Dong Wook and Song Ji Hyo... especially with Iris doing so badly now. I bet they'll switch them out for another top star casting.


TV Report via Nate | Netizenbuzz
Star News via Nate + via Naver | Netizenbuzz



Queen Ji Hyo for Yesse Spring collection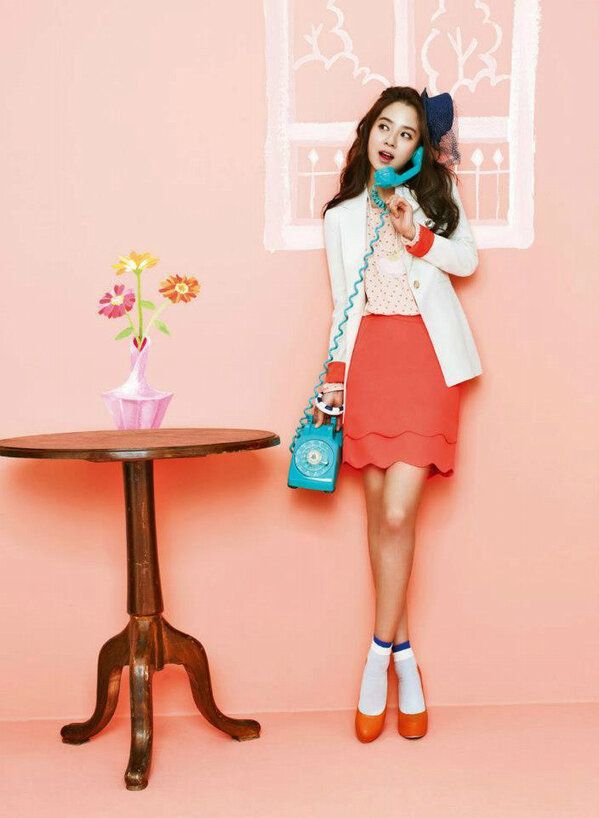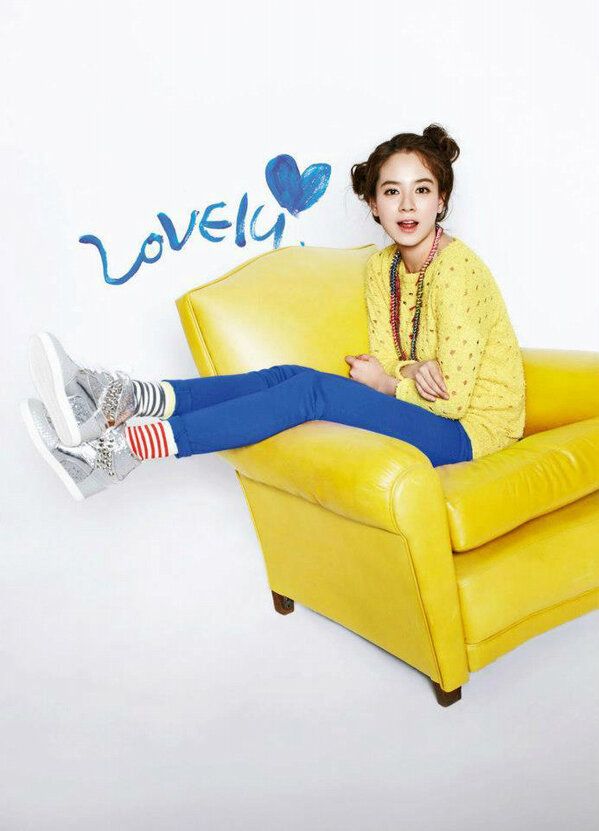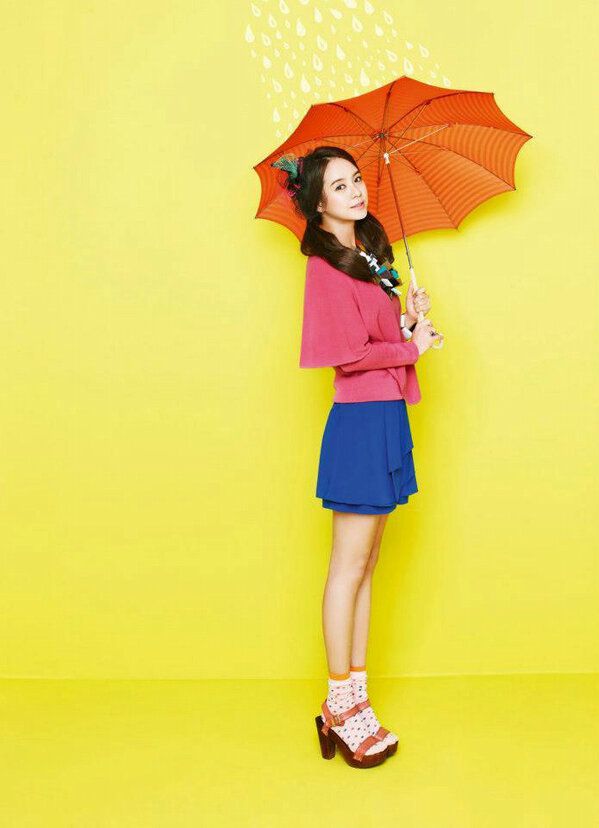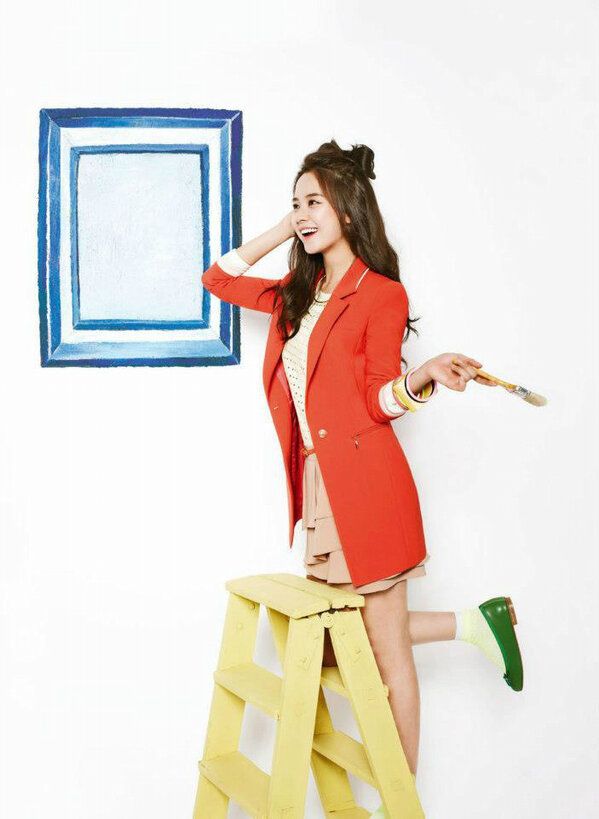 runnersindo
YESSE Fansign
SongJihyo LA



Kim Jong Kook talks about Queen Ji Hyo



Kim Jong Kook said the only female member Song Ji Hyo is crazy

During 's "commander" Kim Jong Kook's rare visit to Singapore, he laughs and claim giraffe Lee Kwang Soo as the most free member and the only female member Song Ji Hyo as crazy!

In South Korea's most popular variety show , with the title of Commander, Kim Jong Kook arrived at Singapore on Thursday and received an interview with us yesterday afternoon.

Throughout the interview, Kim Jong Kook was with all smiles, appearing amiable and answered almost every questions posed without "filtering" out any questions

… …

Regarding Song Ji Hyo challenging Bungee Jumping

In last Sunday's broadcast of "Macau Special" in South Korea, the only female member successfully challenged Bungee jumping, making the male members feel unworthy, Kim Jong Kook exclaimed: "She is crazy!" The show has been ongoing for 2 and a half year and he felt that Song Ji Hyo is "among the female celebrities, the most suitable one to be part on the Running Man members, because she is as strong as a man."

Kim Jong Kook who missed the first part of "Macau Special", skipped the Bungee jumping segment and was asked if he would have jumped if he were there?

"I have tried similar activities before… …(hesitated) But I don't want to jump that!"

He also said that the 7 members have became a "family", it will be weird if anyone is missing.

Other than that, has already been to Hong Kong, Macau, Beijing, Thailand and Vietnam for their filming, when will they come to Singapore?

He laughs saying: "I will put in a good word in front of the producers."



Kim Jong Kook hopes to bring Running Man to Singapore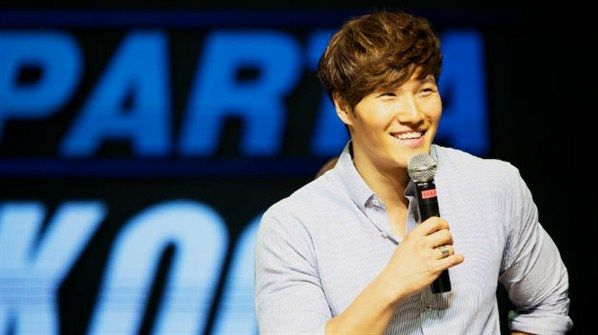 The well-loved South Korean singer and TV personality reciprocated the fans' support with various interactive fan games and "live" renditions of his signature ballads during his fan-meet

Ever wondered if anything could make Running Man's Sparta Kim Jong Kook nervous? Well, it seems like the impressive turn-out and resounding cheers from the crowd at the Kallang Theatre last night did. Or so he confessed.

The Commander started the show with classic hit "Today More Than Yesterday" and introduced himself to the audience in English. After some "coaching" from the emcee, Kookie brought laughter to the house when he spurted a couple of Singlish words such as "chio bu" (pretty girl) and "paiseh" (sorry).

Kim Jong Kook's massive popularity in Singapore was evident; every word he said and every action he made during the fan-meet was met with screams.

Touched by the support shown by the local fans, Sparta Kook agreed to inform Running Man's PD (producing director) of the love he has experienced on this trip.

As promised by the man himself during the press conference earlier yesterday, the fan-meet was filled with entertaining games and interactive moments between Kookie and the lucky fans who were picked to go on stage.

During the "Flamingo" game, the fans had to hold up one of their legs and try to 'push' the Commander out of a zone marked on the floor.

"I've never done this on stage before," he exclaimed when he learned that the next game was tug-of-war, another Running Man-inspired game. Catching his breath, he jokingly ranted, "It's so hard. What am I doing this for?"




Although Sparta Kook could easily win the games, he 'lost' most of them and suggested to take photos with every pair of contestants at the end of each game, offering applaudable fan service.

Shocked by a female fan who was shedding tears of happiness on stage, Kookie asked if she was "sad", displaying an endearing side of the Commander.

His good buddy and fellow Running Man member Lee Kwang Soo may plot to tear off Sparta's nametag on the programme every week, the fans that came wearing their own version of the nametags were dying for the Commander to tear off theirs. And so he did, for some of the lucky game contestants.

Video that won't embed
His English XD. He seems SO nice.



Kim Jong Kook's "bromance" with Lee Kwang Soo





Diehard fans and long-time supporters of the love-line between Yoon Eun Hye and Kim Jong Kook from their X-Man days, you are not the only ones hoping for an onscreen reunion between the two. Jong Kook also briefly shared his desire to have the actress guest star in future episodes of the variety show Running Man at his first press conference in Singapore yesterday.

But don't expect anything romantic to happen from it.

While he is often subject to endless teasing for his rumoured relationship with Eun Hye, Jong Kook says he has now "passed the stage of love-lines".

"I tend to avoid it these days. It's a very simple time for me now," he explained through a translator. "But I don't mind if female friends want to join me on Running Man, be it Moon Geun Yong or Yoon Eun Hye - hopefully."

Before he found fame on variety shows, Jong Kook first gained recognition as a singer and an idol boyband member in the 90s. He's aware that fans - especially "Asian fans" identify better with Running Man's 'Sparta-Kook' than 'Kim Jong Kook, the singer', and remains just as grateful for the love and support.




Speaking to the local media in a mixture of Korean and English, the Masters' graduate from Dankook University is just as entertaining in person as he is on TV.

The quick-witted Korean was also quite the charmer in his replies and would tickle reporters with his one-line retorts and candid honesty - like how he professed a liking for his affectionate nickname 'Kookie' instead of 'Commander'.

"I find that [nickname] a lot of pressure," he confessed with a sheepish grin.

When xinmsn asked if he feels pressured to maintain his toned physique for the show, Jong Kook clarified that he "keeps fit" for personal and health reasons "not for Running Man".




In town for his first Singapore fan-meet, the balladeer who is often packaged as a brute force to be reckoned with on the show also jokingly lamented about the tendencies of being targeted and seen as 'the enemy' by his fellow guests.

'I'm [now] worried that I have to work out even more to counter them,' he cheekily replied with a laugh.

On top of being seen as an aggressor in the show, Jong Kook is also known for his 'bullying' antics towards Running Man co-star Lee Kwang Soo. Unperturbed by talks of being a bully, he waved off negative reports good-naturedly and even told reporters of their blossoming bromance.

'I'm very close to Kwang Soo and in fact, I see him as much as five times a week. I recently just slept over at his place and we work out together, we spend so much time together,' quipped Jong Kook.

'But we're not dating,' he quickly added, much to the amusement of reporters gathered at a press conference at M Hotel.

As a seasoned variety veteran who's been on shows like X-Man, Love Letter and Family Outing, Jong Kook's in the best position to help Kwang Soo build a stronger TV personality. And no one knows it better than fans of the programme.

'Fans who closely keep up with Running Man will understand that I'm very close with Kwang Soo. And those fans understand that what I do on the show can be a little exaggerated, but I don't mean any harm.'

The well-trained artiste revealed, as if to prove his words and gain sympathy points, 'He kicked me really hard (chuckles) and I don't even hit him that hard.'

Video that won't embed <3 and yes YEH!



Kim Jong Kook wants to make lots of babies





The soulful singer and Running Man's formidable force proves he's quite the eligible bachelor. Where's the queue?

"Commander". "Sparta-Kook". "The Enemy". And now "Family Man"?

At least, that's what Kim Jong Kook aspires to be one day. The Herculean singer and TV personality, best known as one of the main cast members of the immensely popular Running Man, is still single, but hopes to tie the knot before he hits the big 4-0 in a few years' time.

"I have to get married soon because I've got to make a lot of babies!" Jong Kook said with a laugh during his one-on-one interview with xinmsn at IMM, where his autograph session was about to take place. "I'm getting older and older."

Despite portraying a fearsome image on Running Man, Jong Kook says that he doesn't want to be too firm with his kids. "My dad was quite strict, so I'm not sure if that's something that will come naturally to me, but I hope to be like a friend to my children," said the gentle giant.

As for his future wife, Jong Kook assured us that he'd make a responsible husband and a good "family man". In addition, he promises to sing whatever she wants to her in that swoon-worthy voice, and to make lots of money to give his brood a good life.

Since we were on the topic of marriage, we casually brought up Yoon Eun Hye, whom Jong Kook has been romantically linked with since their X-Man days. According to Jong Kook, he doesn't keep in touch often with the Princess Hours actress ("She's probably really busy these days" ) and the last time he spoke to her was a couple of months ago. However, neither Jong Kook nor Eun Hye has brushed off the possibility of having her appear on the show, so keep those fingers crossed, shippers!

Video that won't embed
Click to view full size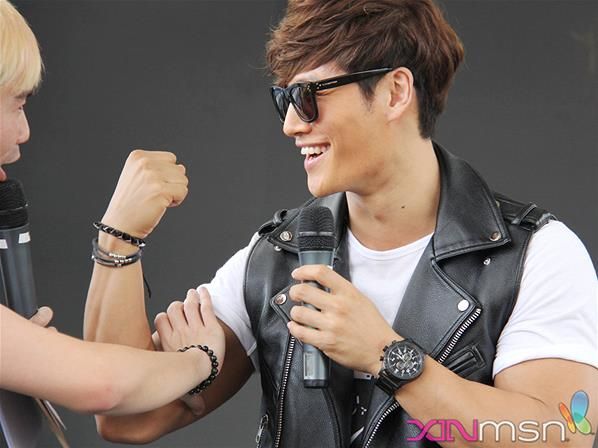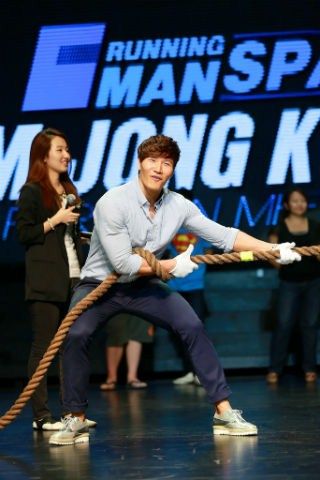 Kim Jong Kook the filial son

Filming X-Man overseas a long time ago


Japanese concert


Japanese fan meeting


LA Concert


Japanese concert


Singapore concert



"In every photo of Kim Jong Guk taken overseas, you can spot his mother somewhere in the picture. Because he's so busy, he'll always bring his mother along whenever he has a schedule overseas so that she can enjoy vacation time with him.

Kim Jong Guk is known to be quite fluent in English, but his reason for learning English in the first place was because he wanted to travel with his mother to foreign countries comfortably and buy her delicious foods. What a jjang and talented man!"

-

1. [+59] Kim Jong Guk truly seems like an exceptional man. I heard he's known to treat his girlfriends with such respect.. and on top of that, he's a filial son. A rare man these days.

2. [+50] She's raised an amazing son!

3. [+49] Any person that knows to treat their parents with love and respect do the same for their spouses and their spouses' families as well.

"I saw Kim Jong Guk at a restaurant once and I was so surprised at how fluent he was in English. He free talked with a foreigner for about two hours with no problem."

"Or he's a mama boy."

"It's rare to find anyone his age be so filial towards their parents. Especially considering he's a busy celebrity, it must be even harder for him but he always makes sure to bring her along.."

mongji-fan | entertainment.xin.msn.com 1 2 3
Tellzone | Netizenbuzz



Lee Kwang Soo Star Date (Eng subs)




KBSWorld
OMG his bowl cut. Dead.
Yelling at himself in 2008 to be confident loool He's so cute I can't <3