Q: If you could date one, which one? A. Good-listener B. Good-talker

> D-LITE: A good-talker. I love talking as well but I love saying "yes, yes" and listening to someone who's always by my side talking.♡

Q: Women type that makes your heart pound? A. Someone who is considerate B. Someone who is sloppy

> D-LITE: A. I like woman who I can grow with. I think sloppy women would be lovely too but I might not like them that much (Laughs). Me? I'm not sloppy!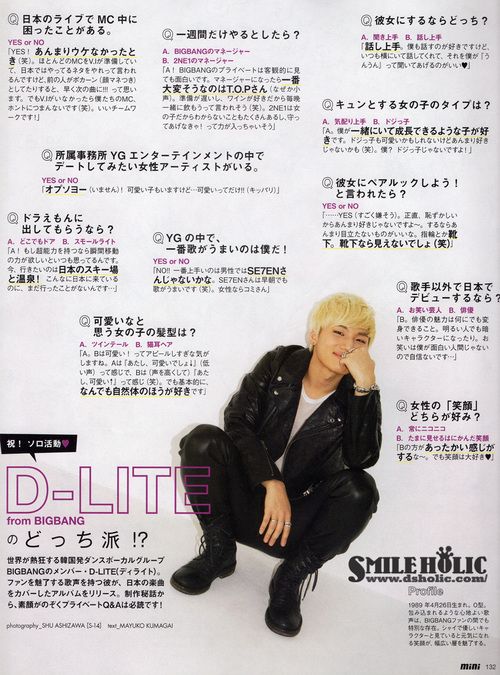 D-LITE on mini (ミニ) 2013年 04月号 "MINI" D-LITE Q&A♡

『D-LITE's "Which One"!?』
Korea's dance vocal group that the world goes wild for, Bigbang's member, D-LITE.
He has a fascinating singing voice that enamors his fans. His J-pop cover album's release and his behind the story shows his natural side and his private Q&A is a must-read!

Q: There was a time when it was awkward(embarrassing) being an MC on Japan Live shows. Yes or No?

> D-LITE: Yes! When we weren't that funny (laughs). Most of the time, for MC, V.I(Seungri) prepares popular jokes of Japan and tells us to do it but when the audience are just blankly staring~ (imitates face), I think to myself, Quickly move on to the next song!!! But when we don't have V.I., we are really bad at being MCs. (Laughs) It's a good team work!

Q: If you could be one for a week, which one? A.BIGBANG's manager B.2NE1's manager?

> D-LITE:A! Bigbang's private life is even funny in my personal opinion. If I become a manager, hardest person to deal with would be TOP-san (In a low voice). He's always late getting ready and he likes red wine so I think he would ask me to drink with him every night (Laughs). Since 2NE1 are ladies, I don't know much and I would have to protect them more so it would be harder.

Q: If you could date one, which one? A. Good-listener B. Good-talker

> D-LITE: A good-talker. I love talking as well but I love saying "yes, yes" and listening to someone who's always by my side talking.♡

Q: Women type that makes your heart pound? A. Someone who is considerate B. Someone who is sloppy

> D-LITE: A. I like woman who I can grow with. I think sloppy women would be lovely too but I might not like them that much (Laughs). Me? I'm not sloppy!

Q: If you're girlfriend asks you to match outfits with her (Couple-look)? Yes or No?

> D-LITE: ….Yes(In a disliking voice). Honestly it's a little embarrassing so I don't like it that much~ If I do match, I like something that's not that noticeable. Like rings or socks. You can't see matching socks (laughs).

Q: There's a female artist in YG Entertainment that you would like to date. Yes or No?

> D-LITE: No~! There are pretty people but… They're just pretty, nothing more!! (Strictly)

Q: If Doraemon gives you a superpower? A. Teleport everywhere B. Small light (?)

> D-LITE: A! If I could have a super power, I've always wanted to be able to gain the strength to teleport. Place I want to go right now is Ski resort and a hot spring! I'm here in Japan like this but I haven't been to those places yet…

Q: I am the best singer in YG! Yes or No?

> D-LITE: NO!! I think the best singer is SE7EN. SE7EN can sing well even in early morning (Laughs). Best female singer is Gummy.

Q: Women's hairstyle that you think is pretty? A. Twin tail (pig-tails) B. Cat ear hair

> D-LITE: A. B is just appealing to you like "It's pretty!" A feels like they're saying "I'm pretty, right?↓"(In a low voice) and B feels like they're saying (in a high voice)"I'm pretty, right?↑"(Laughs) But basically, I just love any style that's natural.

Q: If you debut in Japan for something other than singer, which one? A. Comedian B. Actor

> D-LITE: B. Actor's charm is that you could transform into anything. You could be a bright person and be a dark character. I'm not confident being a comedian because I'm not a funny person…

Q: Which side do you like more in a women's "smiling face"?
A. Always smiling B. Shy smile that is shown sometimes

> D-LITE: B feels more warm~. But I love all smiling faces♡

Photo/Mag Source: SmileHolic
Translated by: @BIGBANGGisVIP






Source: Big Bang Updates