Goes with this Celebrities spotted providing sexual services to high-ranking officials
Finally found a proper article.

Police have opened a preliminary investigation into alleged sex-for-favors cases involving a number of high-ranking officials and public figures.

Officials at the National Police Agency said they obtained intelligence that a local contractor bought sexual services for social elites in return for business favors. The list of influential figures involved in the case reportedly includes an official who serves in a vice ministerial post and the head of a large hospital.

The 51-year-old contractor, identified only with his surname Yoon, is accused of filming them having sex with women he hired for the purpose. Sources say that he might have used the footage to blackmail the officials for business favors.

"We have just launched a preliminary investigation to secure substantial evidence. We first need to contact the women allegedly involved in the case to get their testimonies," a police official was quoted as saying by Yonhap News Agency. The official added that the police hadn't recovered the videos yet. The police will consider imposing a travel ban on Yoon as soon as they secure circumstantial evidence of him arranging the secretive meetings.

Local reports claimed that Yoon hired about 10 women, including a housewife, a businesswoman and a musician, to perform sexual services for officials. They were allegedly often invited to Yoon's luxurious country house in Wonju, Gangwon Province or karaoke sessions between 2008 and 2011. Actresses and models were also invited to parties at the house, reports quoting neighbors said.

The case came to the attention of police after a woman filed a complaint against Yoon and his colleague for rape and extortion late last year. The woman surnamed Kwon told police that she found a number of CD-ROMS in a car she had lent Yoon that showed big name officials and women having sex. The police asked Kwon to submit evidence to back up her claims but she said she had destroyed the discs. The prosecution dropped all charges against Yoon last month aside from one relating to an unregistered air gun.

Kwon claimed that she had lent Yoon 1.5 billion won ($1.34 million) in cash and that he had threatened to release another video of Yoon raping her while drugged after she asked to be paid back.

Some reports suggested that the police had already known that Yoon purchased sexual services for high-ranking officials but might have ignored the case in consideration of its impact on the new government.

The main opposition Democratic United Party called for a full, transparent investigation into the allegations.

"The police have probed the case for a while (but) seem to have no intention of uncovering the truth as they feel the pressure of investigating the case that (allegedly) involves high-ranking officials under the new government," DUP spokesman Park Yong-jin said.

"Cheong Wa Dae and the leading members of the police need to make efforts to reveal the truth."

koreaherald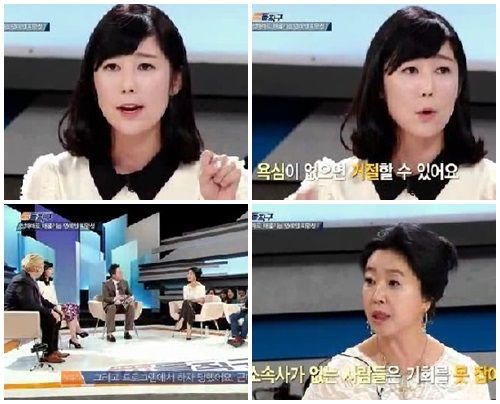 Article: Sayuri under controversy for saying "Providing sexual favors is your own choice", netizen opinions divided

Sayuri: "It's because celebrity hopefuls are greedy that sexual favors exist. People say that they do it because they're scared of what will happen if they don't, but I think that fear is just their greed. If you're not greedy about becoming a celebrity, you don't have to do it.

In the past, someone asked me out to drink with them on a program. I told them to screw off. I, of course, was take off of the program. If I had been greedy, I would've agreed to drink with him. I just think it's a personal choice."

-

1. [+1,244, -16] She's not wrong, though

2. [+1,029 -16] I think she's one of the few female celebrities who are able to express their opinions in an intelligent way

3. [+1,009, -15] I think she's right

4. [+125, -7] I think what she's trying to say is that women are just as responsible for sexual favors as the people accepting it are. Women always act like they're the victims no matter what and have no responsibility for the actions they chose to commit... They always think, "Oh, I'm a woman, I'm the victim, someone will resolve this for me..."

5. [+102, -1] I think she's right as well... There are probably a number of female celebrities who spread their legs to get popular

6. [+83, -0] She's right. It's true that trainees are weaker and that providing sexual favors might be necessary to be popular, but there are just as many celebrities who held in their greed to be popular and worked their way up from the bottom until they got to where they are now. In the end, it's your choice to become a star to get popular in such a way.

7. [+69, -0] She's right. It's a trade. I'll give you my body so give me what I need. As long as it's not sexual assault, the woman is trading what she has for what she needs. Sayuri has a way with words that Koreans could never express themselves with.

8. [+59, -0] She's a hundred times right. No one's forcing these girls, drugging them, kidnapping them into joining powerful men for drinks and sleeping with them. Unless you're being raped, I don't see why any woman couldn't refuse such offers.

9. [+35, -1] Celebrities who gave sexual favors should never act like they are the victim. I used to work in the industry so I'm familiar with this stuff, and I'm reminded of an actress 'K' who was cast in a morning drama with a male rookie star. All she had to go was up but she rejected a sponsor offer and now she can't even come out on TV. In the end, it's your own personal choice. People tend to hate on the men in power that accept these things but I think women should be hated just as much.

10. [+32, -2] Sayuri's right. Trainees offer their bodies because they want to be popular. If they had the talent or a good head on their shoulders, why would they offer their bodies instead of trying to get popular through their own skills? Use your damn talents or get out of the industry.

11. [+33, -3] It was funny to me how Kim Boo Sun (another female celebrity guest on the show) said that "It's difficult to gain opportunities if your company doesn't have power." It's like she's trying to justify women having to provide sexual favors as something they couldn't choose. Isn't this how prostitutes think? Prostitutes are always like, "I can't help but do this in order to make a living and live." What's so different?

What's funnier is that when the audience was surveyed, half of them replied that it's the responsibility of both parties while the other half said it's only the responsibility of the company, or basically saying that women are the victims of sexual favors and it's the company that's in the wrong. I was kind of shocked with that.

Sports Seoul via Nate | Netizenbuzz
I know Netizenbuzz isn't the first choice for a source but..