More from High Cut photoshoot
The rest posted here
She, who is returning as a winter woman. Breathtakingly beautiful, Song Hye Kyo.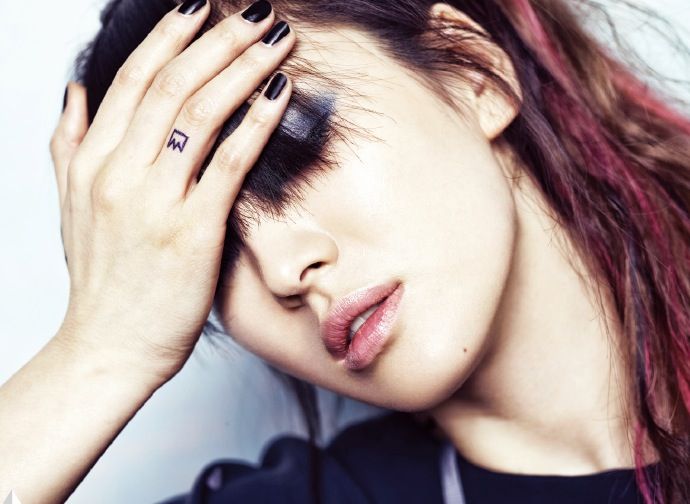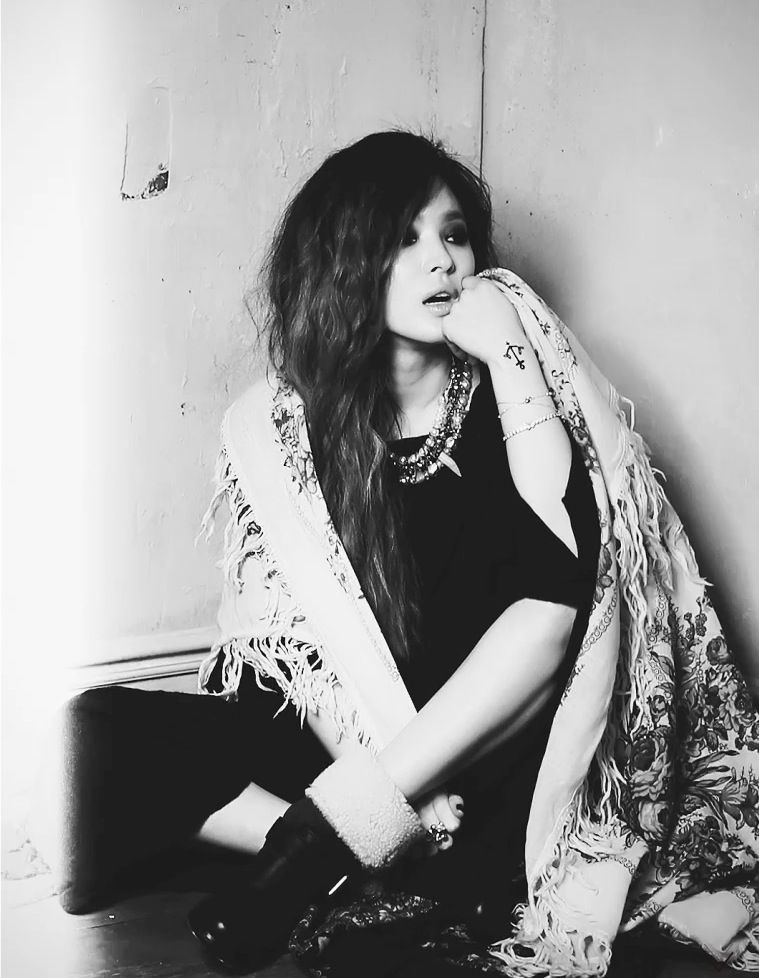 After the photo shoot, she sits at the interview table with a pure makeup-less face. Returning as 'Song Hye Kyo, the everyday person,' she answers the questions with ease. In our first meeting, we only spoke for a little over 30 minutes, but when it comes to "Song Hye Kyo," no matter who meets her, it is likey they will reach the same conclusion: She is a "fabulous woman" with a firm belief of her own. - Reporter Lee Da Jung

- I hear it has been one year and three months since your last pictorial with High Cut. This pictorial also seems to have come out well.

In the recent pictorial, I was absorbed in the elegant concept, but I was also able to wear clothes that I have not worn in a long time, the colorful [flashy] clothes that 2ne1 wears and had on dark makeup, and clipped in pink hair extensions. Shooting was fun. It seems this pictorial revealed a different vibe from my everyday look.

- How did you spend the end of the year and beginning of the year?

I continuously filmed the drama. I was swamped, so I was not able to do anything else. After the script reading began last October, I was booked.

- It has been really cold lately, but to match the drama's title, That Winter, The Wind Blows (SBS), don't you have to film by bringing some tenderness to the winter feel?

It is so cold. I am naturally able to take the cold, but as I get older, the time I can endure it gradually becomes shorter. My stamina is also not like how it used to be. In pastimes, I would not lose my strength while filming, but several days ago, I found myself sitting in the chair next to the monitor and kept sleeping. (Laughs)

- It has been five years since the drama, Worlds Within (2008), how is it returning to the 'drama edition?' I heard you guys have already finished filming up to episode eight.

Truthfully, we have not filmed up to episode eight. [The drama rep] told a lie. (Laughs) Truthfully, before I started Noh Hee Kyeung Teacher's drama, I did not sleep a lot and worked on the current schedule I had. The script is not all out, so filming is not progressing quickly. However, Noh Hee Kyeung Teacher has a style that does not make the script [process] difficult. Before we started filming That Winter, the script up to episode four was out, and the script I am holding in my hands now is only up to episode eight, but Teacher [Noh] is now completing episodes 12~13; compared to other dramas, it does not become more difficult. Perhaps, three weeks before the final broadcast, that is when it will become really difficult.

- It must be fate that led you and writer Noh Hee Kyeung, with whom you worked with on Worlds Within, to this project. I am curious of the casting process.

Talks of this drama came out in the beginning of 2012. At that time, I was already committed to another project, so of course it was an inconvenience then. But production of That Winter was late and the project I was working on was not completely done being edited. Maybe it was fate at that point because I was contacted again with "Will you do it?" As I read the synopsis again, it was really good. The female character is also good, but the male character couldn't have been better. So, even when they were making eliminations [for] the male casting, I only looked at three pieces,'writer Noh Hee Kyeung, director Kim Kyu Tae, and the script' and said I was going to do it, but the casting of Jo In Sung made four beats fall into place, and I thought,'it was a winner.'

- You and Jo In Sung are first meeting in a "interesting" project.

We are the same age, and our route to debut is similar. He is a friend who together from young until now walked the same acting road. We planned to meet before as peers, but it never happened. Rather than meeting in our youth, it is even better meeting now in a great project as matured individuals. Jo In Sung is naturally a fun person. He plays practical jokes on set, and the staff and crew really enjoy it.

- There is no way I can't ask about your pairing [with Jo In Sung]. As an actor, what are his strengths?

The most regrettable thing about portraying a blind person is not being able to see the opposite party (co-star) act. Just looking at the monitor watching the opposite party acting is frustrating. After filming, when I watched the rough cuts of episodes one and two, I noticed that even though In Sung sshi's character is bad, when he is pitiable, he suddenly gives off an impression of an innocent young man. He matches well with the diverse characteristics that humans posses. In previous projects, only one color was shown, but in this project, Oh Soo (Jo In Sung) shows all emotions so it is appealing. As I was watching episodes one and two, I half jokingly said, "This is Oh Soo's drama!" I am just tagging along well. (Laughs)

- The character of Oh Young also has plenty of charm. What has been the greatest challenge in acting as a blind person?

Before I started filming the drama, I met with several blind people and they speak sincerely just like regular people who can see. By incorporating this in the drama, it gives a bit of attention to the dramatic element. It is shameful, but I did not have that much interest and I had preconceptions and prejudice of my own. The blind people I met at the community center told me, "It is ridiculous to think we stumble on the threshold of our house" and "Please do not use your hands to fumble around for items in various places." I hold on tightly to their words and use it in my acting.

- You obviously read the news report that came along with the photo of you wearing high heels while filming, "Can blind people wear high heels?"

When Teacher Noh Hee Kyeung and I first consulted over styling, even I asked, "Since I am a visually impaired person, shouldn't I not wear heels?" She replied, "It would be better if you did not do that." Since the character is a heiress, she goes to a lot of fancy places, and always has a person who helps her get dressed and guides her when she walks. So when there is a guide, [my character] wears heels and it is not a big deal. We agreed to her wearing low heels when she is going to an unfamiliar place alone. So when controversy was raised from that one photo, I said, "Someday they will know." There were even comments that said "Because Song Hye Kyo is short and wants to appear pretty, she wears high heels," but there is also truth to that. Don't the visually impaired wear high heels because they want to look pretty? Anyway, I did all of my homework for the role of Oh Young, and I think I am breaking the stereotypes of the visually impaired.

- As this is your first drama comeback in five years, you have every right to be worried about it being a success.

Back then I dwelled on the viewership ratings, but of course, Worlds Within did not have high ratings. But, even so, it still receives a lot of love. These days with a click of a button, you can watch it all over again, so I do not see a large significance in ratings. When you create a good project, someday you will see it. In particular, since it is Teacher Noh Hee Kyeung's project, rather than have greed for ratings, I am concentrating on how to disentangle the acting. Occasionally, news reports come out saying, 'Worlds Within did not have good ratings, so if this time is not successful, Song Hye Kyo is in trouble.' Because I feel all of the love that I receive firsthand, it does not leave a large impression. If this project happens to go that way for me [low ratings], it does not matter.

to be continued…

High Cut Volume 95 | Translated by: Shanda @ Songhyegyo.net

Want to have beautiful flawless skin like Goddess Song Hye Kyo?

[TV Daily] Song Hye Kyo tactfully answered a question about skin care management.
The SBS Wednsday-Thursday drama, That Winter, The Wind Blows held a press conference on March 14th, 11:30 AM, at De Chocolate Coffee Cafe located in Seoul Apgujeong. Director Kim Kyu Tae and actors Jo In Sung and Song Hye Kyo were in attendance.
Song Hye Kyo was asked, "There are a lot of close-up scenes, do you manage your skin with any special treatments?" She responded, "When I was younger, I only believed my age and did not manage my skin, but now I realize what the 'unnies" [elder sisters] were saying is right. You have to begin skin care treatments in advance. Everyone says it will show in your 30s and I am feeling it."
She continued, "I think it turned out really well with me meeting the filming team, lighting team, and staff of That Winter. It is because of Director-nim [Kim Kyu Tae] that I appear pretty. I even think, 'This project has to be my final one' because as I jokingly say, 'If I do another project, all of my [skin conditions] will appear.' I am grateful to the staff."
Jo In Sung said "There are not special skin care management treatments for men. Of course, as a celebrity, I receive skin care treatment, but there is no special method." He added, "Applying a bit of a skin pack?," which caused laughter in the press conference.



Attending Peter Lindbergh's exhibition





Hye Kyo attended Peter Lindberg's "Images of Women", an event to honor 10 Corso Como's 5th year anniversary for its Seoul location. Hye Kyo's photo, which was photographed by Lindberg himself for her Moment Song Hye Kyo Photo Book is included in the star-studded lineup of photos.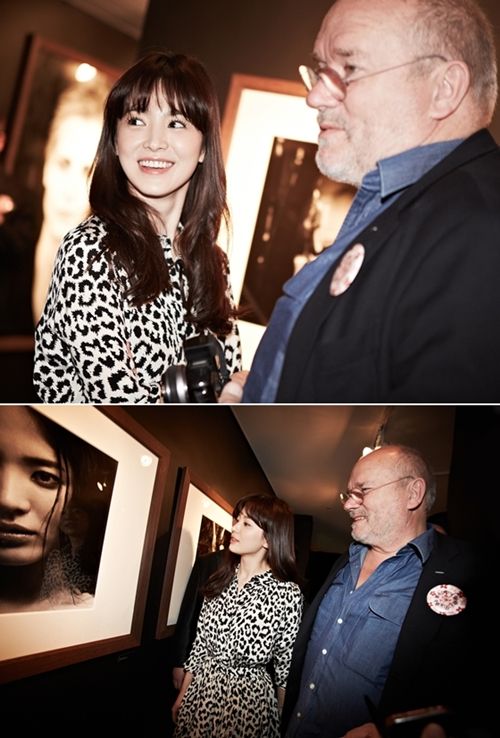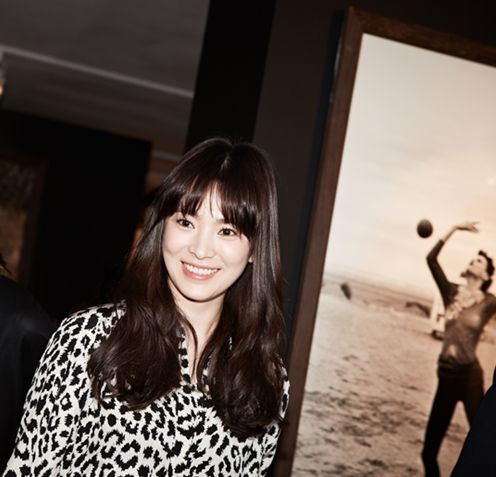 Behind the Scenes of Episode 13 Wedding Dress Scene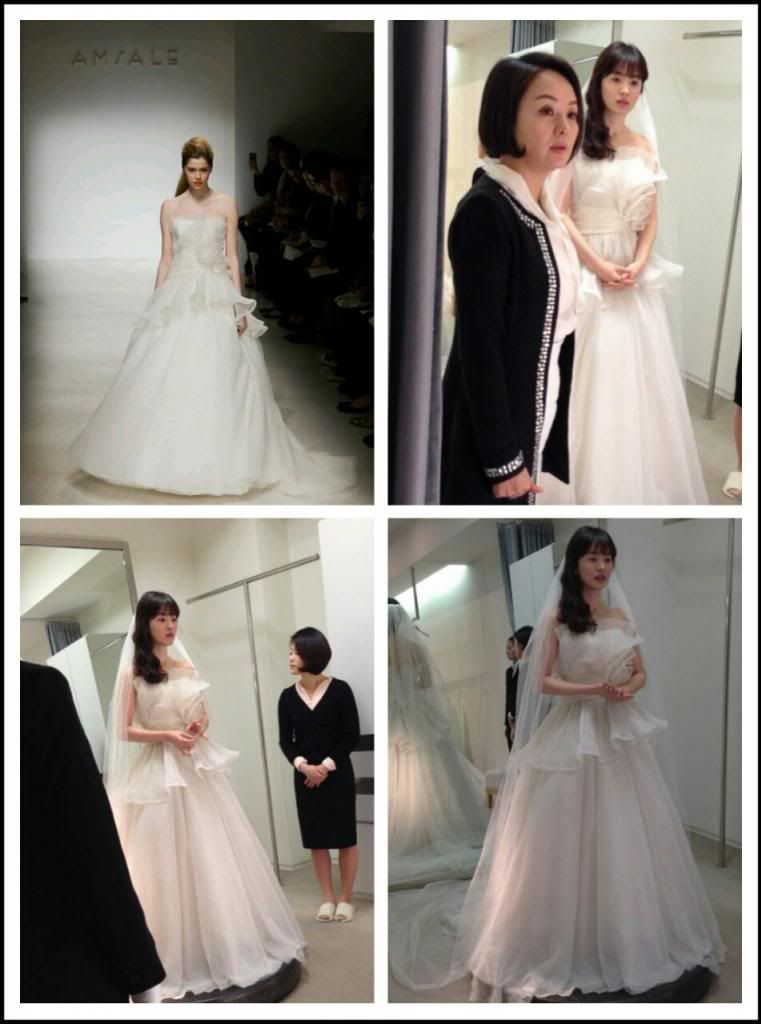 Dispatch interview



In the beginning of May 2011, Dispatch released a Q&A video session with Song Hye Kyo. Only this time, it was not actual reporters asking the questions, but instead, children ages 7-11. They were given the opportunity to ask her anything that they were most curious about. Please check out both the actual video and translation below! Side note: Hye Kyo was very kind to the kids and she referred to herself as 'unnie' when answering their questions, but for the sake of the translation, I replaced it with "I."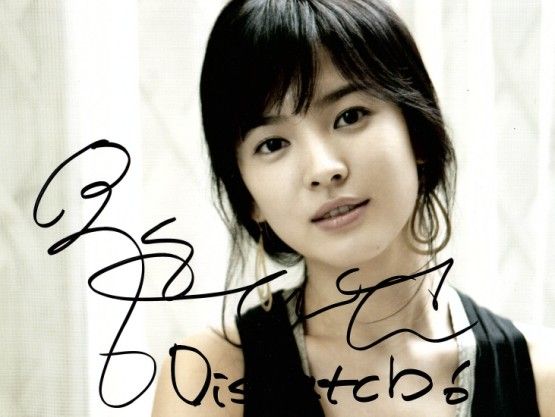 (Autograph she gave Dispatch)

Dispatch1. Unnie, why don't you come on TV that often these days? (Chun Ah Young·7)

Song Hye Kyo | These days unnie has been doing a lot of activities in China, so you can't see me much in Korea. Even so, recently I have been in Korea filming a movie,and it is likely to be released this spring or around fall. Then you will be able to see my face more often than before.

D2. I heard unnie was ranked no. 18 for world's most beautiful woman. Who were the other 17 above you? (Jung Ha Yeon·11)

SHK | Unnie first learned at the beginning of the year on the internet that I was ranked no.18 as one of the world's most beautiful women. I was truly honored and happy. It's a really fun question. The stars on that list are some of the world's best stars, so for the fact that I am also ranked, I feel honored. The stars ranked above me are all such beautiful people. I'm just glad to be a part of the ranking.

D3. Recently my worry is my cheeks turning red. Unnie, when you were in fourth grade, what was your worry? (Lee Su Woo·11)

SHK | It's been such a long time and I don't seem to recall…it doesn't seem like I had any major worries. From what my mother has said, I didn't have an adolescence. Also, about your cheeks turning red, as a little time passes, it will go away. Don't worry so much about it.

D4. Unnie, you ride on airplanes a lot. During those times, what airline food do you eat? (Park Jin Ah·11)

SHK | Because of my work, I travel on airplanes a lot. Before I used to regularly eat the food on the airplane well. But, I noticed since I am not able to move around a lot and I am sitting for a long time, occasionally after I eat, I have an upset stomach. So, when it's tolerable and when I'm not hungry, I try not to eat on the airplane.

D5. Unnie, when do you think you are the ugliest and when are you the prettiest? (Jung Ha Yeon·11)

SHK | As I think about when I'm the prettiest, I really don't know. Since I always see myself closely, I don't know where I'm the prettiest. People close to me say I'm the prettiest when I'm not wearing makeup, but I don't know. Now as I'm slowly getting older, I see a lot of the imperfections. So from now on, I plan on working hard to manage it.

D6. Unnie, how do you feel when you wear makeup? And when did you first wear makeup? (Lee Si Woo·11)

SHK | I started working in my third year of junior high, so ever since then whenever I work, I always wear makeup. In my everyday life, I don't like to wear makeup, so as soon as filming ends, I take off the makeup right away. In addition, on regular days when I'm doing personal things, I rarely go around wearing makeup. I think you, Si Woo, feel the same as me. Even when I wear makeup, it is so uncomfortable, I take it off right away.

D7. People tell me I look like you, unnie, but do I really look like you as a child? (Chun Ah Young·7)

SHK | As I think about it, you are far prettier than me. Compared to now, as you grow older and become a junior high schooler and high schooler, you will turn into an even more beautiful lady. Because of that, be sure to study hard and also meet plenty of nice friends, and think a lot of positive thoughts then you will become a really amazing woman.

D8. Please say in Chinese, 'Jae Yeon-ah, study hard.' (Yoon Jae Yeon·11)

SHK | I'm learning a lot of Chinese while filming this movie. Since I want to do well, I've been studying hard, but as of now, it seems I'm still lacking. If I continue to work even harder studying, I think I will be able to speak Chinese fluently. But, as if now, it is still really difficult and I'm in the learning stage, so I cannot do it well.



TV Daily | Ctmudc ng | dispatchsns | Songhyegyo.net 1 2 3