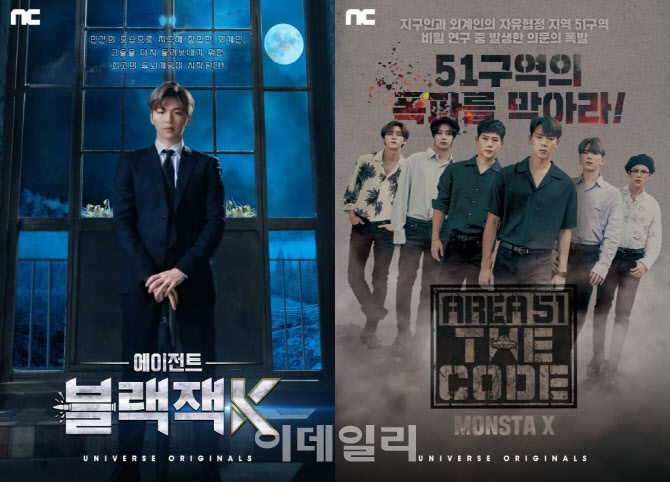 NCSoft's upcoming K-pop content platform/app Universe has released teasers for its two new variety series, "AGENT BLACKJACK K" and "AREA 51: THE CODE," as well as its upcoming online concert "Uni-Kon."

The two shows, along with several more planned for the future, will be part of a series of interconnected "Universe Originals" released through the Universe app.


First up is Kang Daniel in "AGENT BLACKJACK K," described as a "brain-twisting challenge to uncover aliens who have infiltrated Earth in human form and return them to their home planet."

Up next is Monsta X in "AREA 51: THE CODE," where the members are "private investigators tasked with stopping a massive explosion from destroying a secret alien facility in the year 1989."

In addition to the upcoming shows, the platform's first major event will be the online joint concert "Uni-Kon" on February 14th. The concert will reportedly utilize AR and XR features to provide a multi-dimensional viewing experience. Participating artists include Kang Daniel, The Boyz, Monsta X, Park Ji-hoon, CIX, Astro, IZ*One, (G)I-dle, Oh My Girl, WJSN, Ateez, Wei, and Cravity.

(
Collapse
)

The Universe app is scheduled to launch worldwide on January 28th and has reportedly reached over 4 million pre-downloads. The app is intended to be an "all-in-one" K-pop fandom platform and will produce and host various forms of exclusive content, including variety shows, videos, digital singles, photoshoots and fan communities.



Source: into_universe 1 2 3, Edaily news (my own translation)


What do you think, omona?
Are you willing to check out the concert or the um, Universe Cinematic Universe?

The teasers aren't very promising but ngl I might give it a shot for this part alone (stolen from yt comments):
**Exploding car**
MX members: 😱😰😣😳😮
Shownu: 😃