11:14 pm - 02/05/2018
EXO Fan Festival for Nature Republic
On 02/03/18 Exo held a fan festival for Nature Republic. They played six songs and a lot (and I do means a lot) of games.
Here's a run down of what happens, in case you want to only watch the performances. Or only want to watch the games.
Ko Ko Bop (
1:30
). What U Do (
7:38
). They play a game answering questions. Universe (
24:14
). Been Through (
28:42
). another game and idek what they are doing but what I took away from it is
[
spoilers
]
there's 2 bars, lot's of hugging and holding, Baek nearly shoves his mic up Xiumin's butt at 43:22, Chanyeol falls and is tickle attacked by Kai at 46:40
. they play another game at 52:00, this time word guessing. they play ANOTHER game at
57:00-01
but this one is good and I rec checking it out because
[
spoilers
]
there's lot of love and Xiumin's the cutest
. Boomarang (
1:07:26
). They play another game this time of aegyo (this is why I gave a run down and time stamps. like good lord so many games. Seriously there was twenty minutes of music and an hour and ten minutes of games) and the highlights are
[
spoiler
]
Xiumin is sexy and stomps on Chanyeol
. They start saying thanks and wrapping it up at 1:26:00. They end with Power (
1:28:05
).
Source:
namja12four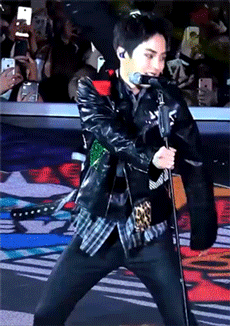 Omona, have you ever sat through an hour and thirty minute video for ten (or less) good minutes of your bias?