7:29 pm - 09/29/2018
Seo In Guk Apologizes For Military Enlistment Controversy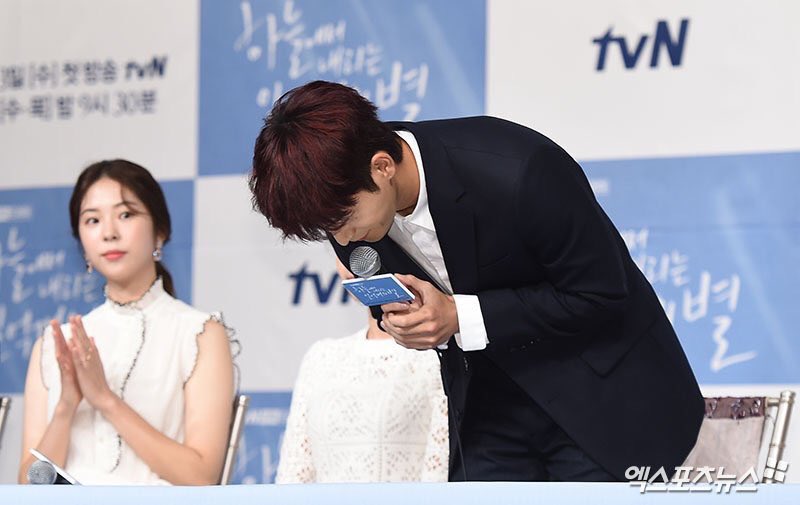 On September 28, a press conference was held for the new tvN drama "The Smile Has Left Your Eyes". During the event, Seo In Guk addressed his controversy from 2017. As the actors introduced their characters and roles in the drama, Seo In Guk stood up from his seat to apologize directly for the incident.
He questioned, "May I stand up to say something?" and stated, "First, I want to thank the reporters for attending this press conference, and before we begin,
I'd like to apologize for causing trouble until now. With a good image and good acting, I will take in the role of Kim Moo Young.
"
A year ago, a media outlet had reported that Seo In Guk knew of his medical condition (osteochondral lesions) — which is grounds for exemption from military service — well ahead of time, but enlisted anyway. The report suggested that despite knowing of the condition as early as March 2015, Seo In Guk did not take any treatment measures
(OP note: SIG clarified in a prior letter to fans that he received a recommendation of surgery for the painful area and was simultaneously undergoing pain treatments. Read more)
. He then enlisted in March 2017, but was promptly ordered to receive a re-examination. Ultimately, he was exempted from duty.
Jellyfish Entertainment then issued an official statement denying these reports and apologized for causing concern regarding his military service.
Source:
Naver
via
soompi
The comments under the Naver article are not good... We will see how the ratings will be >.<