Rapper D.Ark's ex-girlfriend "A", followed up the rumor of rape by adding "I will tell the truth that was distorted." D.Ark's ex girlfriend "A" posted on the 6th on his SNS that she had forced sexual relations with him.

The post was deleted soon after, but screenshots were spread quickly. Then, on search engines, the issue rose to the top of the trending searches with the story that D.Ark raped his girlfriend.

On the post that was posted on the dawn of the 6th, "A", a fan of D.Ark, said that after developing a personal relationship, they started dating. Then, she said that D.Ark asked for sex and "A" refused, and that he forced sex with her without contraceptives.

These claims raised D.Ark's 'rape' and 'sexual assault' controversy.

Particularly, since D.Ark is a 15 year old minor, there was great focus on the controversy.

Due to the controversy over D.Ark's rape, "A" left a comment on the morning of her SNS. In the comment, "A" explained that she didn't want rumors to spread through SNS and it was "sexual relations" rather than "sexual assault".

While in the original post she used the word "rape", she added that after having a genuine conversation with him, they had "sexual relations" and she wanted to stop the misunderstandings.

"At first I said 'rape' and refused to have sex, but later I admit that I had sexual relations with him because I recognized that we were lovers after having genuine conversation," she revealed.

"I just wanted to focus on the change of his attitude after we had sex, but there were distorted facts about 'sexual assault' and 'me too exercise'" "Both parties apologized to each other and we resolved our feelings about this situation".

"A" said, "I had sexual relations with D.Ark when we were lovers and this is not a Me Too declaration, and I apologized to D.Ark and we got over it".

"A" reiterated this with more comments.

"A" said, "I never mentioned that I was sexually assaulted from the beginning, and I think it's unfair that we are both getting hate from these distorted rumors."

The ex-girlfriend of 15-year-old rapper D. Ark claimed Saturday he forced her to have sex with him ― but later said her claim was based on a misunderstanding.

"I was your fan, and you gave me your number and address," wrote the former girlfriend, 20, on Instagram. "You wanted to a have sexual relationship with me without using a contraceptive device ― that's rape."

She added, "You are just like other rappers who are known to have dumped women after one-night stands."


But after her post went viral online, the woman changed her story. Following is the full text of the post on Instagram of "A" - D.Ark's ex-girlfriend.

"When mentioning "forced sexual intercourse," I originally used the term "rape" and denied that it was a normal sex, but after talking frankly with the person concerned, I recognized that we had a loving relationship and that was just sex, so I want to solve the misunderstanding.

I just want to focus on changing the attitude of the person concerned after sex, but when I see the distorted facts about "rape" or "Me Too" movement, I think I need to make this clear immediately.

Earlier this morning, after meeting with him and his management agency, we made a decision to explain about "forced sexual intercourse." I have agreed to write this post to explain that issue.

The person concerned and I have apologized and resolved all misunderstandings in this incident, and also wished that everyone, outsiders, would be more cautious with the violent words to both of us.

From the beginning, I did not mention being raped. I feel it is unreasonable for both sides to be harmed only because of the false articles and vilifications. So I write these things.

I posted the apology to other rappers, and intend to send the personal message to each of them. In the end, I hope the gossip with inaccurate information about my age and face will not be mentioned anymore."

D. Ark also posted a hand-written apology on Instagram on the same day.

"Hello everyone, I'm D.Ark. At first, I want to apologize for causing this inconvenience.
The fact that I had met with the girl who posted the article is true. In addition, it is my fault that I misunderstood by just thinking to myself while ignoring her feelings.

After talking with her, we resolved the misunderstanding. I want to once again send my sincere apology through this post to everyone. I also want to bow to apology for causing the bad reputation around my personal life. Sorry, everyone."

Both said they would take legal action against people who continued to spread unconfirmed rumors or who violated human rights.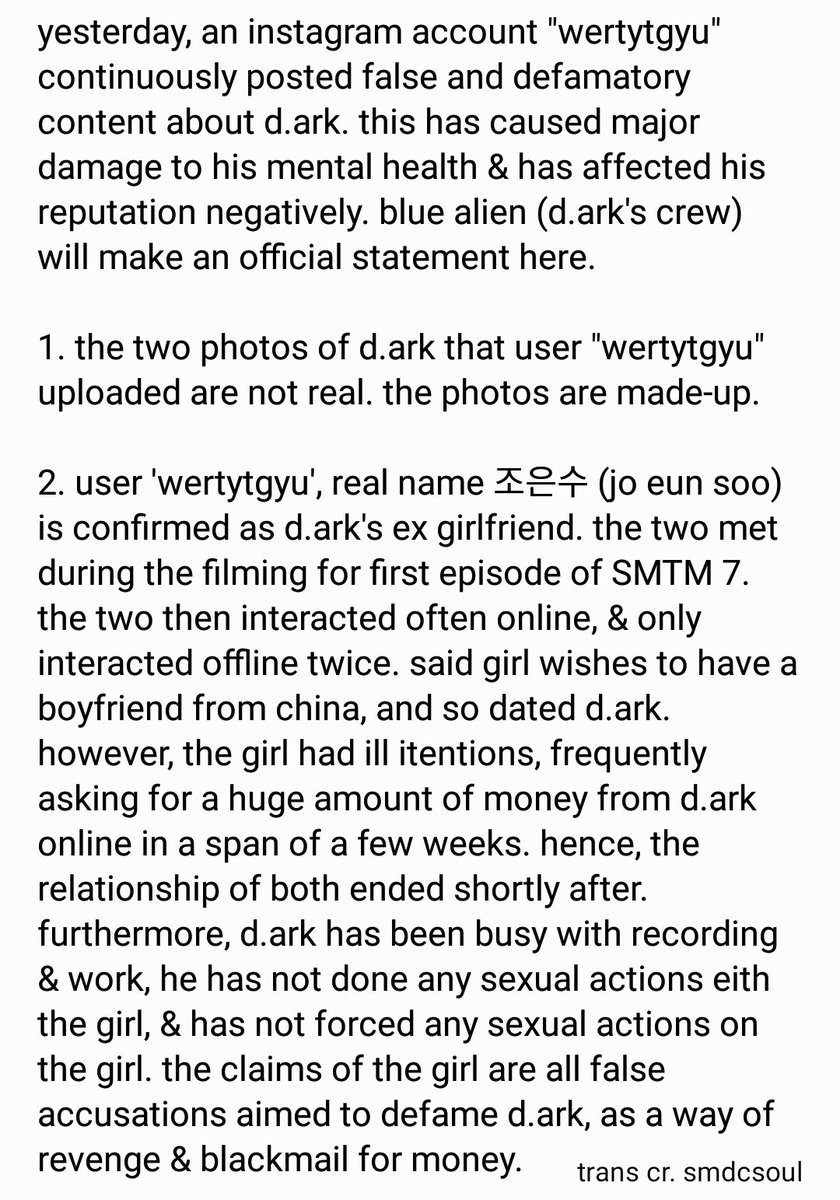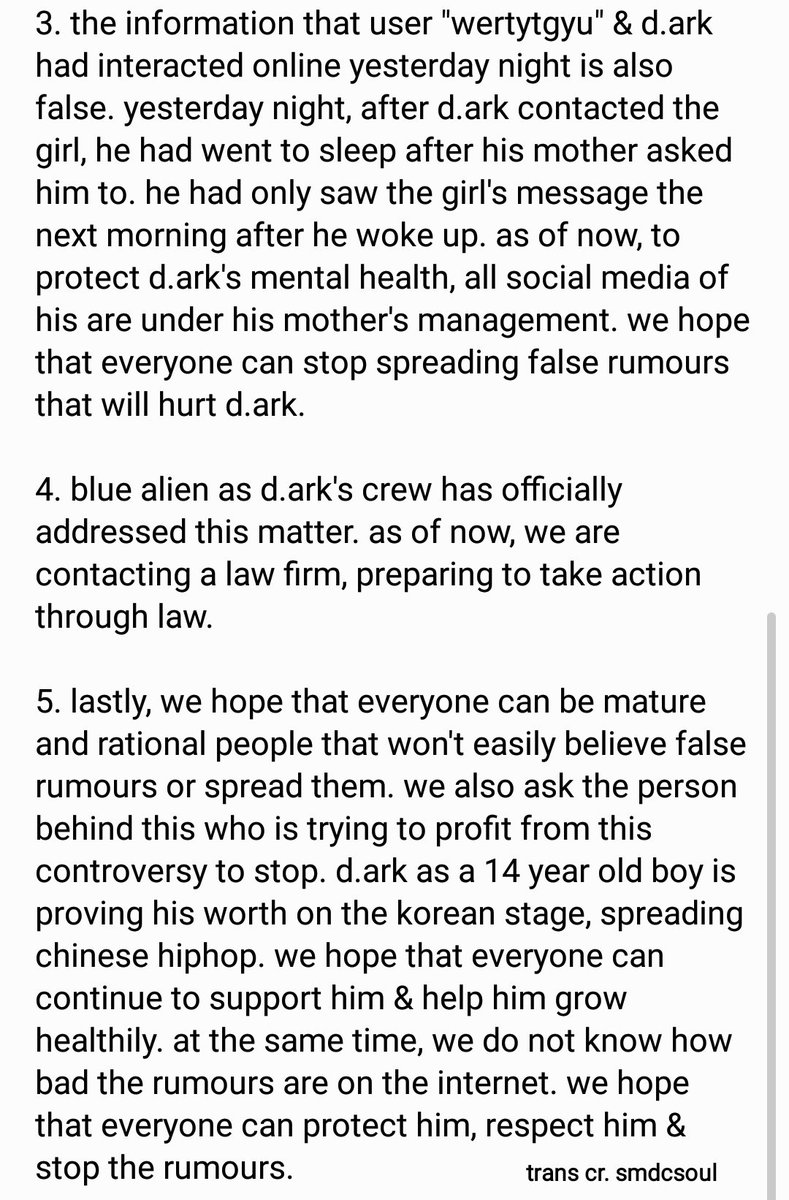 Sources: @smdcsoul, koreatimes, rightknow via 0maeWaM0uShindeiru

I don't even know what's going on...there are a lot of different rumors and infos flying around...that they dated two years ago when she was 20 and he was 13. Others are saying their relationship was recent, so him 15 years old (korean age) and her 20. Either way WTF woman. Isn't that statutory rape? And regarding her original accusations...he didn't deny? wtf idek.