11:18 am - 10/25/2018
Hyeyeon leaves gugudan, will remain under Jellyfish
#Translation: Hyeyeon's leave from gugudan is not temporary. She will still remain under the company but has officially concluded her activities with gugudan.

gugudan will official promote as 8.
https://t.co/aMhZyNWqv5 pic.twitter.com/GwjrZ5tQJ7

— 파룬 (@balloon_wanted) October 25, 2018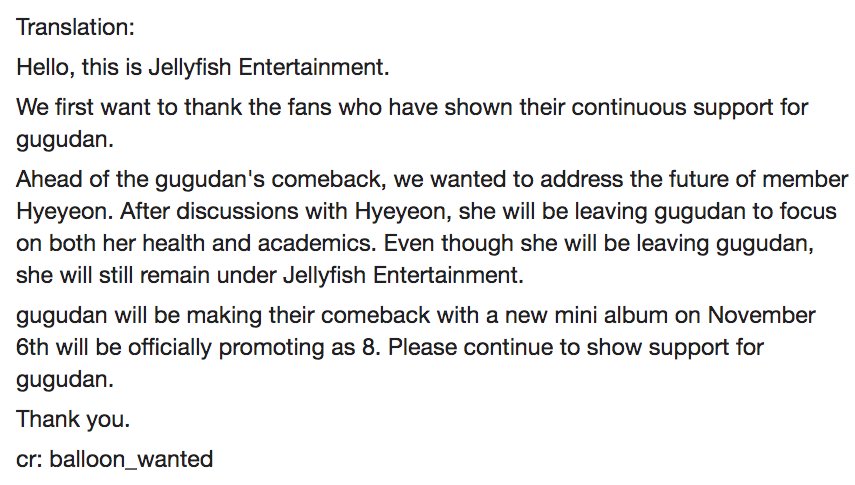 [PIC] Hyeyeon fancafe letter regarding her departure #구구단 #GUGUDAN pic.twitter.com/cXJ5RR8E3x

— Gu9udan's #ACT5 (@gu9udans) October 25, 2018
Dear Danjjaks,
Hi, this is Hyeyeon.
It has been some time, I'm sorry for being late [with an update]. As my company has already shared the news, I will no longer be a member of gugudan, but I will join and be a Danjjak who will always continue to support gugudan. After a long decision, while on my hiatus contemplating, while I was focusing on both my studies and health.
Thanks to Danjjak, I have been able to focus in my academics, and I am also recovering well. I am grateful for all the memories I have been able to create with Danjjak. I was able to share precious moments with Danjjak by my side, who got to see me grow/gain experience~ This will be a time of my life I will never forget and always cherish~! I will never forget and always remember all the times spent with Danjjak, which are the most precious to me!
I will continue to focus on both my health and academics, and will be completing my activities with gugudan. I hope to give a proper goodbye.
Please continue to cheer on all the eonnies of gugudan, as they continue to show a more beautiful side of them. I too will support gugudan as a Danjjak. I hope to meet you all soon.
Thank you Danjjak, I love you.
Sincerely, Hyeyeon
Source:
gu9udan
,
nicoleeeetwt
,
@balloon_wanted
,
balloon_wanted