11:59 pm - 10/31/2018
Is Han Seohee Calling Out TOP In Her Latest Instagram Post?
In case you missed it TOP is back on
Instagram
after almost two years. He didn't use any caption or tags. Shortly after his two posts, Han Seohee had something to say and she doesn't seem very amused.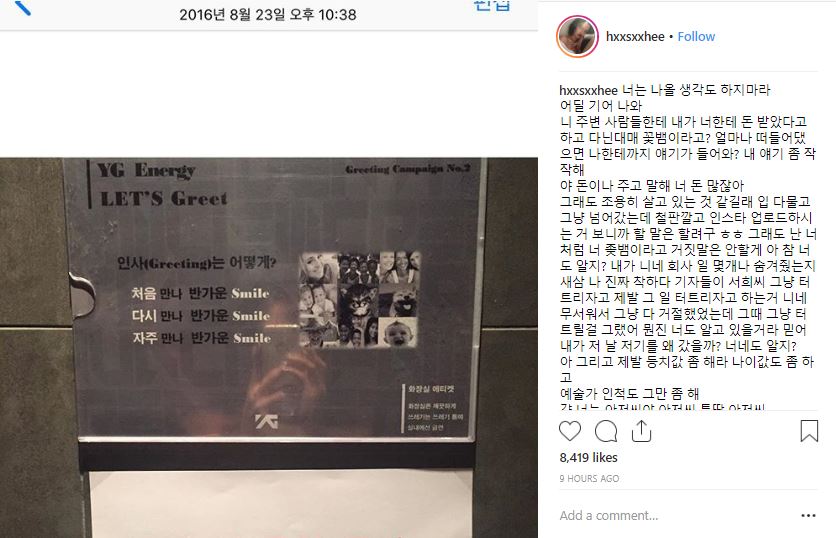 "
Don't you think of coming back. How dare you crawl back out? I heard you've been telling everyone around you that I got money from you. That I'm a kkot-baem? How much did you blab about that that even I've heard of it? Stop talking about me. A least talk after you've actually given me money. You're rich. I was going to stay quiet because it seemed like you were staying on the down low but I think I'm going to speak up now that I see you uploading on Instagram ㅎㅎ. I won't lie like you did and call you an XX-baem though. You know, right? How many of your company scandals that I've hidden? I think I'm so nice. Journalists are always badgering me, 'Seohee-ssi, just expose it all', 'let's please expose them', but I rejected them because I was scared of you guys but I should've just done it then. I'm sure you know what I'm talking about. Why do you think I went there on that day? You know, right? And please act your age. Stop acting like you're such an artist. You're just an ajusshi.
"
source:
nate
via
netizenbuzz
,
hxxsxxhee