If there's one thing GOT7 Jinyoung is known for in the fandom, it's basically whatever the opposite of social media savvy is. Before this he hasn't had a profile pic in his IG acc since the day he created it in 2015 I think, and nowadays doesn't post anything on it unless JYPE forced him he wants to promo something (he also deleted his twitter last year because he didn't feel he had any use for it). The absolute zero energy this man puts into his social media presence is no surprise, and is disgruntedly accepted by his fans.

So that's probably why earlier today everyone was shocked to find that Jinyoung had changed his IG handle and uploaded his first ever profile picture.



[INFO] Jinyoung changed his Instagram username and profile pic!

New username: jinyoung_0922jy
Link: https://t.co/CVE5C3Zr3i#GOT7 #Jinyoung #MAMAVOTE @GOT7Official pic.twitter.com/8Ax0s0sAC3

— GOT7_JYP (@GOT7_JYP) November 21, 2018
@.pepi_jy_ will be missed 😭😭
Good bye~~ #welcomejinyoung_0922jy pic.twitter.com/JTPzOUGK4z

— jinyoung_0922jy (@jinyoung2209jy) November 21, 2018
It's funny how it's not an actual selca, but a screenshot from JJ Diary. LOL jinyoung 😅 pic.twitter.com/UqlXHy3MLA

— JAN 🇨🇦GO | #MiRACLE (@itsjeyeff) November 21, 2018



The news was met with... suspicion and worry, resulting in the majority deciding he must've been hacked (OP concludes this by looking at her tl and searching it on twitter cause idk what's going on) because of the pic being a screenshot and the fact that he even cares about updating his instagram in the first place is concidered highly unlikely apparently. OP is confused. No one has confirmed or denied anything at this point.

So far he's the only one still not verified from GOT7.



Sources: GOT7_JYP / JJDAILY_ / itsjeyeff / jinyoung_0922jy

It has been less than a week since Jinyoung decided to join the #FreeTheNipple movement in last week's Pepsi concert and once again people just can't believe he's doing something different from his usual self so they be wildin' on twitter with these theories... Let's just say these few days have been a interesting time. Also OP would like to believe he wasn't hacked I mean, let's hope not right?


omona, is your bias so set in their ways that when they decide to make a change you think it's a scam? Are you an avid social media user?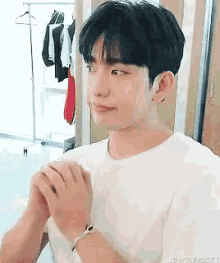 Edit: Youngjae used his new @ in an insta post, he's not hacked! lmaoo