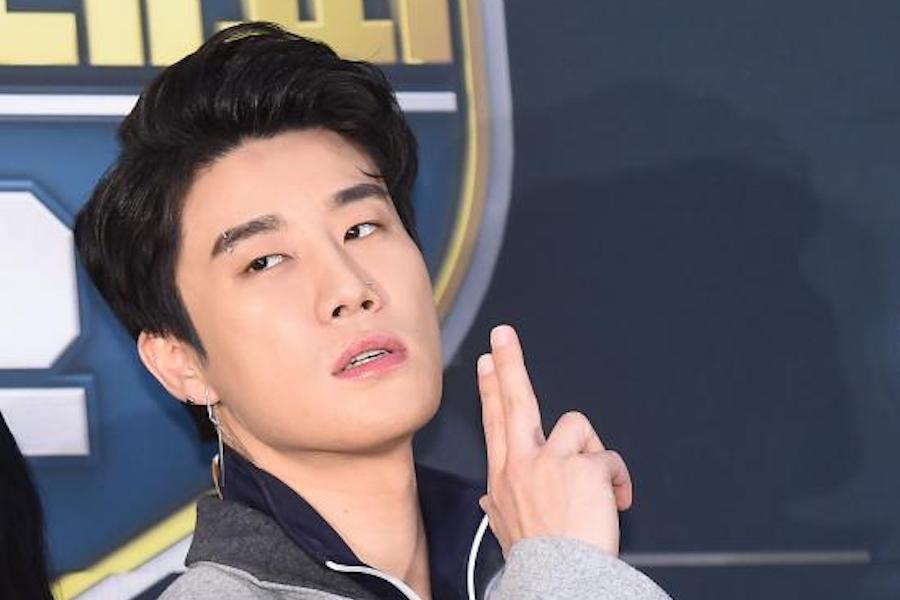 On December 2, San E performed at the "Brand New Year 2018" concert. When San E came on stage near the end of the concert, the audience started to boo. San E asked the crowd, "Everyone, do you all hate me?" and the audience replied, "Yes," very loudly. A pig doll with words criticizing San E was also thrown onto the stage.



this is so damn embarrassing he's a fucking joke pic.twitter.com/Egy6zHz8j8

— 𝕕𝕚𝕒𝕟𝕒 (@trblyoun) December 3, 2018
he is no one to talk about respect pic.twitter.com/nm37lLLY5z

— 𝕕𝕚𝕒𝕟𝕒 (@trblyoun) 3. Dezember 2018



San E then went on to say, "All the Womad and Megal who came, there's something I've been meaning to say. I don't give a f***. Womad is poison. Feminist no. You all are mentally sick. Jerry.K, you're Womad's dickboy. 6.9 cm that's your dick though b****es." (Womad and Megal, short for Megalia, refer to controversial, radical feminist online communities in South Korea.)

Then he said, "I don't think there's a need for me to respect you if you're not going to respect me." Later he continued, "Everyone paid to be here, but you don't enter a restaurant to cause a riot. I wish you all can create a fan culture where you don't abuse your power. I don't care how much you all attack me. I support sane women. Womad and Megal are evils of society."


san e: you are all BITCHES! this is my last bnm concert

girl in crowd: AAAAAAAH I'M SO HAPPY!pic.twitter.com/lVWo5BSRUw

— 🕸️ (@jujukaisen) December 2, 2018


However, due to San E's outburst, the concert was halted and the concert mood became cold. Brand New Music's CEO Rhymer came out and apologized in San E's stead. Rhymer said, "I'd like to take the time to apologize if there were people who felt upset during the concert." He emphasized, "All Brand New Music artists think different. Everyone can have their own thoughts, beliefs, and conscience. We will continue to protect their thoughts. Our music and thoughts may be different, but we are one."


san e is the one doing wrong but why does donghyun have to apologize along with rhymer? #산이_브랜뉴콘_사과해 pic.twitter.com/TkuxFuzzoo

— 😎 (@youreggtrans) December 2, 2018


Now the public is curious as to what new lyrics San E will produce in his new song, "Oong Ang Oong," (literally means "Whining") which he posted is coming soon. His post also shows clips from the concert and can be viewed below:

https://instagram.com/p/Bq6J5KphCQo


Rapper San E has yet again managed to put himself in the headlines after offending the audience with his comments about feminism during a concert over the weekend.

While onstage at the concert Brand New Year 2018 on Sunday, San E used an expletive before rapping in English before an audience of 5,000: "Womad is poison. Feminist, no. You're a mental illness."

In another politically charged comment, the rapper said he supports "normal women" before criticizing radical online feminist communities Womad and Megalia as "male-bashing."

The comments came during a break in Sunday's concert after some audience members chastised the rapper for his views on gender issues, holding up placards criticizing him during his performance and throwing a stuffed toy with an offensive message at him.

Last month, San E faced criticism after releasing his single "Feminist" over lyrics that many saw as sexist and ignorant of what feminism stands for.

Part of the lyrics go, "I don't understand that men and women aren't equal at this point. It'd make sense if my grandmother said so, but what was so unfair when you grew up?"

His remarks about Womad and Megalia caused outrage from the audience, briefly halting the concert at the SK Olympic Handball Gymnasium in Seoul.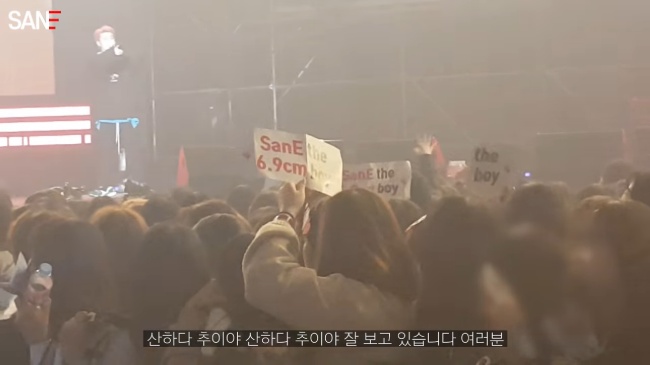 "Even if you continue to attack me, I have zero interest. No matter what you lot say, I just go my way," the rapper said during the concert.

In a video shared on social media, fans appeared confused and some were visibly angry, shouting comments at the rapper like "Just do your job," and "Get off the stage."

San E continued, saying, "Just because you paid and went into a restaurant, it doesn't mean you can cause havoc."

Following the controversial remarks, Rapper Rhymer, who heads the hip-hop label behind the event Brand New Music, apologized on behalf of San E.

"To those who were offended, I apologize on his behalf," Rhymer said onstage as he bowed to the audience.

Despite Rhymer's apology, San E's attitude provoked mixed reactions online after the concert.

"He lacks professionalism. Not all audience members are from Womad and Megalia, yet he lost his cool during the performance and caused chaos," one angry user on Naver wrote.
Another user came to San E's rescue, writing, "San E has the right to free speech, just like feminists."

Despite the controversy, the rapper seemed undeterred as he teased the release of a new single, "OongAngOong," on Twitter in the early hours of Monday morning.


do people who went to brand new concert for free have the rights to complain that 'fans ruined the concert'?

chichilabo hair designer yunse posted on ig "pls do something about this concert watching culture, do you enjoy the concert with this disrespectful manner? seems like -- pic.twitter.com/r4okTb9IpJ

— 😎 (@youreggtrans) December 3, 2018
- you don't know what is respect but, 웅앵웅" (roughly translates to 'blah-blah-blah' the title of the new track san-e will release tonight)

the ticket was given to her by choi junyoung, a backup dancer for mxm

— 😎 (@youreggtrans) December 3, 2018
and this is the comments that choi junyoung, mxm's backup dancer, left under makeup chief of plippe's post (plippe is a salon)

choi junyoung: "all the clueless bitches haha i'm so pissed off"
makeup_kgy: "they don't even know that they are the one who ruined the concert (...) - pic.twitter.com/icidjDvMUo

— 😎 (@youreggtrans) December 3, 2018
- they dare to ruin the stage that i look forward to the most, just watch and see, san e will do better than all of them"

— 😎 (@youreggtrans) December 3, 2018
mxm backup dancer choi junyoung's speedy 'apology'
"a lot have reprimanded me about my words. i deeply apologize about this and will go into reflection!! thank you for talking about my bad words!!"

is this even an apology? #brandnewmusic pic.twitter.com/hEAOn02XcG

— 😎 (@youreggtrans) December 3, 2018
hyunmoahn, rhymer's wife ahn hyunmo who is often called 'rameoni' liked san e's ig post about releasing the new track 웅앵웅 (blah-blah-blah) pic.twitter.com/wQhVorv6Mi

— 😎 (@youreggtrans) December 3, 2018


source: @soompi, sanethebigboy, osen, soompi, koreaherald, alpacaiypse, jujukaisen, youreggtrans, trblyoun

Edit: Added a longer vid that is subbed