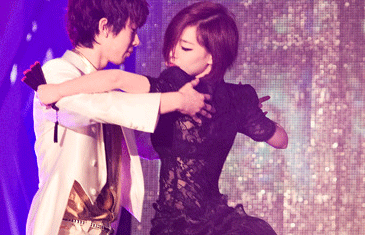 2AM's leader Jo Kwon and Brown Eyed Girl member Ga-In portray a married couple on MBC's reality show We Got Married. Many fans have expressed the two actually look like they're dating and would make a cute couple. Well it seems some of the fans were right because Jo Kwon revealed having romantic feelings about his "wife".

In an interview Jo Kwon revealed, "I actually deeply considered whether or not I should actually date Ga-In nuna." with Ga-In responding, "Now that filming for We Got Married is over, every time Jo Kwon calls me on the phone he says 'nuna' and no longer 'honey' and it makes me feel a bit nostalgic."

What do you think guys; would Jo Kwon and Ga-In make a cute couple?

Source: AllKPop

OMG BRB DYING HOSHITTTTTTT HELL YES!