3:50 pm - 01/01/2019
HaHa and Byul expect their third child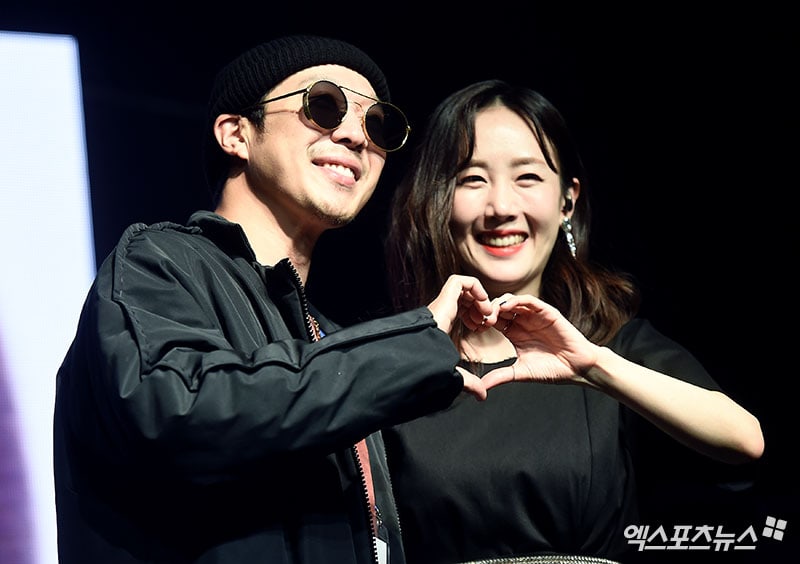 On December 31, HaHa and Byul announced that they are expecting their third child, with Byul now in her 10th week of pregnancy.
In an interview with the outlet News1, HaHa said, "To be honest, we hadn't planned on having a third child. But when I heard the news of our precious third child, I was really happy." He shared that he has a busy 2019 planned and said, "I feel sorry because I can't give greater care to Byul while she's pregnant, but I will do my best."
He added, "I feel a great sense of responsibility because we're becoming parents to three children. I'll try to do well as a singer, entertainer, and father too."
On December 31, Byul posted a video of herself wishing happy new year to her followers.
She wrote, "Happy New Year. The last day of 2018. I received a lot of congratulatory messages. Thi…thir…third…Sud….sudd…suddenly? I said in many interviews that our family planning was done. I feel apologetic to my fans who welcomed my active promotions for the first time in a while and waited. But the birth of a new life unconditionally deserves a celebration! I will treasure this beautiful baby that God gave me in my belly, and my whole family including my husband is really grateful."
She continued, "I'm sorry that you had to first find out through news reports. It was the beginning of my pregnancy, so I was being very cautious. Also, I wanted to successfully carry out the concert that I had promised with fans and the pre-confirmed scheduled events, so I've been careful and doing well. Thankfully, the baby and I are both very healthy. People who were worried and congratulated me, I sincerely thank all of you. I will complete the scheduled events that I had confirmed in a way that does not harm my health or the baby's, and take good care of my body."
She added, "I really want you to listen to the songs that I'm working on. Since it's my third child, I will be strong, give birth, and see you again healthier, happier, quickly, and more often! Please don't be too upset or disappointed. I will return again soon! (My husband is feeling so apologetic, so I ask for lots of support for my husband.)"
She concluded, "Thank you. I receive an overwhelming amount of interest and love, so I'm always so happy. I will become a great person, great mom, and a great singer who deserves to receive that love. My greeting was too long hehe. I love you. God bless you guys. I hope everyone will be happier in the new year. Happy New Year!"
In the hashtag, she added, "Goodbye 2018," "Welcome 2019," and "Happy New Year."
https://instagram.com/p/BsDaku6HKQ-
source:
@soompi
,
sweetstar0001
,
news1
via
soompi