3:28 pm - 01/09/2019
Carats sharing their hotdogs with IZ*ONE during ISAC filming becomes trending topic
190107 아육대
타팬분이 주신 바로 그 핫도그 한입 🌭
너무 귀여워 ㅠㅠ 우리꾸라 심장에 해로운 아이돌이야 ㅠㅠㅠㅠㅠㅠ#宮脇咲良 #MiyawakiSakura #사쿠라 #미야와키사쿠라
#IZONE #아이즈원 @39saku_chan pic.twitter.com/OZsBKfIcJe

— Mystery Lover (@39MysteryLover) January 7, 2019
Carats were sitting behind IZ*ONE members, so Sakura looked at them when they received some hotdogs and asked if she could take a bite. (
trans.
) Carats even wanted to give them their whole hotdogs, but IZ*ONE only had a bite. Later, Seventeen's fan manager gave IZ*ONE some hotdogs and Pepsi.
셉고마어 ㅠ ㅁ ㅠ ❤️ pic.twitter.com/Bqzpz48oeh

— 하나 (@hanachannluv) January 7, 2019
'Thank you Seventeenㅠㅁㅠ<3'
Seventeen handed out hot dogs to their fans who attented ISAC
In the stadium, the seats between fans and idols were so close.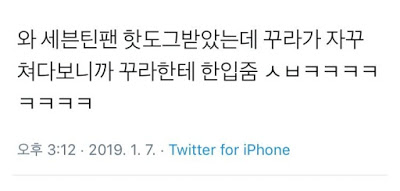 'Seventeen's fans got hotdogs, and Kura kept on glancing at us so I let her have a bite of mine. F*ck..ㅋㅋㅋㅋ'
사쿠라상이ㅜ내꺼 한입하셨어 pic.twitter.com/57JQsSN3sp

— 하나 (@hanachannluv) January 7, 2019
'Sakura-san..ㅜ Had a bite of my hot dog'
다드리고시펏는데 ㅠㅠ 한입드시구 거절하셔서,,, 우짜지했는데 저희 스탭분이 핫도그 새거 몇개 드렸어용 콜라랑 😆❤️ 멤버들 다같이서 냠냠했습니당

— 하나 (@hanachannluv) January 7, 2019
'I wanted to give my whole hot dog to herㅠㅠ But she said no and just took a bite of mine.. I was wondering what to do. But in the end, the staffs gave them a new one along with a can of coke.. She enjoyed the hot-dogs with the other members too'
190107 아육대
야무지게 먹던중 핫도그가 밑에 있어서 먹기 불편해진 꾸라
🌸: 이거 어또케 먹어요?
🐤: 옆으로 일케일케
🦊: (손만 뻗어서) 쓱....자 여기!
🌸: 😋 행복 #宮脇咲良 #MiyawakiSakura #사쿠라 #미야와키사쿠라
#IZONE #아이즈원 @39saku_chan pic.twitter.com/8KCg76FTbf

— Mystery Lover (@39MysteryLover) January 7, 2019
[
Some netizen comments
]

-Look at the first picture.. She was turning her body to Seventeen's fans who were receiving hotdogs from the staffs. So freaking funnyㅋㅋㅋㅋㅋ

-She's indeed kinda unique..ㅋㅋㅋㅋ

-This is so cute..ㅋㅋㅋㅋㅋ

-It's so cute just to imagine how she kept glancing at the hotdogs..ㅋㅋㅋㅋ

-Both the Seventeen's fan and Sakura are so freaking cute..ㅋㅋㅋ

-It's so funny to imagine the fan letting Sakura take a bite of her hotdog..ㅋㅋㅋㅋㅋ

-Just imagine her staring at you with those big eyes of her.. You can't help but let her have yours..ㅋㅋㅋ


There's also another thread that managed to spin this into something negative, if you want to read that, here's the pann-choa entry.
source:
@hwallade
,
@39MysteryLover
,
@Harujisoo
,
@Hanachannluv
,
pannative
,
theqoo
Omona, are you the one asking for a bite or the one sharing your food?