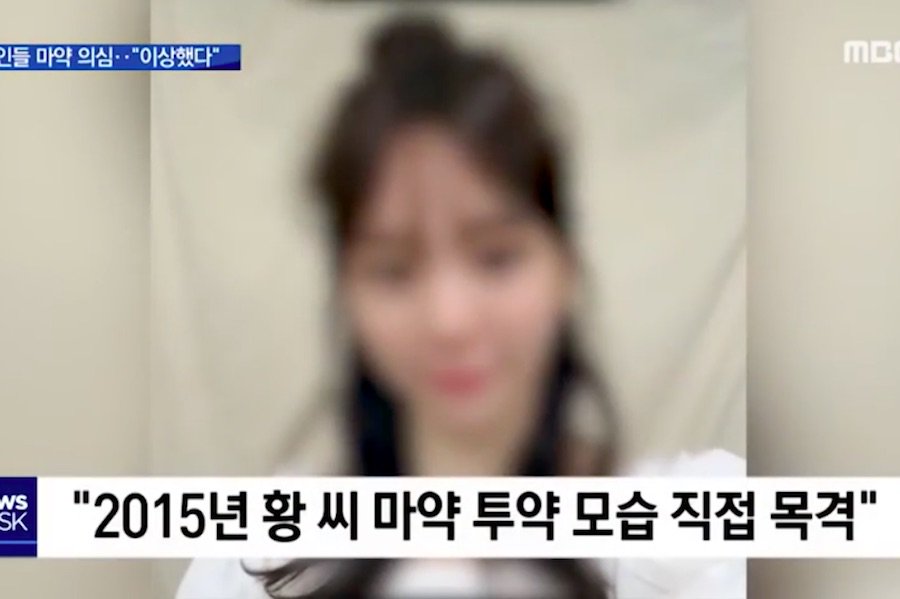 On April 2, MBC's "Newsdesk" reported on allegations of Hwang Ha Na's drug use as well as the suspicions that she received favorable treatment during her investigation.

In addition, MBC reports that Hwang Ha Na frequented the club Burning Sun and is also friends with a Burning Sun MD (merchandiser or promoter) who has been arrested under drug-related charges.

A video that MBC obtained shows Hwang Ha Na in 2015, sitting down as she waves her arm and talks partially in nonsense, saying that she feels like she's in a daze. The person who provided the video to MBC said that Hwang Ha Na, who doesn't drink alcohol, was likely on drugs.

An acquaintance of Hwang Ha Na told MBC that they saw her taking drugs in 2015 using a syringe. They stated that she injected Philopon (a form of methamphetamine) several times with friends, either at hotels or at an acquaintance's home.

MBC reports that Hwang Ha Na is also well known as a major customer at Burning Sun, and she is described as being very close with the Burning Sun MD known as Cho. Hwang Ha Na's acquaintance said that she was not only friends with Cho, but also others who have been jailed for drug offenses.

The Gyeonggi Southern Provincial Police Agency has been investigating Hwang Ha Na on suspicions of drug use since last October, and they already have secured testimony from Hwang Ha Na's acquaintance who said they took drugs with her.

However, the investigation has been at a standstill. When the police requested a search and seize warrant both last December and in March in order to acquire items such as Hwang Ha Na's hair for analysis, the prosecution dismissed the requests.

At the beginning of last month, Hwang Ha Na posted on social media to say that she'd cut her hair, and then removed the post soon after.

Hwang Ha Na has not complied with the police's summoning requests, making it difficult for them to proceed with the investigation. MBC stated that they attempted several times to get in contact with Hwang Ha Na, but she did not respond.

In addition, MBC reported on the suspicions that Hwang Ha Na has been receiving favorable treatment during her investigation because of her chaebol connections. She is the only granddaughter of the late founder of Namyang Dairy Products (a large Korean conglomerate).

It was previously reported that in 2015, a college student named Cho was sentenced to two years and six months in prison (suspended for three years) for using Philopon. The ruling stated that it was Hwang Ha Na who sold Cho 0.5 grams of Philopon and they took drugs together. However, Hwang Ha Na's case was sent to the prosecution by the police with the suggestion of nonindictment, and the prosecution also acquitted her.

Hwang Ha Na had received a stay of indictment on her case in 2011 when she was caught using marijuana. Therefore if she had been found to have committed a further crime, it's expected that she would have received a strong punishment.

MBC reports that when the incident happened in 2015, Hwang Ha Na showed off about her connections with high ranking police officers.

MBC acquired a recording of a conversation that Hwang Ha Na had with an acquaintance at the time. In the recording, Hwang Ha Na said, "The chief prosecutor at the Central District Prosecutor's Office? Hey, my uncle and my dad know everyone, including the police chief. Are you joking? They're totally best friends."

In a recording, she also boasted that she was on the way back from meeting with the most high ranking person at the Namdaemun Police Station.

"I met the highest place person in the Namdaemun police station, I even posted pictures, we're not talking about the public service or the economy department, it's not the cyber investigation team either... I..." (OP note: added insert, translated by pann-choa)


Kim Shin Myung, the police chief at the time, stated to MBC, "I don't know who Hwang Ha Na is, and I know no one at Namyang Dairy Products."

The chief of the Namdaemun Police Station at the time also denied what Hwang Ha Na had said, saying that he does not meet with people in relation to charges.

MBC reports that the Seoul Intellectual Crime Investigation Team started an internal investigation on April 2 in regards to the investigation of Hwang Ha Na's drug-related charges at the time.

Namyang Dairy Products also issued a statement on April 2 denying any current connection to Hwang Ha Na or her family members.

In addition to her background, Hwang Ha Na is known for being a popular online blogger and she became a hot topic when she began a public relationship with Park Yoochun in April of 2017. The two confirmed their breakup in May of 2018.


Namyang has now released an official statement distancing themselves from Hwang Ha Na. They stated, "Hwang Ha Na has no relation to the management of Namyang Dairy Products and nobody in her family holds a job related to our businesses or any stock in the company. The company also has no relation to the current allegations that there was favorable treatment given to Hwang Ha Na as a family member of our company's founder."

They went on to state, "Some media outlets have been reporting on this case by insinuating that Namyang Dairy Products was involved because Hwang Ha Na is the company's late founder's granddaughter. Because of this, many of our employees, distributors, dairy farmers, and their families are suffering damages," and asked media outlets to distance Namyang Dairy Products from future reports.



Grandsons of SK Group and Hyundai Group booked on drug charges • https://t.co/mrkK0Z7jdy pic.twitter.com/SzfuhRXcJJ

— ddoboja • 또 보자! (@ddo_boja) April 2, 2019


Several grandkids of big conglomerate families including the owners of SK and Hyundai are being investigated on charges of buying illegal drugs.

Police in Incheon said Monday they arrested a grandson of SK Group founder Chey Jong-gun on drugs charges and a grandson of Hyundai Group founder Chung Ju-yung will be questioned on the same charges once he returns from abroad.

Chey junior was arrested in his office in Seongnam south of Seoul on Monday and has been charged with buying liquid cannabis. He studied in the U.S. and works for an SK Group affiliate.

Police arrested the dealer last month, and he told them he supplied both men with cannabis. They allegedly used an encrypted messenger to contact him, he then shipped it to them in a disguised parcel.

Reports claim that there are many more chaebol socialites that are involved with illegal use of drugs. The police are currently still in the midst of investigating the drug seller's contact list, and the Burning Sun reporter personally announced on his Instagram that there are more names that will slowly be revealed.

Reporter Oh Hyuk Jin:
"I met up with my seniors from other media companies to share what I know and receive help. SK and Hyundai's kids were revealed after Hwang Hana's news broke.

These kids are slowly being removed. I know a couple more chaebols involved but I'm sure they will be revealed through the police investigations.

All I have left is to type up a title. I'm sure it'll take a long time…."




[

Netizen Comments

]

1. [+8666, -135] One really surprising fact!! The four people who stick out because of this Burning Sun situation who are the core in this case - Seungri, Burning Sun CEO Lee Moon Ho, Park Han Byul's husband CEO Yoo In Seok, and commander Yoon Gyu Geun, none of them were arrested ㅋㅋㅋㅋㅋㅋㅋㅋㅋㅋㅋ Jung Joon Young who had no association with Burning Sun and didn't have connections was the only one arrested ㅋㅋㅋㅋㅋㅋㅋ Simply, they're not investigating the Burning Sun incident at all and they're making holes for them to get out of so they're mobilizing their lawyers and say the same things everyday and say BS ㅋㅋㅋㅋㅋㅋㅋ Seungri, the worst bastard here, already cut off Jung Joon Young and they're only making Jung Joon Young into the bad guy! Is this a country!!!! ㅋㅋㅋㅋㅋㅋㅋㅋㅋ

2. [+4628, -99] They're ruining various celebrities to cover this up

3. [+3247, -46] As expected, Burning Sun was just the tip of the iceberg - I feel like starting from Burning Sun's VIP and other VIPs are involved

4. [+1576, -38] This is the plot of last week's episode of 'Fiery Priest'...? Drama and real life is the same..

5. [+1578, -313] If you go in further, the rat bastard's son will probably come out too (t/n: They're talking about Lee Myung Bak's son)

source: @soompi, soompi, imnews 1 2, @ddo_boja, ddo_boja, YTN 2, Yonhap News, koreaboo, arkham_er

Tl;dr: News outlet report that Hwang Hana used and sold drugs, but did not receive any form of punishment. (Whereas a student Cho, who she took drugs with was sentenced to 2.5 years in prison. The court ruling even stated that Hwang gave Cho the drugs).
The news outlet suspects she was not punished because of being the chaebol granddaugther of the founder of Namyang Dairy Products. There is a recording of her boasting about having police connections.
They also report that she is well known as a major customer at Burning Sun and close with a Burning Sun merchandiser/promoter, who has been arrested under drug-related charges. In the meantime, Namyang Dairy Products said that they have nothing to do with her or the family.
In addition, grandsons of SK Group and Hyundai Group have been booked on drug charges, more wealthy families might be involved.