👤 : "While you and your stylist have fun in Hawaii, Choi Jong Hoon is in jail. Are you okay with that? Can you sleep at night?"

Lee Hongki : "I eat well, sleep well, and poop well too."

💪😎 pic.twitter.com/nLdlxDKU42

— 제프리마도너츠 🍓 (@Zeprimadonuts) May 30, 2019



Soompi article: FTISLAND's Lee Hong Ki Has Firm Response To Fan's Comment About Former Bandmate Choi Jong Hoon

FTISLAND's Lee Hong Ki had a firm response to a comment regarding his former bandmate Choi Jong Hoon.

On May 30, Lee Hong Ki shared a photo on his personal Instagram account with the caption "Back to home… I'll miss you." He can be seen posing for the camera in a fluorescent tracksuit amidst a sunny backdrop. Lee Hong Ki had previously talked about visiting Hawaii on May 20.




A response Lee Hong Ki left to a fan's comment is gaining attention. The fan wrote, "While Lee Hong Ki and his stylist are having fun in Hawaii, Choi Jong Hoon is in jail. Are you okay with that? Do you sleep well?" To this, Lee Hong Ki wrote back, "I eat well, I sleep well, and I even poop well."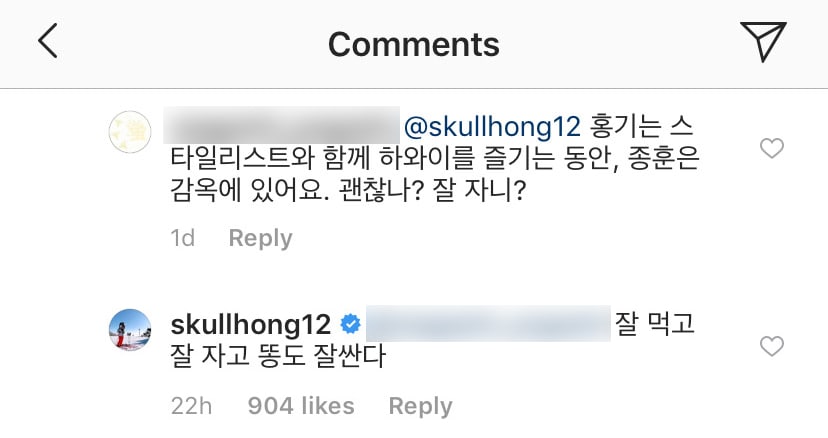 Lee Hong Ki has maintained a firm stance on former FTISLAND member Choi Jong Hoon. In a previous post, a fan had asked Lee Hong Ki to not give up on Choi Jong Hoon, to which he replied, "I give up." After Choi Jong Hoon was revealed to be a member of a group chatroom involving Seungri, Jung Joon Young, and others, he parted ways with FTISLAND and FNC Entertainment, and he is currently under investigation for allegations of sexual assault.

sources: Zeprimadonuts, soompi, naver, skullhong12 (exchange can be found somewhere in the top comment)

"I give up" vs "I eat/sleep/poop well", choose your fighter