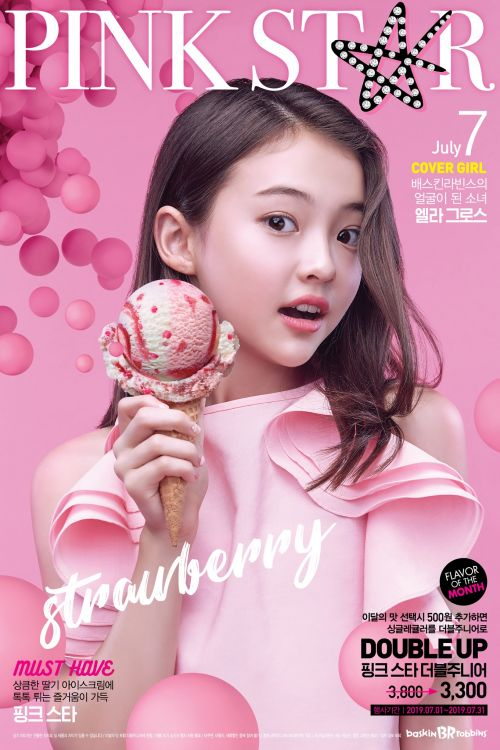 Baskin Robbins is at the center of heated debate concerning its latest promotional video, which features an 11-year-old model.

As the ad came under fire, the ice cream chain took it down from the internet and apologized Saturday. (OP note: Ad was released and pulled down on the same day)



The video, released Friday, features kid model Ella Gross advertising the new flavor "Pink Star." She wears a sleeveless pink dress and savors the ice cream in various poses.

Within a day of the release, heated debate erupted online as to whether the ad was sexualizing the minor model.

Some online users pointed out that the makeup and clothes were evidently making her look older than her age, while some of her actions and expressions gave off sexual implications. One post on an online community that criticized the ad as sexualizing Gross received almost 3,000 likes. Referring to close-up images of her mouth, the commenter said the shots were intentionally inserted.




In contrast, other users argued that such claims of sexualization resulted from oversensitivity. One online comment said the widely distributed screen captures of the video may have been selected in a way to exaggerate the purported sensual aspect. Others pointed out that the dispute centered on accusations is an offense to Gross and her family.

The company said in a statement, "We believe we put on Gross a typical amount of makeup for a child model and clothes from one of the child-wear brands that Gross was modeling for." The company added that it had discussed with her parents how she would be portrayed in the ad via the agency prior to the production.


This is an English translation of an article written by a reporter who contextualizes the Baskin Robbins controversy within the systemic issue in Korea of the sexual objectification of young girls.

It's long but definitely worth a read and takes input from experts in this field. pic.twitter.com/9ZGCfG5y9f

— Jee😊 / Break, what break 🤷‍♀️ (@jeeelim5) July 3, 2019
[
Article Translation Images
]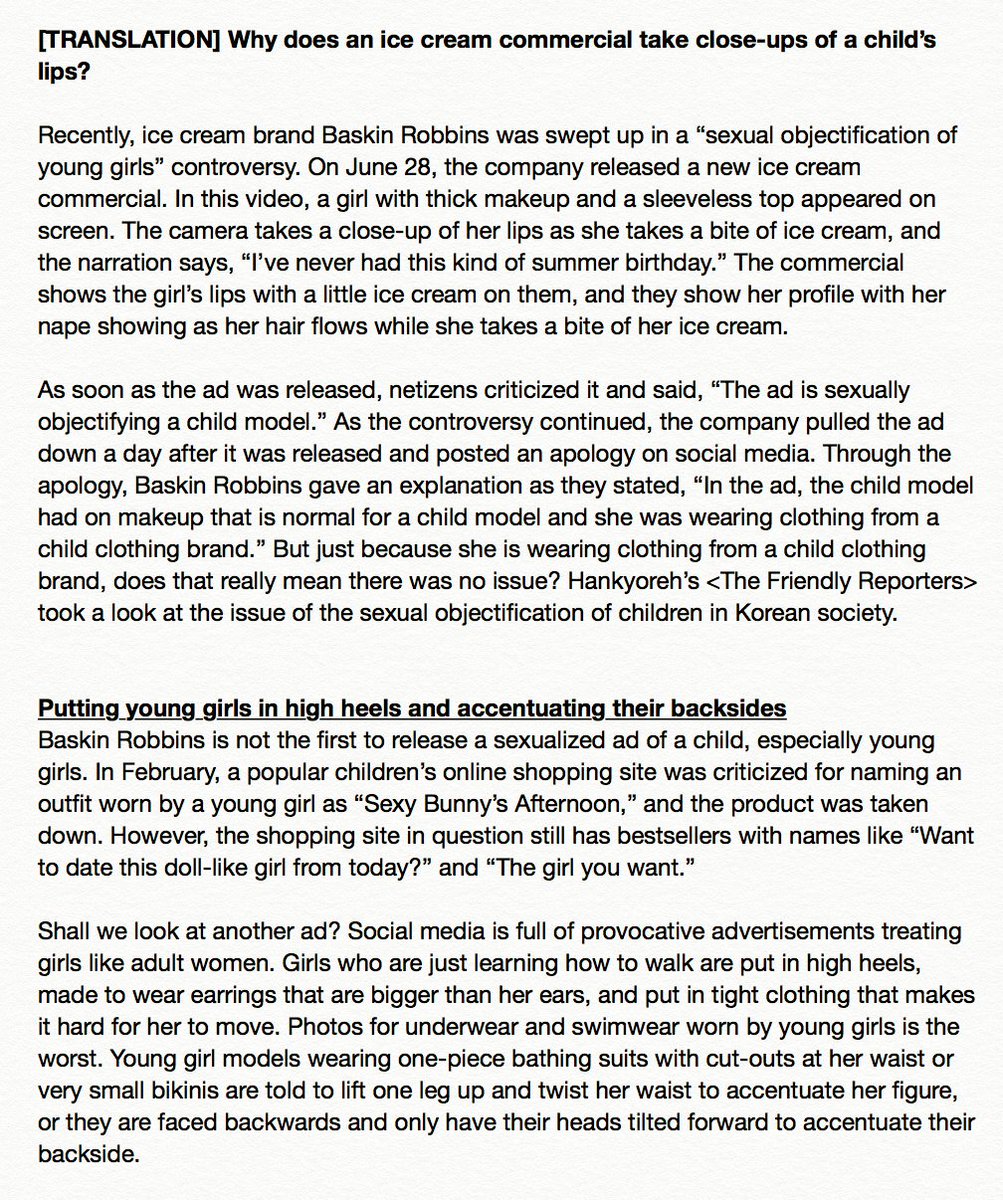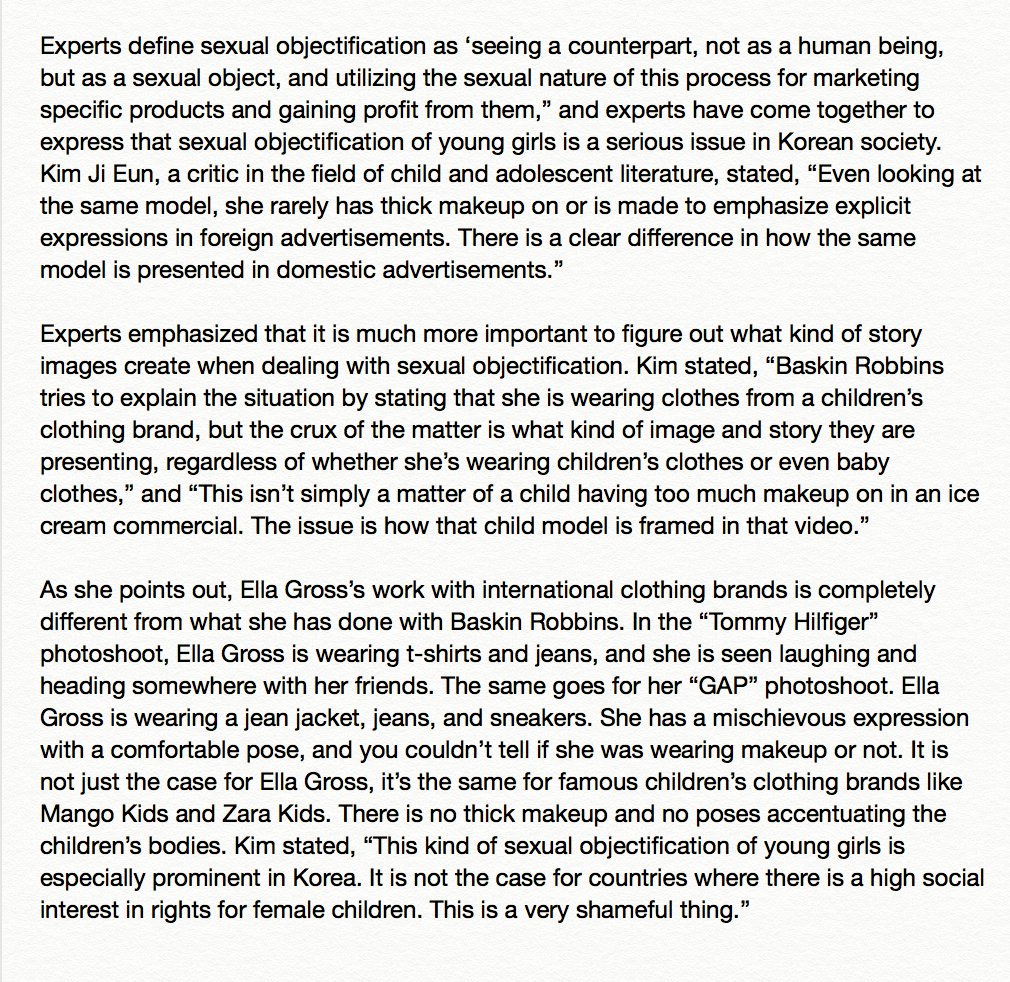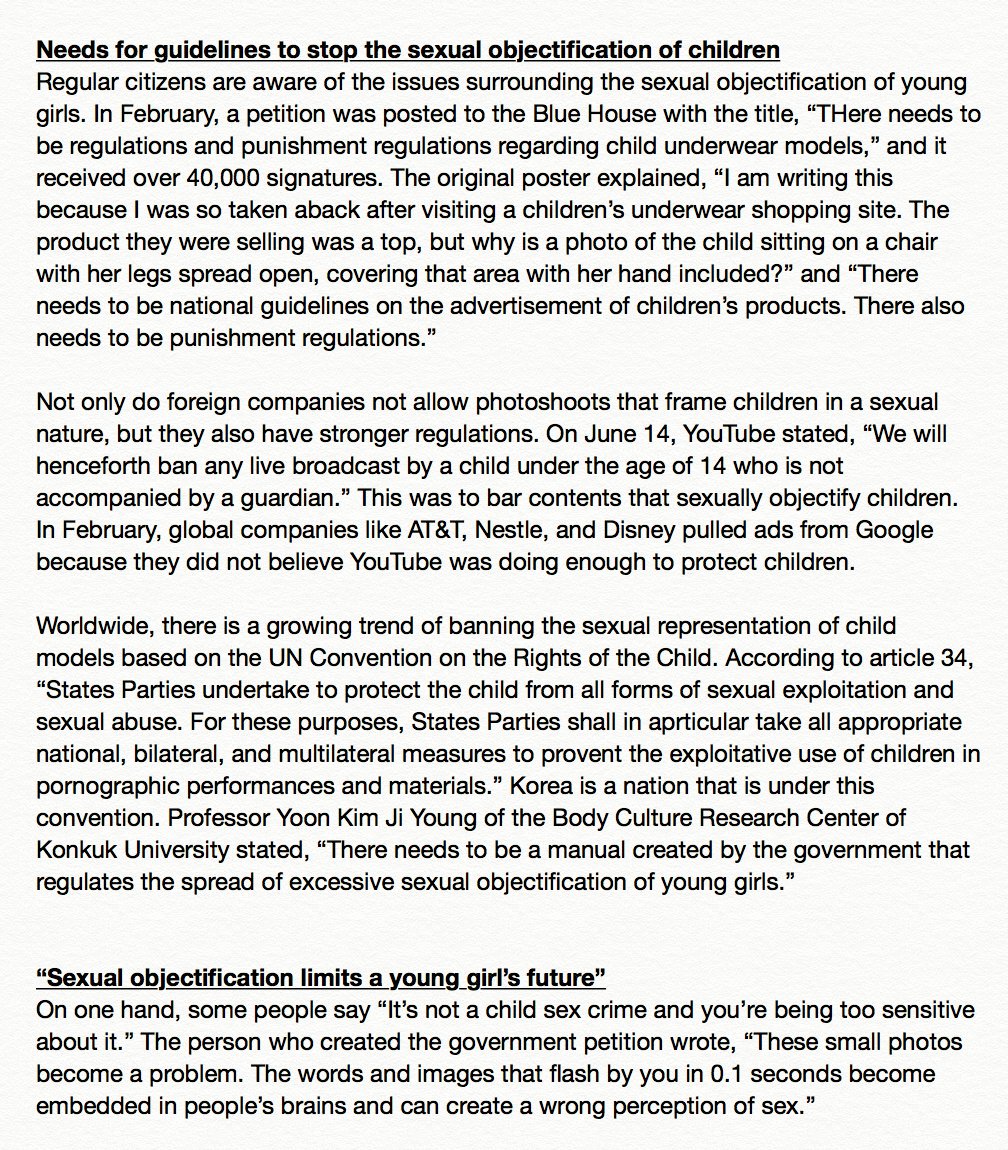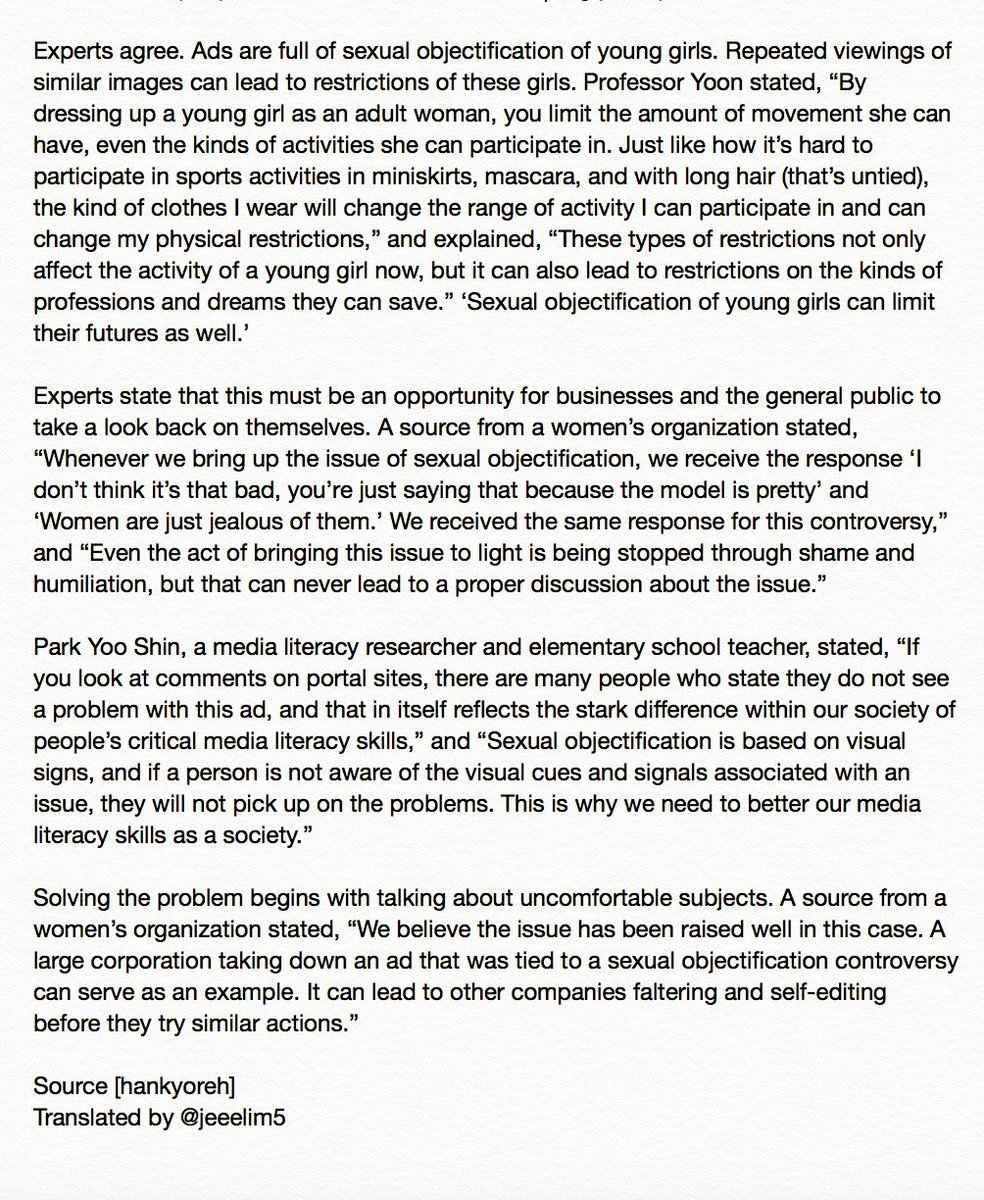 Here's some reaction from some korean men for those ppl who think there's no problem with this ad. pic.twitter.com/JdzOY13lwx

— 발톱 (@balgarakdoogae) 30. Juni 2019
This is korean's comment about it. Sian ella :/ pic.twitter.com/aPXwkDw1I2

— . (@qilaou) 2. Juli 2019


An explanation to why this blew up:

A few days ago, there was a sexual assault on a 10-year-old child in Korea. The court ruled that this was not a rape case. It was determined that the 10-year-old did "not actively resist". Suspect was sentenced to only three years in prison. (not a 300 years or 30 years, just 3.)

— 네츠케 (@netsukei) 30. Juni 2019
Under these circumstances, Korean consumers were sensitive to advertisements treating children like adult women. Someone said it is over reacting, but consumers don't want to project images of adults to children. Perhaps that is the cause of this commotion. want to be protected.

— 네츠케 (@netsukei) 30. Juni 2019
It's really something you have to look at from a larger scope of things: the recent rulings of SK regional courts on child rape cases; the age of consent(13); also the trend of objectifying young girls in ads for smaller companies have been prevalent for some time now

— 이다희 (@Idaia80) 30. Juni 2019
And I think it's understandable that some people find it uncomfortable that the trend is becoming more mainstream with a company like Baskin Robbins joining in. We've seen how objectifying girls has been normalized in our neighboring country. We do NOT want to go down that road.

— 이다희 (@Idaia80) 30. Juni 2019
Sexual objectification of young girls in children's clothing brands in Korea is a serious issue. These are all examples of how young girls are asked to model clothes like adult women. The last one sparked a government petition calling for regulations that got 40,000 signatures pic.twitter.com/31aYIV1TcP

— Jee😊 / Break, what break 🤷‍♀️ (@jeeelim5) 3. Juli 2019


(I recommend reading the whole tweet-chain, there are more insightful thoughts said.)


Statement by Ella Gross' mother:

https://instagram.com/p/BzZk_Y4hYSx


"I wanted to take a moment to address the reaction that Ella received to a recent project that she worked on with Baskin Robbins Korea. I'm saddened to see how certain segments of the Korean public reacted to this commercial. What was honestly meant to be a fun commercial for a new ice cream flavor is being perceived by them as something disgusting and horrific. As most women, I have many roles in my life. However, I am first and foremost a mother, a title in which I take great pride and value above anything else. Ella is my daughter who I would gladly give my life for. It pains me that people have lashed out in such a careless and combative way. Ella continues to grow up with strong faith in God and I pray she will be a role model for other girls. What matters most is how you are on the inside. Ella is a beautiful soul because she truly does not have any bad intentions. She is one of the most hard working, strongest, sweetest, down to earth girls you will ever meet. She is intelligent, she is humble, and she really is a great girl. To those that are rallying against the Baskin Robbins commercial, stop saying that you are doing this "for Ella." She is surrounded and loved by many strong and powerful women who wholeheartedly have her best interests at heart and who are confused and angered by your hurtful and negative reactions to a beautiful child. To Ella's fans, her friends and family that pour love onto our sweet girl, I truly want to say Thank You from the bottom of my heart. I have realized how a few words of kindness really mean more than a thousand words of hate. I am so thankful for you all! ~Ella's Mom"

She then added another comment:
"Do you guys really think that taking Ella's pictures from her Instagram and talking trash ABOUT A CHILD is protecting her and all the little girls? What goes on in your minds? Especially on so called Korean Mom and feminist blogs?? Do you not see that that is completely contradicting yourselves?? We are blaming you (the mother), not Ella so don't be naive comments justify talking trash about a girl and her family rather than actually fighting against sick minded pedophiles? If you have time to come here, take her pictures and analyze my child, make better use of your time to really fight for what you claim to be fighting for."


source: 한국어광고HUB【KOREAN COMMERCIALS HUB】1, koreanherald, ellagross, balgarakdoogae, netsukei, Idaia80, qilaou, hankyoreh via jeeelim5 2

Thoughts?