KNK recently made their comeback with the sex dungeon anthem SUNSET and I wanted to do an updated intro post for new fans



Name:크나큰 (keunakeun), literal meaning is "to be great", is also used to mean "big".Also a pun on their heights.
English abbreviation is KNK (This stands for Kpop KNock but we don't acknowledge that).
Fandom name: Tinkerbell. Member Seungjun picked this because to them fans are small fairies protecting them.They've also stated that male fans are Tinkerbells too.
Agency:220 Entertainment (Formerly YNB Entertainment)
Debut: March 3 2016
SNS:
Group Twitter-V App Channel-Instagram-YouTube
Random Fact: The group has an average height of 185cm, making them the tallest active boy group in the industry.




KNK debuted under YNB entertainment in 2016 but their contracts with the label were dissolved once it shut down in 2018. Their former CEO was actually a decent dude and allowed them to keep the rights to their name and back catalogue.They moved to 220 Entertainment, a label established for them by one of their former managers and are now largely self-funded through platforms like Makestar




*


[

Park Seoham

]




Name: Park Seoham
Birthday: October 28th 1993
Height: 190cm (6'3)
Position: Rapper, Visual
MBTI: ENFJ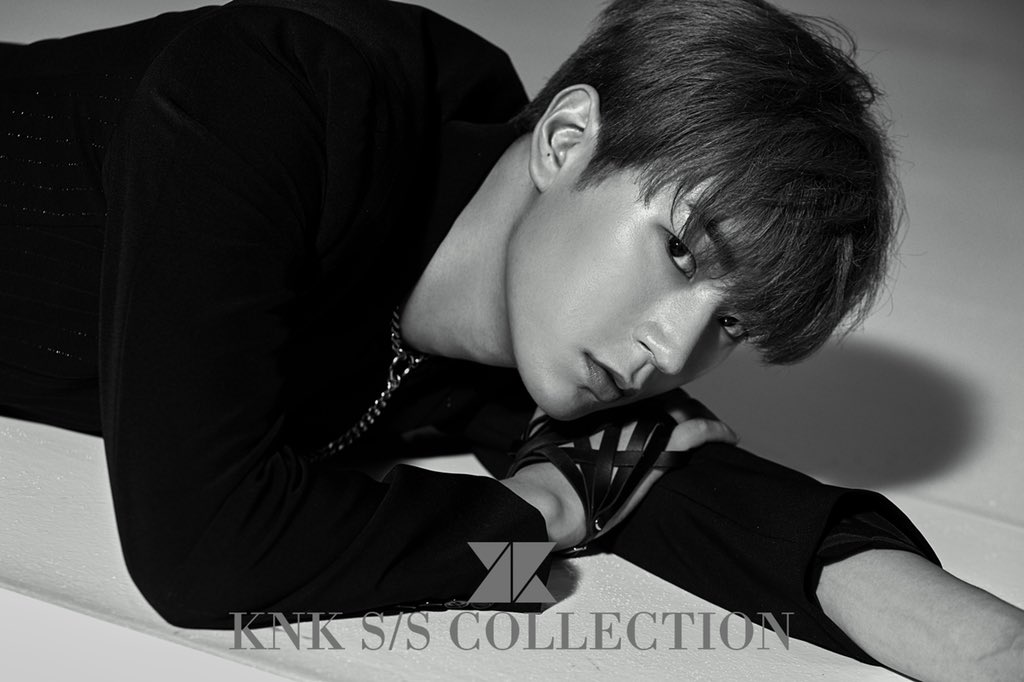 Debuting as Park Seungjun, Seoham chose to change his name in 2018.Don't be fooled by the face and the height, he is the biggest softie of this group. He's a former BigHit trainee and is basically soulmates with BTS' Jin. He has a habit of collecting plushies and toys and has an obsession with Pokemon "sunbaenims. Biggest Tinkerbell hypeman(peep the phone case) and most frequent poster on twitter and the fancafe. He's scared of everything and cries easily.KNK's resident variety king with solo appearances on SNL, The God of Music, Weekly Idol and I am an Actor/Actress.Has recently started appearing in acting projects including TVN webdrama Dating Class.Once went viral for forgetting his pants during a vlive.





[
Lee Dongwon
]

Name: Lee Dongwon
Birthday: January 1st 1994
Height: 184cm (6'0)
Position: Rapper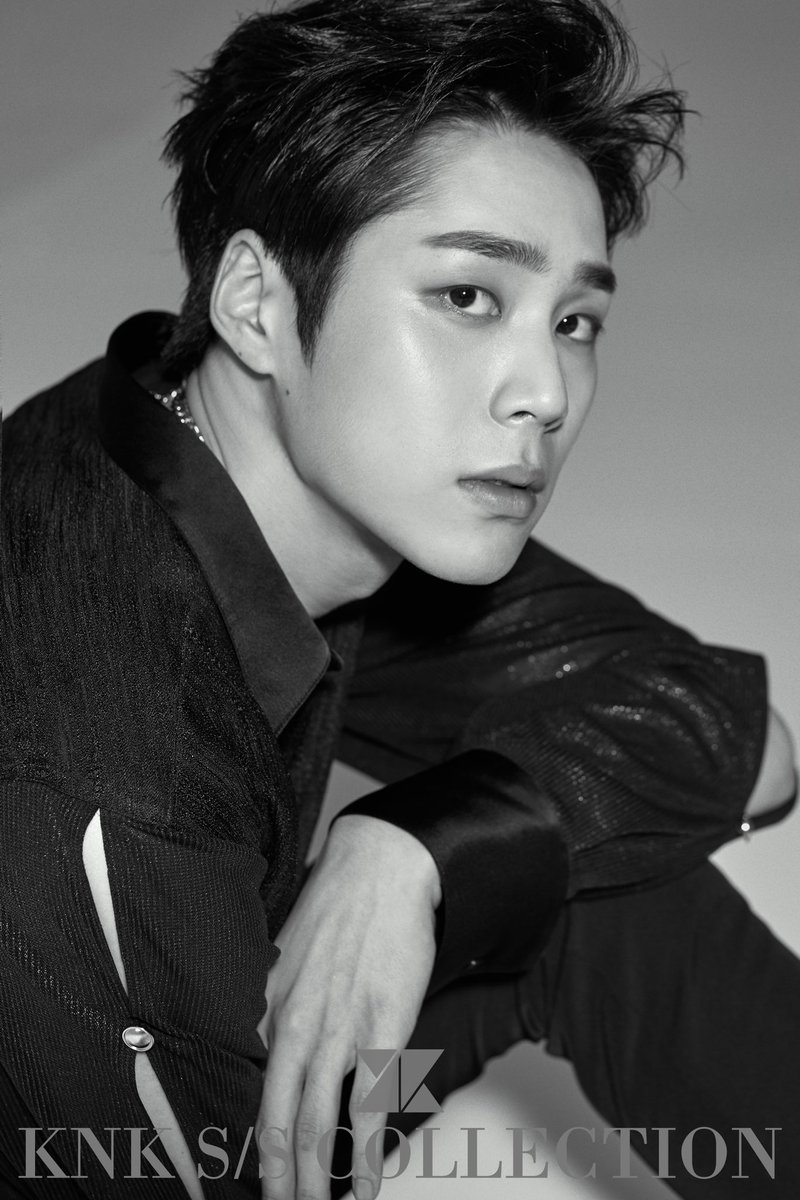 Dongwon was added to KNK in 2018 prior to their Lonely Night comeback. He is a former FNC trainee which is where he met Inseong and Heejun and was a close friend to the group prior to joining. His hobbies include fishing and he's dragged Inseong into it as well.Has a deep ass voice and looks intimidating but is soft af. Still building his onstage confidence. He and Heejun went viral for hugging




[
Jung Inseong
]

Name: Jung Inseong
Birthday: July 1st 1994
Height: 183cm (6'0)
Position: Main Vocalist
MBTI: ENFP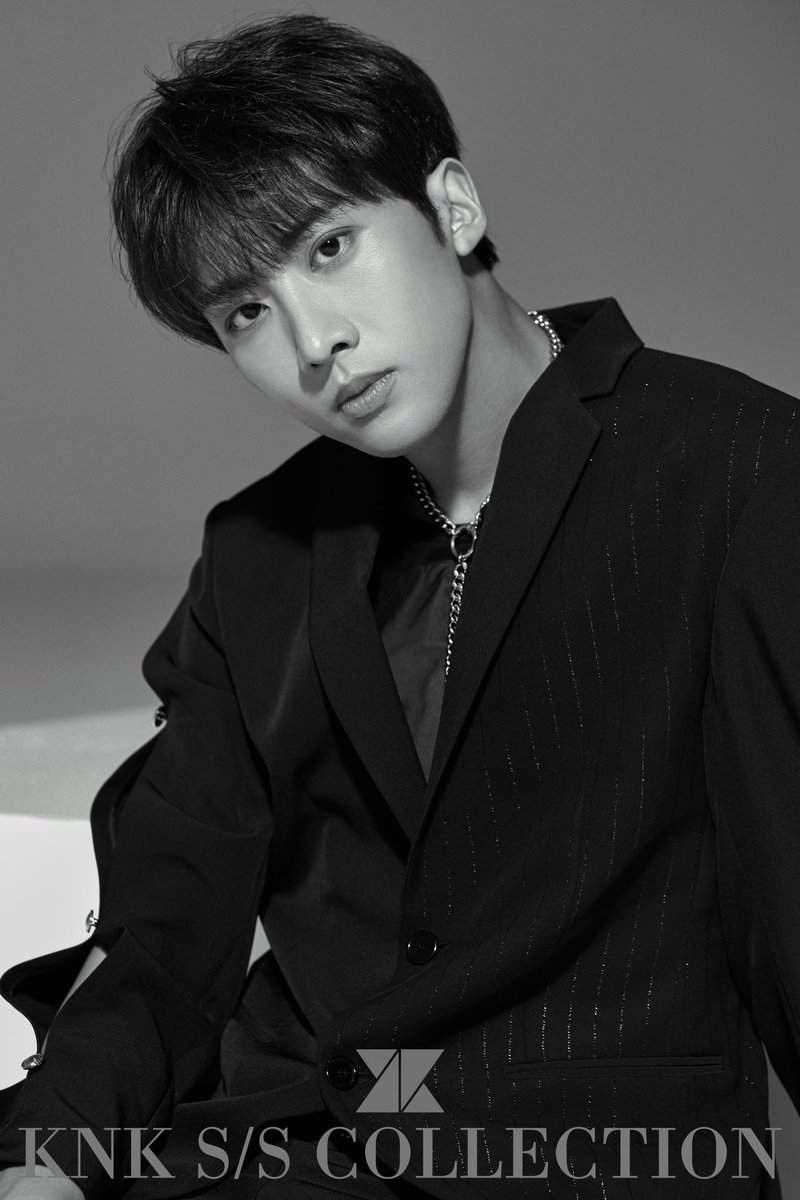 Every group has that one loud member and in KNK it's Inseong. He's had a long road to debut, starting off as a BigHit trainee (with Seungjun), then an FNC trainee (with Heejun) before ending up in YNB. He's the group's moodmaker and can always be heard laughing or screaming in videos.He's also got vocals for days.Has really strong thighs.Likes tan girls and has a massive crush on Sistar's Bora.In his free time he enjoys fishing. Made a solo appearnce on Fantastic Duo with Kim Wansun. He competed on Mixnine alongside Heejun and Seoham






*


[

Kim Jihun

]




Name: Kim Jihun
Birthday: February 20th 1995
Height: 186cm (6'1)
Position: Leader, Main Dancer, Sub-vocal
MBTI: ISTP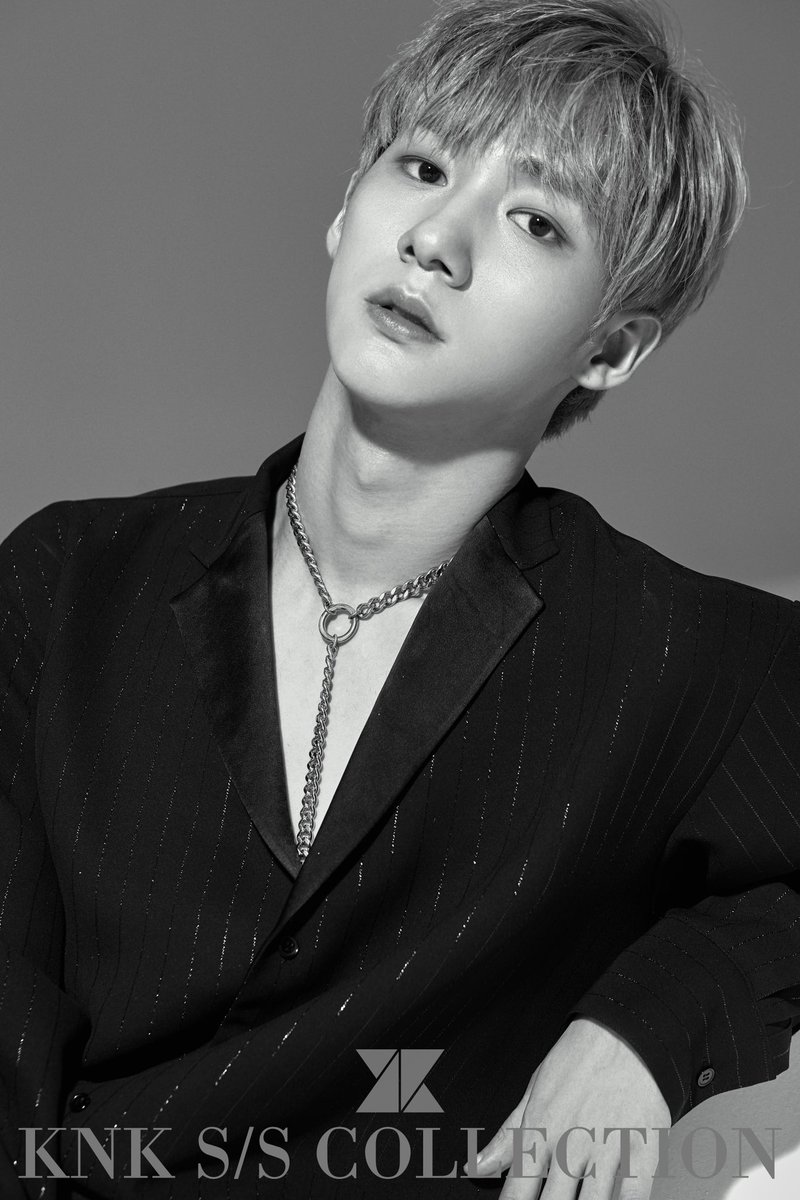 Despite being second youngest, Jihun is the leader of KNK. A former Nega Network trainee, he had the longest trainee period of all the members at YNB. He's KNK's dance ace and has choreographed for several of their songs including Gone, Sun Moon Star and Lonely Night.Is the limbo king of kpop. As their official aegyo representative, his "Mansae~" is a trademark and he can often be seen meowing in videos. He enjoys back scratches from Seungjun to fall asleep.Invented blonde hair,chokers and has an ass that won't quit. Had a solo appearance on a special stage with Hani where they covered Troublemaker







*


[

Oh Heejun

]





Name: Oh Heejun
Birthday: May 8th 1996 (Age 21)
Height: 181cm (5'11)
Position: Maknae, Lead Rapper, Dancer and sub-Vocal
MBTI: ENTP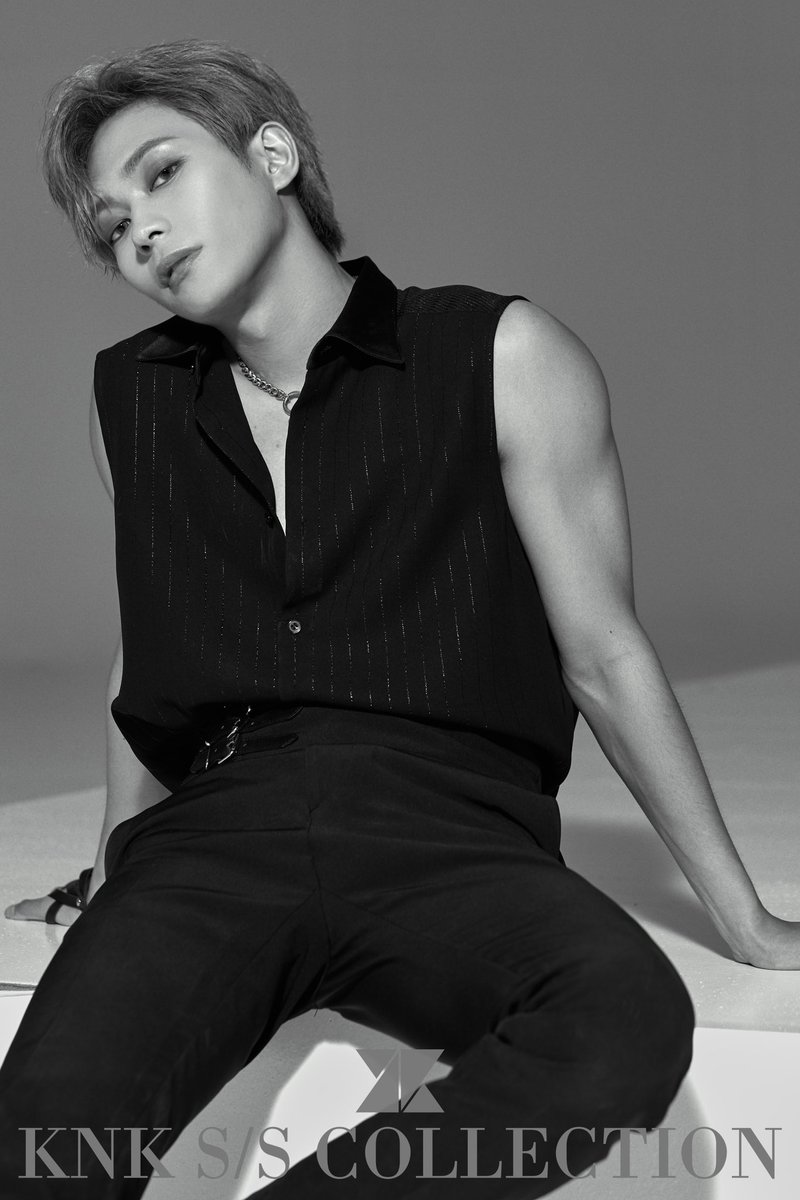 KNK's multi-talented maknae who's just hit his thot phase. Originally an FNC trainee, he was a member of a band and can play guitar. He's KNK's most versatile member having dabbled in songwriting and composing while having solid singing and dancing skills. In most Vapps you'll see him take over as MC and he's the wittiest member in variety. He likes to use his maknae and shortie status to get affection from the others. A frequent tweeter with a love for memes and dogs. Actor Kwak Dongyeon is his soulmate




Former Member


[

Kim Youjin

]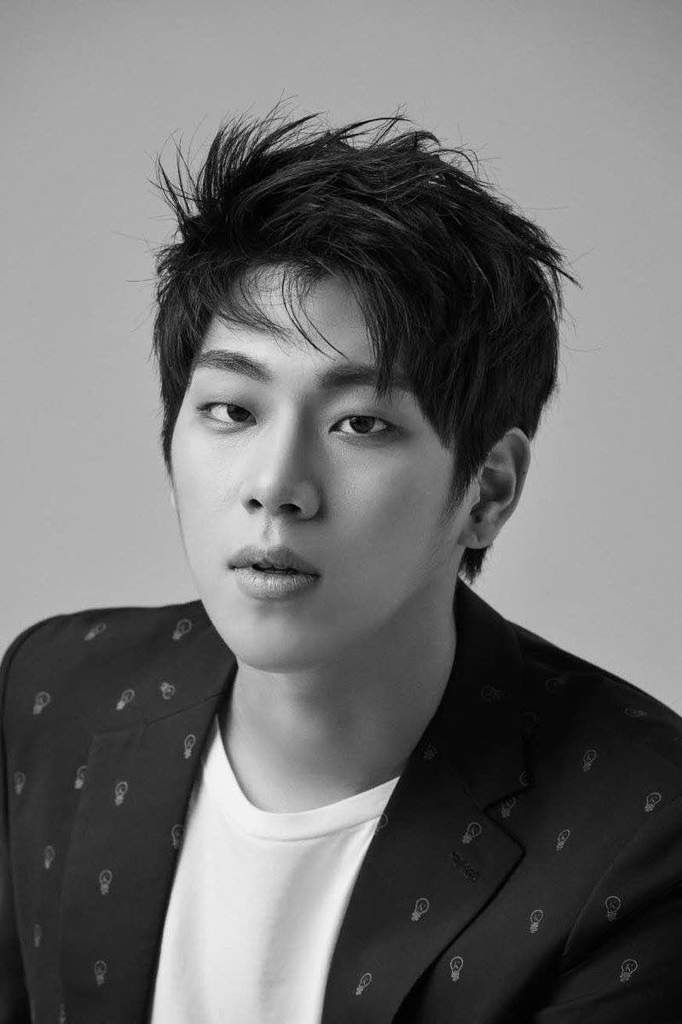 Name: Kim Youjin
Birthday: February 10th 1993 (Age 24)
Height: 186cm (6'1)
Position: Main Vocalist
MBTI: INTJ
Kim Youjin was the former main vocalist of KNK. He went on a hiatus after the Rain comeback due to a panic disorder and need to focus on his mental health, eventually leaving the group after their contract dissolution with YNB.He currently does some modelling but has remained out of the public eye.He remains friends with the other KNK members.




KNK's sound has previousl leaned toward a more old-school kpop feel. They've been branching out into trendier styles and self-composing .Their music is very vocals based given their strength as an ensemble.


[

Title Tracks

]



Knock: This was their debut single. An orchestral masterpiece featuring the iconic caveman dance

Back Again: This song calls to mind early BEAST songs. The hook will get stuck in your head, guranteed

U:This shows the boys trying out a slightly more modern sound with future bass elements.Due to a filming debacle, the official MV was never released.

Sun, Moon, Star: This song marks a new image change for KNK with a softe,r more mature vibe but keeping thier signature vocals

Rain: KNK go broadway.


Lonely Night. Their first comeback with Dongwon.

Sunset (Newest comeback)





[

Covers

]


DBSK's "Love In The Ice" (This cover is what made OP a stan)


VIXX's "Error"



Roy Kim's "Bom Bom Bom"

EXO The Eve




Weekly Idol Rookies Special


Daum My Kiss


The Immigration:


Pops in Seoul:












source: kprofiles, YNBent, KNKOfficialYNB
,-KNK Vapp,-OfficiatlKNK_YNB,-크나큰 ,MBCEntertainment1,2 KNKIntl,康迪的 KNK頻道
, Maria Art
, ArirangKpop: 1, 2 ,3 ,4 ,5 , KNKFanclub, ncanam, KNKFanclub, DonghaeElfsuju, 크나큰:1+ +2, 3+4+ 5 thanhamkoreanmp3, kpophub, inseongstolemyhearteu, Bestu Jang: 1 + 2, KBSCoolFM, KNKSUBSapn-ces, 1+2 KCONTV, sebongie: 1 , seungjuned, shijjy, KNK V-App: 1 +2, exidek v app: 1+2+ 3