6:16 pm - 09/02/2019
X1 Mini-roundup: Debut 1st Week Sales Record, Update on Yohan's injury, Shelved advertisement deals?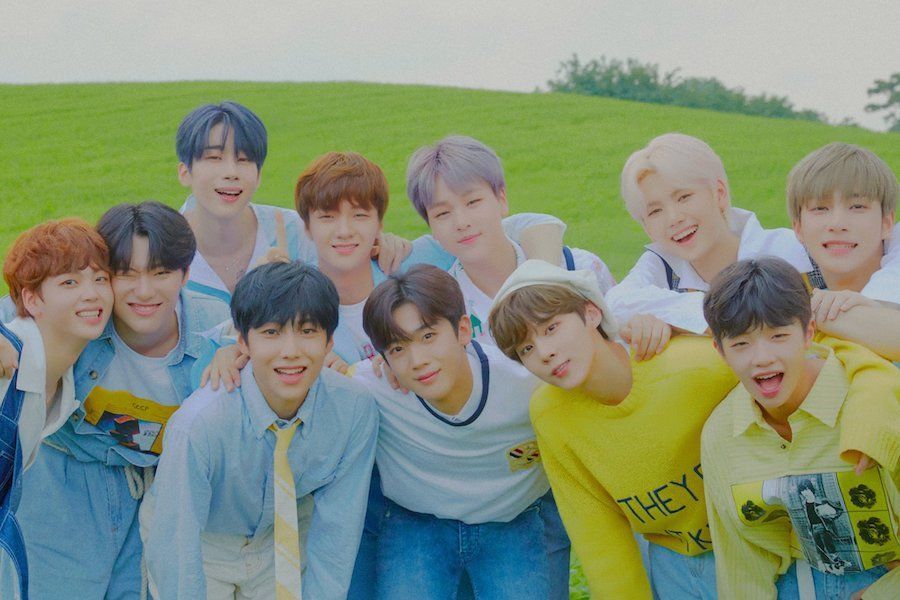 X1 Breaks Group Debut Album 1st Week Sales Record With "Quantum Leap"
X1 has set an impressive record with their debut album!
The "Produce X 101" group's album "Quantum Leap" was released on August 27.
As recorded by Hanteo Chart, the physical album has sold over 416,000 copies so far as of August 30 at 6:40 p.m. KST. On only the fourth day of sales, the album has set a new record for the first week sales of a K-pop group's debut album.
The previous debut album record was set in 2017 by Wanna One with "1X1=1 (TO BE ONE)," which sold about 411,300 copies in its first week.
"Quantum Leap" also has the third highest first week sales of a 2019 album so far, with BTS's "Map of the Soul: Persona" at No. 1 and Kang Daniel's "Color On Me" at No. 2.
EDIT
X1 ranked 7th for the most selling albums group in Hanteo for first week sales with 524,0** units!
it's already updated! X1 ranked 7th for the most selling albums group in Hanteo for first week sales!🎉
Congrats X1 and ONE IT!💚❤ pic.twitter.com/AhvbUBaOX2

— 행복한승연이_s2🌴 (@nabiwoodz) September 2, 2019
X1's Agency Releases Update On Kim Yo Han's Injury
Swing Entertainment has shared an official update on Kim Yo Han's condition.
The X1 member reportedly sprained his ankle during the pre-recording for "M Countdown" on August 29 but returned to finish the recording after receiving emergency treatment.
On August 30, Swing Entertainment released a statement through X1's fan café. It reads:
Hello, this is Swing Entertainment. The following is information about X1's Kim Yo Han's injury.
On August 29, during rehearsals for the pre-recording of "M Countdown," Kim Yo Han unfortunately suffered an injury to his ankle. Because the injury took place late at night, he was taken to the emergency room for emergency treatment. On Friday, he received a more detailed examination at the hospital. The results of the exam showed that he had ligament damage and that the injured area required rest for six weeks.
Kim Yo Han has expressed a strong desire to perform on stage, but performing as normal would put strain on the injured area. Taking Kim Yo Han's health and X1's promotions into consideration, and after discussions with the members, we have decided that all 11 members will take the stage, but Kim Yo Han will perform while sitting in a chair.
We sincerely thank the fans who have expressed their concern about Kim Yo Han's injury and we will do our best so that Kim Yo Han can focus on his recovery and get well as soon as possible. Please continue to support Kim Yo Han and X1. Thank you.
Plans For X1's Advertisement Deals Reportedly Shelved Due To "Produce X 101" Vote Rigging Controversy
Many brands are reportedly hesitant to partner with X1 currently as investigations continue into the alleged rigging of votes during "Produce X 101."
A report by the news outlet Sports Chosun on August 22 stated that according to many sources, most of the discussions related to X1 in regards to advertisements and sponsorships are currently on hold. It's said that before brands will partner with the group, Mnet needs to settle its current issues.
"Produce X 101" is an Mnet survival show in which contestants vied for spots in an 11-member project group. Even before the start of the show, based on the program's brand image, "Produce X 101" secured a considerable amount of its production costs through large-sale advertising meetings, and it was clear that there were plans for future advertisements.
While X1 will be making their debut on August 27 as planned, they're facing a different situation than previous "Produce 101" groups such as Wanna One and IZ*ONE. These groups had many offers coming in for advertisements and photo shoots before their debut, while X1 is dealing with the consequences of the scandal and ongoing investigation regarding allegations that the votes in the show's finale were manipulated.
Several sources in the advertising industry told Sports Chosun, "Everything has been put on hold after 'Produce X 101' ended. We are currently not in discussions in regards to sponsorships or advertisements related to X1." They received the same response from brands that previously worked with groups related to the "Produce 101" series, as well as brands interested in the domestic and international buzz around the show.
A brand representative told Sports Chosun, "We didn't have a contract for advertisements for the debut group or support for the filming of their reality show, but we were in the planning stages. However, we decided not to do it. As you may be aware, there's a negative issue about 'Produce X 101' [the vote rigging controversy]. Nothing is in the works right now. We decided to monitor the situation a bit more."
Another representative stated, "The negative issue has become too large. We have to consider the reactions of consumers. From the point of view of the companies too, they can't easily step up." They added, "It's possible that we may consider it again in the future, but currently our discussions aren't on hold, the plans have been canceled. We don't have plans for a photo shoot either."
Sports Chosun stated that many people have been cautious about partnering with X1 when the "Produce X 101" controversy has even progressed to a legal battle, and they have to consider that advertising is meant for the company's own image. While it's not to the scale of a boycott, there is considerable pressure being felt through inquires from customers and comments on social media.
[theqoo/naver] EXCLUSIVE, X1, FIRST ADVERTISEMENT DEAL SINCE DEBUT ABORTED "GAVE UP ON ADVERTISEMENT MODEL ACTIVITIES"
[
pann-choa post under spoiler
]

T/N: Backstory: The original content of the article posted on Naver was changed. The original article stated that X1 were becoming the new model for Subway and were shooting the commercial.

The article that was just released not long ago was edited (T/N: see below).
These were the original comments (left by nets) saying how they were only gonna eat Subway.

1. [+2850, -303]
X1, I support you. Thank you Subway <3
> +50, -2
King-god-general Subway-nim. I'll make sure to pay you back by choosing X2 as models <3

> +38, -1
Subway, I'll have you everyday

> +26, -1
Daebak, I'll only go to Subway

> 28, -1
X1, let's go higher, let's get abnormal! Congrats <3

>+28, -1
I'll become a VIP member at Subway

2. [+1,938, -138]
Yay! Subway is totally delicious. I'll eat it everyday from now on. Everyone, the Italian BLT is the best. The new menu is delicious too

3. [+1,664, -111]
Oh Subway is f*cking delicious. I'll eat it 3x a day

4. [+347, -36]
From now on, I'll be eating Subway everyday

5. [+225, -23]
From now on, I'll have Subway 3x a day. Subway, I love you. X1, fighting <3<3<3

6. [+192, -18]
From now on, when I go to school, I'll eat Subway from the store next to the station. Then have Subway for lunch at the store next to our school. And go back to the one next to the station for dinner. X1 fighting!! Let's get abnormal

7.
Subway thought well!! I'll eat it everyday. X1, fighting

original post: here

1. Expected from Subway

2. It was proven that their CF deals all went south ㅋㅋ rigged

3. An obvious decision

4. Obvious decision, as expected from Subway

5. This was obvious

6. This is embarrassing ㅋㅋㅋㅋ f*ck

7. Hul

8. I don't like X1 either but the fans must be so hurt

9. This is such a humiliation

10. So humiliating

[naver] EXCLUSIVE, X1, FIRST ADVERTISEMENT DEAL SINCE DEBUT ABORTED "GAVE UP ON ADVERTISEMENT MODEL ACTIVITIES
[
pann-choa post under a spoiler
]
(Edited)
According to Sports Kyunghyang, on teh 1st, it was revealed that X1 recently finished shooting an advertisement with a parent brand. However, the production team has decided to refrain from continuing the commercial promotion and halted the group's advertisement model activities.

original post: here

1. [+2,533, -219]
I'm not joking, they edited this articleㅋㅋㅋㅋ... please just delete this article and write another one~~

2. [+1,880, -129]
Should've taken down the article and write a new one. What are you doingㅎㅎ...?

3. [+1,734, -120
Then you should've deleted this article. Why edit it? Were you sad to be losing the fans' reactions and comments?ㅋㅋㅋㅋㅋㅋㅋㅋㅋㅋㅋㅋㅋㅋㅋㅋㅋㅋㅋㅋㅋㅋㅋㅋㅋㅋㅋㅋㅋㅋㅋㅋㅋㅋㅋㅋㅋㅋㅋㅋㅋㅋㅋㅋㅋㅋㅋㅋㅋㅋㅋ

4. [+1,501, -95]
Just write a new article ㅋㅋㅋ why edit it? All the comments are thanking Subway. The latest article is calling them "model failures". This is giving me a headache and it's seriously ridiculous

5. [+884, -57]
Is this a joke?? Should take down this article and write a new one. Are you in your right mind??

source: soompi
1
2
3
4
,
hanteochart
,
X1 Daum Cafe
,
naver
2
,
theqoo
,
pann-choa
,
nabiwoodz