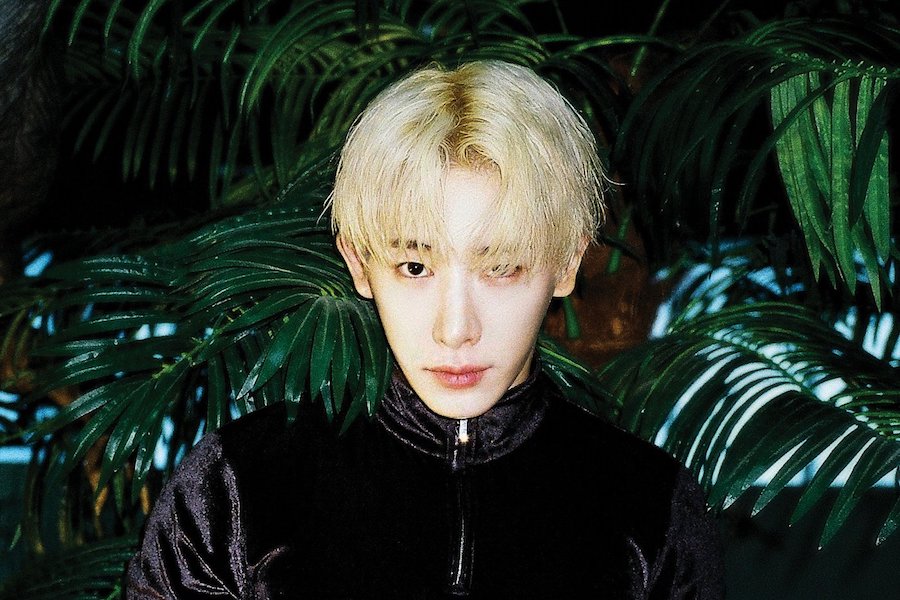 Dispatch Reveals Wonho Purchased Marijuana and Smoked It With Jung Da Eun

Earlier in the day, Dispatch released a report about Wonho, Jung Da Eun, and a man referred to as "Jo" following Wonho's recent departure from MONSTA X.

Jung Da Eun and Wonho co-starred on Comedy TV's variety show "Ulzzang Shidae" (literal title) prior to Wonho's debut with MONSTA X. According to Jung Da Eun, the two were not dating but lived together in 2012.

"Jo" was a director and MD (merchandiser, also known as promoter) of the club Burning Sun and close friends with Jung Da Eun. He is currently at the Seoul Detention Center due to charges of using drugs including marijuana, Philopon (a form of methamphetamine), ecstasy, and ketamine.

In early October, Dispatch met "Jo" at the Seoul Detention Center, who shared his side of a story from 2013. He said, "In October 2013, I was in the dressing room when Wonho and Jung Da Eun were smoking marijuana."

He explained that he called Jung Da Eun to borrow a Balmain belt, and Jung Da Eun told him to take it from her dressing room and gave him the passcode to the house.

Jo: Can I borrow your Balmain belt?
Jung Da Eun: You can, it is in the closet of our house.
Jo: Where are you right now?
Jung Da Eun: I'm at a cafe with a friend. The house password is XXXX. Go find it.

He went into the house and was looking for the belt in the dressing room when he heard Jung Da Eun enter the house. He heard Jung Da Eun's voice and a man's voice, and he heard Jung Da Eun call him "Ho Seok" (Wonho's real name). "Jo" was debating whether or not to leave the dressing room when he heard their conversation about marijuana.

"Jo" shared, "Afterwards, I heard coughing, and the smell of marijuana reached the room. That guy then went outside, and I also exited [the dressing room]."




Dispatch then interviewed Jung Da Eun over two days in October, and she shared her side of the story. Jung Da Eun met Wonho at a cafe in October 2013, and they were meeting for the first time in awhile as they were no longer living together. While at the cafe, Jung Da Eun received a call from "Jo," who asked to borrow a Balmain belt.

Jung Da Eun then continued conversing with Wonho. Wonho discreetly showed her a plastic zipper bag with marijuana from his pocket and asked, "Have you smoked this?"

Wonho: Have you smoked this?
Jung Da Eun: Where did you get this?

They then went to Jung Da Eun's home and smoked it in the living room without knowing that "Jo" was in the house.




Jung Da Eun recalled, "I asked him where he got it, and he said it is a secret, but I assumed who the dealer is because I know someone who smokes it in the same way."

Wonho's phone rang, and he went outside of the house to answer the call. Jung Da Eun was surprised when "Jo" then exited the dressing room. "Jo" asked, "What did you guys do?" to which Jung Da Eun answered, "Pretend you don't know about this." "Jo" commented on the smell of marijuana before asking who Ho Seok is, and Jung Da Eun said that he is a trainee and added, "Just go on and pretend you don't know about this." "Jo" agreed to do so and left the house.

Jo: What were you two doing?
Jung Da Eun: Just pretend you didn't see anything.
Jo: It smells like weed.

In September 2019, two separate police drug investigation units simultaneously carried out internal investigations on Wonho. Unit "A" questioned "Jo" at the Seoul Detention Center and Jung Da Eun, who was at the Gwangju Detention Center at the time. The police deemed their testimonies to be highly credible as they were the same.

Unit "A" waited for Wonho at the airport when MONSTA X returned from their concert in Germany in late September and carried out a voluntary drug test with his hair. When Dispatch asked the police about the drug test, the police said that it is under internal investigation and did not reveal the results.

The statute of limitations for drug use is seven years, so one year remains. According to Dispatch, the police have not summoned Wonho for questioning yet.



More details on Wonho's juvenile record allegations
During its investigations, Dispatch uncovered another past event from Wonho. In 2008, he committed special larceny (theft). The leader of the theft was sent to a juvenile detention center, while Wonho was given probation.

"It is a measure for juvenile delinquents based on juvenile law 4 or 5. Instead of restricting their freedom by sending them to a detention center, they are to lead a normal school life. This is to correct the criminal mentality and prevent recidivism through the guidance and supervision of probation officers." - Quote source not given

It was also revealed by Jung Da Eun that Wonho had some debts, including stolen goods. She said "Things like my Balmain silver jeans, 2 Bang & Olufsen headphones, a Canon 420D camera, an iPod, and more went missing. It turns out, selling posts for these items were uploaded onto a second-hand selling site."

Dispatch was able to speak with "D", an acquaintance of both Wonho and Jung Da Eun. "D" said "I found out that the limited edition items were listed for sale on a second-hand selling site. Da Eun's items were on Joonggo Nara. I checked the seller's phone number, and it was Ho Seok's phone number. I took a picture of the sale listing and told Da Eun."







MONSTA X's agency Starship Entertainment has terminated Wonho's exclusive contract

On November 1, the agency shared the following statement:

Hello, this is Starship Entertainment.

Regarding the report released on [November] 1, Wonho did get his luggage and body examined at the airport after returning from the concert in Germany in September 2019, but it was a simple process, and we were informed that it is part of the customs inspection. We were not notified separately of an investigation, and we were not aware at all of Wonho being under investigation, of the suspicions of marijuana use in 2013, and that an investigation is undergoing.

In relation with this case, the judgment has been made that we can no longer maintain our contract with Wonho and terminated our contract with Wonho as of November 1, 2019.

We feel heavy responsibility for causing trouble to many people due to the current situation, and we will work to fulfill our responsibility until the end so that he can diligently participate in the investigation.

We once again apologize to the fans who sincerely cherish MONSTA X. We apologize.



OP note: Also, I know opinions are divided on asianjunkie, but he has some interesting food for thought on rehabilitation and co, link here.

source: @soompi, soompi, dispatch, naver, asianjunkie, koreaboo