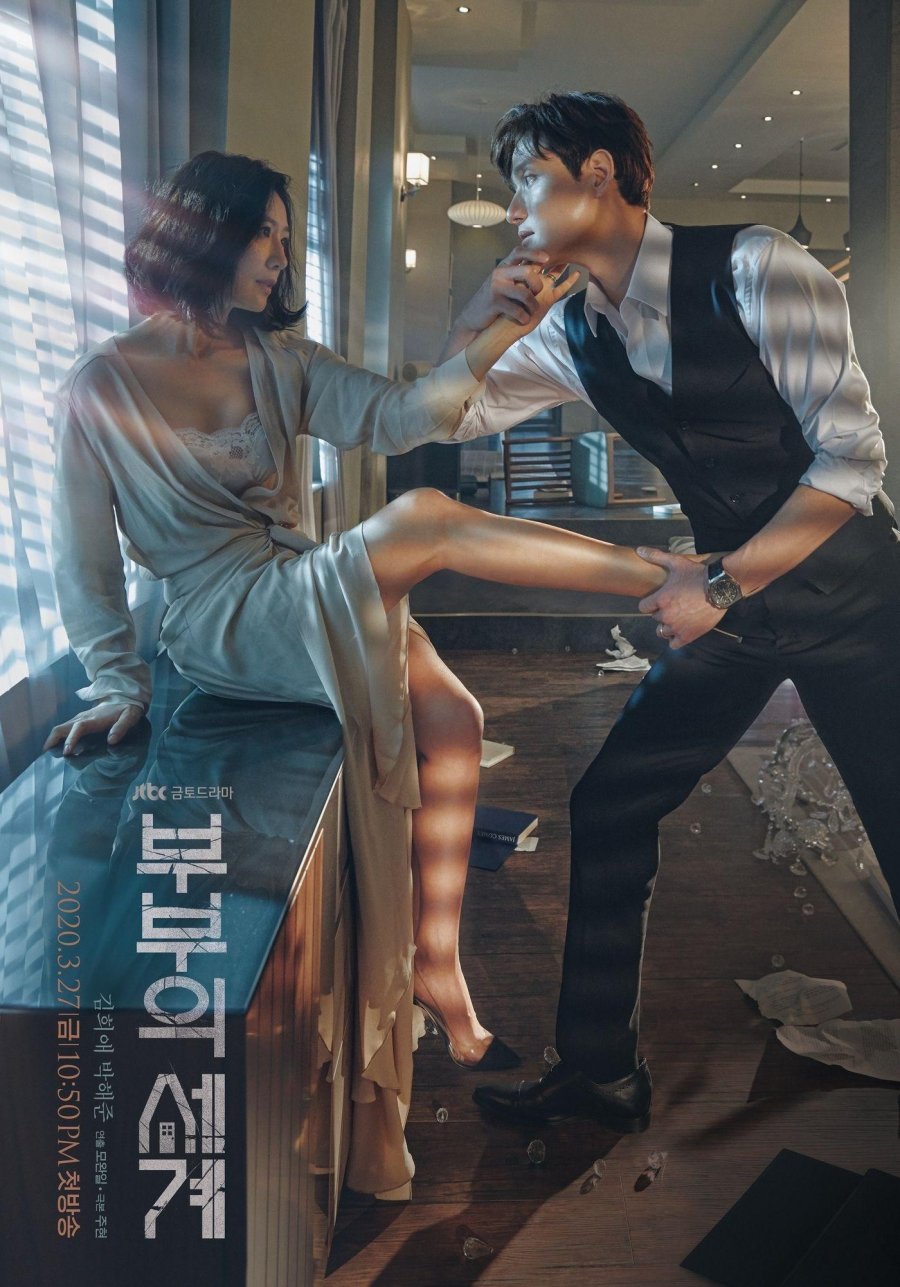 Drama: The World of the Married
Hangul: 부부의 세계
Director: Mo Wan Il
Screenwriter: Joo Hyun
Network: JTBC
Episodes: 16
Release Date: March 27, 2020 --
Runtime: Friday & Saturday 22:50

Cast: Kim Hee-ae (Ji Sun-woo), Park Hae-joon (Lee Tae-oh), Han So-hee (Yeo Da-kyung), Park Sun-young (Go Ye-rim), Kim Young-min (Son Je-hyuk), Chae Gook-hee (Seol Myung-sook), Lee Geung-young (Yeo Byung-gyu), Kim Sun-kyung (Eom Hyo-jung), Jeon Jin-seo (Lee Joon-yeong), Park Choong-sun, Jung Jae-sung, Lee Moo-saeng, Kim Jong-tae, Seo Yi-sook, Lee Hak-joo, Shim Eun-woo

Plot: Ji Sun Woo is a family medicine doctor. She is married to Lee Tae Oh and they have a son. She seems to have everything, including a successful career and a happy family, but she is betrayed by her husband and others. Meanwhile, Lee Tae Oh dreams of becoming a famous movie director. He runs an entertainment business with the support of his wife Ji Sun Woo. Even though he loves his wife, Lee Tae Oh falls into a dangerous relationship.

This is the Korean remake of BBC's hit series Doctor Foster available on Netflix.

Source: All the info was taken from Mydramalist

You can watch on VIU | Dramanice

I sobbed so hard during these two episodes... It has been such a long time since a drama got to me so hard 😭 Anyway, I'm LIVING for the last 2 minutes of episode 14 and the preview of episode 15!

Also Kim Hee Ae not winning a Daesang (especially after that beach scene) is daylight ROBBERY!