In the video you can see 4 members (Via, Chaelin, Doi, Rayeon) of rookie girlgroup Fanatics chatting and reading comments from fans during a VLIVE. The girls are all wearing short skirts and shorts, sitting down. At the beginning of the VLIVE, the camera is closer to the members so that you could barely see the members legs. Around 8 minutes in, the camera is then pushed back a bit, so that the members' legs were seen more. A person (whose face is not shown but was identified by fans as member Sika) is seen giving two of the members a purple jacket, which they gratefully receive.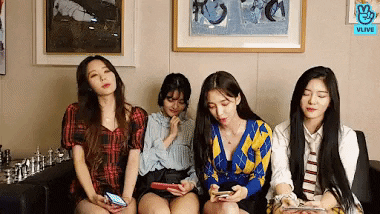 Around 13 minutes in, the camera can be seen dipping lower so more of the legs are seen. Sika then gives the other two members a college jacket to cover up their legs with. Right afterwards, a male voice can be heard saying that they were trying to show the members' legs, and called Sika an idiot for trying to cover them. The members shown on camera are clearly uncomfortable and immediately give back the jacket. Then a very clear slap in the background and a more muffled slap are heard.


이거 진짜 미친 거 아니냐
멤버들 다리 가려주려고 직원이 점퍼 덮어주니까
대표인진 모르겠는데 남자가
보여주려고 그러는 건데 왜 가리냐 바보냐
이러면서 직원 뺨 때림 짝 소리났음
멤버들도 눈치 보고 점퍼 치움
그리고 뺨 때리는 소리 한 번 더 났음
진짜 미친 거 아니냐 이 회사 너무 걱정된다 pic.twitter.com/NVRVBAggrr

— 나비 (@NABI_419) September 16, 2020


First people thought it was a female staff member, but fans say it was member Sika, who can be seen wearing the same white and pink sleeve prior to the VLIVE.


Another clip proofs that Sika was the one who gave the jacket to Doi & Rayeon. Context : They're each drawing a paper to choose the winners who will win Doi's painting. They're currently 7 in the room, Doah, Yoonhye & Sika are behind the camera. Sika, white and pink sleeves pic.twitter.com/iu5B8gZZk3

— 𝐟𝐚𝐧𝐚𝐭𝐢𝐜𝐬 𝟕, 𝟖... ♡🌈 (@ralinfanatics) September 16, 2020
멤버 맞아요~ 제발 제대로 모르면 올리지 마세요 https://t.co/R1GDd31N2v pic.twitter.com/EF1z3CTnx8

— . (@5B6eZ5UdwCx8Fuh) September 16, 2020


You can find the full vlive here.

source: NABI_419, OH_mes, 5B6eZ5UdwCx8Fuh, kyungrismaid, ralinfanatics, Fanatics vlive, koreaboo