The Birthday Boy!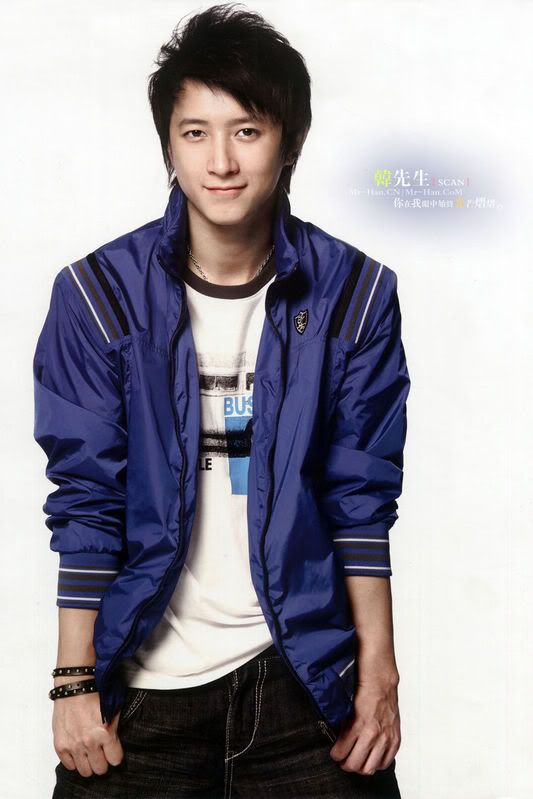 One of the last pictures taken of this increasingly rare Chinese disappearing act, courtesy of SEMIR.
2010-02-09 15:15
Let Love Fly
**
Thank you for the best birthday present! Really touched really~~~Let's all continue to work hard together~~~!!!
I love you all !!!
** The Birthday/Charity Project from GengBaidu.

Title: Han Geng Called on Fans to Join Public Service, Gengfans "Let Love Fly" in 2010
When Han Geng's birthday in 2010 (February 9) is coming up, his fans organize the "Let love fly" charitable activities as the birthday gift for their idol. It is learned that this is not the first time Gengfans organizing such love spreading activity. Since 2007, called on by Han Geng, Gengfans have had the tradition of organizing charitable activities for three years. They want to do their part to pass along love to people who need help.
Although Han Geng is currently in the process of contract termination lawsuit with SME, and he cannot show up for public activities, Han Geng's fans organize this "Let Love Fly" charitable activity for Han Geng's upcoming birthday, as the best birthday gift for their idol, who have been calling on charitable activities for years. This year, Gengfans' charitable activity theme is "Let love fly". They organized these activities at the primary schools in Mashan County, Nanning City, Guangxi Province; in Bazhou District, Bazhong City, and in Pingchang County, Sichuan Province. They would like to do their best to help those children learn and grow healthy and happily.
As a public figure, what Han Geng has brought to his fans is not only splendid performances, but also life values of being sincere, kind, and helpful. Han Geng repeatedly called on his fans at his personal online space, that do not spend money on buying gifts for him, but turn to helping those in need of help. Since 2007, Gengfans began to organize charitable activities as gifts for Han Geng. Every year, Han Geng's fans will collect all of the resources to do their best in organizing charitable activities, making that as the gift for their idol. They hope that everyone could work together to contribute the strength of each person, to pass along such love.
It is learned that Gengfans' charitable activities are not limited to Han Geng's birthday each year. During the South snowstorm as well as Sichuan earthquake in 2008, Gengfans were very actively involved to help. Han Geng's fans said that they will continue to spread love by carrying forward these activities, and they also hope that more caring people would join in these charitable actions, using fan group's force to support public services, to spread love, to contribute a heart of love to more people who are in need of help.
Source:
Sina
; translation @
forhangeng
Source:
Han Geng/韩庚's Cyworld
Credit:
eunmi/은미남~☆ @
sj-world.net
Happy 26th birthday (28th in Korea), Han Geng! Here's hoping that the current mess solves itself asap for the sake of everyone involved. I also hope you're planning on calling a certain sworn brother whose birthday fake one but the one he celebrates nonetheless is a day after yours. To wish him a happy b-day, at least. :'(