Henry visited his baidu today (or tomorrow, depending) and revealed a bit of info about the Super Show and SJ/M's future for the fans to mull over... Gづinsanity from baidu was kind enough to translate Henry's adorable pinyin to simplified Chinese, so I was able to re-translate it to English with the help of
doraichan. ♥







大家真的对不起!
我好久没来跟你们说话...
最近出了一些事情所以很忙...
对不起!
我也想你们了!!
真的!!!
你们最近好吗?
琴弦还是喜欢我吗?

I'm really sorry everybody!
It's been a long time since I came here to chat with all of you...
Some things came up, so I've been very busy...
Sorry!
I thought about all of you!!
Honestly!!!
How have you been?
Strings still like me?







我现在在台湾!明天有我们super show 2!
我在super show 2有一个新的"SURPRISE"给大家!

惊喜 惊喜(孩子拼错了)

Right now I'm in Taiwan! Tomorrow's our Super Show 2!
And in Super Show 2 I'll have a "SURPRISE" for everybody!

* SURPRISE, SURPRISE, SURPRISE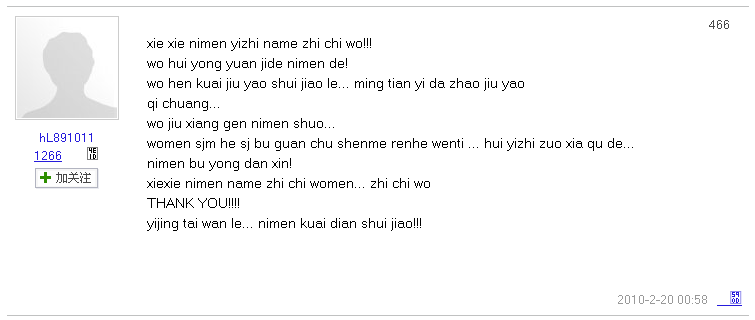 谢谢你们一直那么支持我!!(妈的那么遭我看成name!差点没反应过来)
我会永远记得你们的
我很快就睡觉了...明天一大早就要
起床..
我就想跟你们说...
我们sjm和sj不管出任何问题会一直做(走??)下去的...
你们不要担心!
谢谢你们那么支持我们。。。支持我
THANK YOU!!!!
已经太晚了。。。你们快点睡觉!!!

Everybody, thank you for always supporting me!!
I will always remember you!
I have to go to bed soon... Tomorrow I'll have to
wake up early...
But I want to tell you all...
Regardless of any problems SJ-M and SJ will face we'll always keep moving on...
So don't worry!
Thanks for supporting us... Supporting me
THANK YOU!!!!

It's already so late... You guys need to go sleep!!!






OK 好了...
我要下了
去睡觉...
你们一定要看我明天的 BIG SURPRISE !一定会让你们很惊喜的...OK?
掰掰
我爱你们
晚安!新年快乐....
OOHH!还有。。。。也想跟别的FANSITE (han guo de...zhong wen wang...lovesjm...concerto...endless...henrylau.cn...henry cyworld!....etc...)说谢谢你们!新年快乐!恭喜发财...!!!我爱你们!

OKOK...
I'm going to
sleep now...
Be sure to watch (me) tomorrow, BIG SURPRISE! I promise you'll definitely be pleasantly surprised... OK?
Bye bye!!
I love you guys
Good night! Happy New Year...
OOHH! There's... also other FANSITES (han guo de ... zhong wen wang... lovesjm.... concerto... endless... henrylau.cn... henry cyworld! ... etc...) I would like to thank! Happy New Year! Kung Hei Fat Choy...!!! I love you!
OKOK
BYEBYE!!!



HELLO!!! @ Henry's Baidu
Pinyin to Chinese by Gづinsanity

* Henry made a typo here. Instead of JING XI he wrote JIN XI / thanks to
doraichan for catching my mistake and explaining about the typo ♥

I need a Henry (and a Zhou Mi) tag... ):