Follow up to this post

Korean media is on fire with news about Han Ye Seul and her new boyfriend.

Han Ye Seul has addressed "drug" rumors and allegations her boyfriend is a "male escort"

On the 2nd, Han Ye Seul wrote a lengthy post on Instagram and stated, "I wanted to tell you this with my own mouth. My boyfriend (Ryu Seong-jae) was a theater actor and we met at a karaoke bar. Many people think a host bar and karaoke bar are the same but karaoke was the only place that was open."

"I'm someone that received a lot of love early on and never had the chance to do what I wanted since I was young. As time went by, the more I went to places I liked, the more I didn't want to hide what I like. I met my boyfriend for the first time a few years ago when I went out with acquaintances. It was last September when we felt that spark of love. That's also when he quit his job. That's it."

"I heard there's a victim of my boyfriend mentioned but it's not true. I had a long conversation with my boyfriend and he denied it. I want to believe him rather than rumors by people I've never met."

"As for rumors I gave my boyfriend a new Lamborghini, yes, that was a gift from me. He doesn't have a car to move around so I shared my keys with him so that he can ride comfortably in his own car. I can't guarantee how long we'll be happy because I can't predict the future. I will live in the present.

"I hope police and prosecutors can reveal what really happened. Because, its a big case, it's not something I can address freely but I'm NOT Burning Sun actress. I was so angry and felt it was unfair and thought to resolve the rumors with a lawsuit but people around me advised me to donate the money to a good cause instead. Call it image washing or whatever but I'm just grateful for the love you have given me.

"PS: To respect the people that care about me and those who are with me from now on any false facts and malicious commenters will be sued! Please believe in me and watch ♡."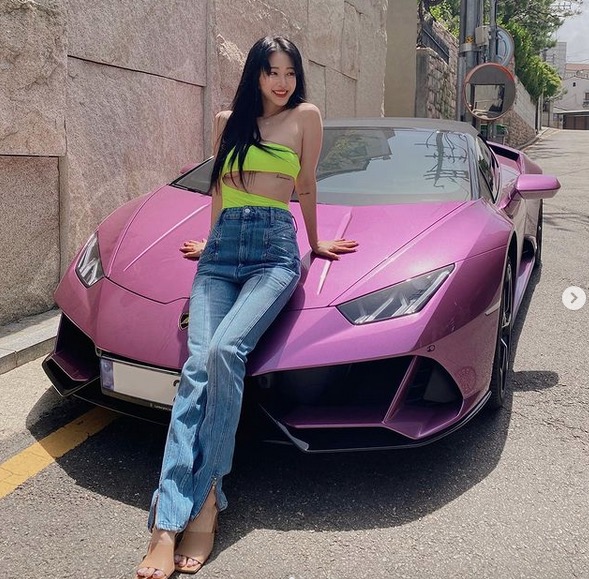 Han Ye Seul has responded to comments from netizens about her Lamborghini gift to her boyfriend

On the 4th, Han Ye Seul posted a photo of her leaning against a purple Lamborghini Huracan on her Instagram wearing unconventional fashion catching attention. What really caught the eye was the foreign car she was leaning against who's price had soared to 500 million won.

Han Ye Seul then clarified rumors in a direct reply to a netizen that asked, "Did you really buy your boyfriend a Lamborghini. Is that what you're capable of?" She replied, "It's my car so who cares whether or not I gift it to my boyfriend."



Rumors that actress Han Ye Seul slapped Jennie are attracting attention

On the 5th, Han Ye Seul replied directly to netizens on her Instagram and addressed rumors about her boyfriend Ryu Seong-jae, 'Burning Sun' and Jennie.

To a fan comment asking "please file a lawsuit and reveal the truth." She replied, "a lawsuit will take more than two years so wait until then."

When asked, "when will you explain Burning Sun?" She replied, "The aesthetics of waiting. Please wait a little bit."

Another netizen expressed concern writing, "Don't get scammed like Nancy Lang was. And not everyone around you is an anti. I'm just asking this as a fan."

Han Ye Seul replied writing, "I've dated a lot of people but he's the person that makes me happy. I'll protect my man. Who's to say another guy is better? Outside appearances aren't everything. When you're in love, these things don't mean anything. The person that makes you the happiest is the best person. There are moments where you have to take things head-on. Life is like that. Kim Yong-ho is someone who's good are manipulating facts. If you don't like it, just walk on, get out of my way."

When asked if "Is it true that you slapped Jennie?" Han Ye Seul replied, "I've never met Jennie."

On the 3rd, Kim Yong-ho mentioned Blackpink's Jennie and YG producer Teddy dating rumors from 2017 and revealed, "Han Ye Seul and Teddy dated too but when Teddy fell in love with Jennie, Han Ye Seul slapped Jennie on the cheek."

sources: Joongang Ilbo, Sports Seoul, XSports News, dailynaver 1, 2, 3, @han_ye_seul instagram