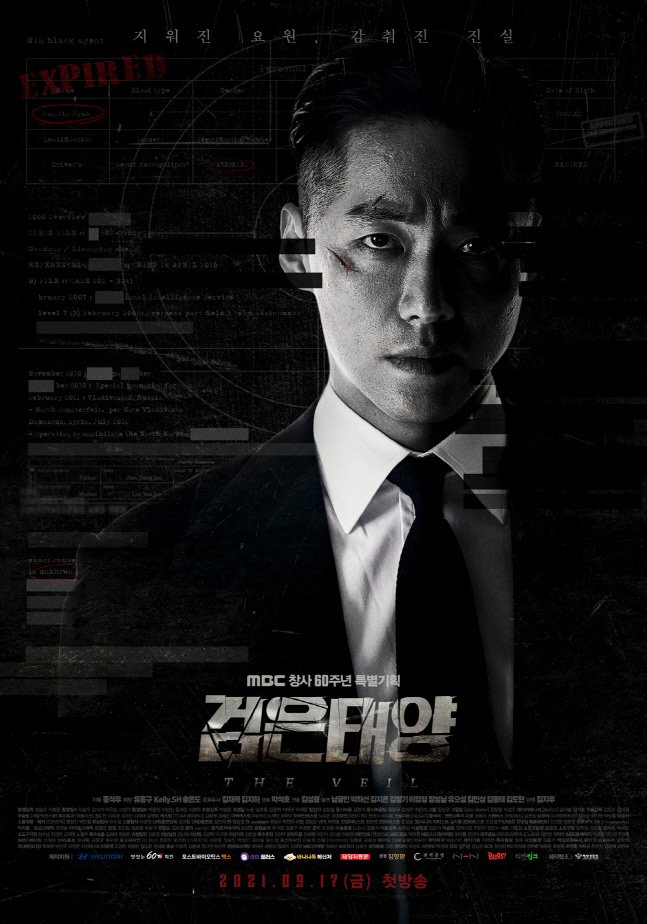 Drama: The Veil
Director: Kim Sung Yong
Screenwriter: Park Seok Ho
Genre: Action, Thriller, Mystery, Crime
Network: MBC
Episodes: 12
Airtime: Sep 17, 2021 - Oct 23, 2021
Aired On: Friday, Saturday

Cast: Namgoong Min (Han Ji Hyuk), Park Ha Sun (Seo Soo Yeon), Kim Ji Eun (Yoo Je Yi), Jang Young Nam (Do Jin Suk), Kim Jong Tae (Kang Pil Ho), Kim Do Hyun (Ha Dong Gyun), ...

Synopsis: A Korean-style spy investigation show with a story about a top National Intelligence Service (NIS) agent. In his endeavor to uncover the internal traitor that brought him to his downfall, he confronts a much bigger enemy behind the organization. Han Ji Hyuk is the top field agent in the NIS. He is held in awe by his colleagues for his perfect record and skill at completing missions. He had been driving an organized crime

syndicate into a corner when he vanished off the face of the earth, but he returns in the most horrific state and doesn't remember anything that happened within the last year. With his memory lost, Ji Hyuk gets assigned to a team with minor tasks. While on the team, he meets Je Yi, who is delicate and heartwarming but with a painful past. Seo Soo Yeon is the head of team 4 of the Crime Information Center who is excellent at performing her duties and solving cases. She has great affection for people, and she especially cares for her teammates.



You can watch it on Kocowa and Viki

Source: Drama info and image from MyDramaList

The NIS here doesn't inspire confidence at all, they are more interested in stepping on each other than protecting the country.
Han Ji Hyuk! You've been told several times not to trust anyone!!