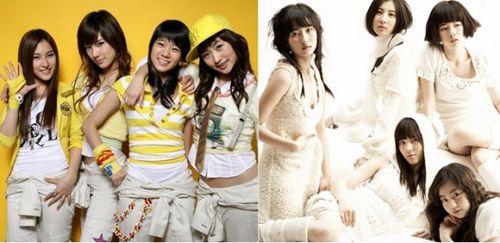 They used to be good…kinda.

Looking at two flourishing girl groups, Kara is about to have their first ever mini-concert on their reality program "Kara's MetaFriends," and the Wondergirls are about to have their first official fan meeting and concert in America. Both only debuted in early 2007 and have gained a lot of popularity with catchy pop songs: Kara had "Pretty Girl" and "Honey," while the Wondergirls had their retro trilogy. Yet, even with all their success, they get a lot of flack for being girly groups with questionably talented members. Surprisingly, they weren't always that way.

Under DSP Entertainment, Kara used to be just a four member group consisting of Park Gyu-ri, Han Seung-yeon, Nicole Jung, and Kim Sung-hee. Debuting with an image of independent, fierce young women, they were touted as being "Fin.K.L 2" for coming from the same company and their shining potential. Kim Sung-hee really carried the group with her strong vocals, but her participation in Kara was contingent upon her grades. Unfortunately in early 2008, she failed her college entrance exams, so her dad forced her to quit Kara. She was replaced by Kang Ji-young and Gu Ha-ra, and they downgraded their image from being strong females to being bubbly and innocent.

Under JYP Entertainment, Wondergirls consisted of Sun-ye, Ye-eun, Sun-mi, So-hee, and rapper Hyun-ah. They debuted with the song "Irony" from their mini-album "The Wonder Begins" as foxy school girls who won't take crap from guys, and it did modestly well. Hyun-ah was plagued with chronic gastroenteritis, so her parents pulled her out of the group in the summer of 2007 and the Wondergirls continued performing "Irony" without her. Just before they were about to perform the comeback stage with "Tell Me," Good Entertainment sent JYPE their trainee Yoo-bin as Hyun-ah's replacement.

Looking at past performances of the old Kara and Wondergirls roster, all the girls showed more vocal prowess than they do now, especially Wondergirl's So-hee and Sun-mi. The songs that both groups do now focus on image and catchiness, rather than promoting the actual capabilities of their members.



Old Kara "Break It" Live



Current Kara "Pretty Girl" Remix Special Stage



Old Wondergirls "Irony" live



Current Wondergirls "Nobody" live




Source:popseoul

This is probably old news for a lot of members, but I figured it couldn't hurt to post. With all the 2ne1 hype, I remember several members were discussing Kara's old image. I don't really follow either group, but it was interesting to see the difference.