U-Know Yunho Admits "Every Performance, I Worry That I'll Get Hit By Changmin"

TVXQ's U-Know Yunho admitted that he would get nervous everytime he got on stage with Choikang Changmin because he worried he might get hit.

U-Know Yunho, who appeared on 'Happy Together 3' on the 10th, confessed that, "When we go on stage to perform our new song 'Why (Keep Your Head Down)', there's a part in the performance where it looks like Choikang Changmin and I are fighting. Choikang Changmin would hit my chest with no mercy during the actual performance though he hadn't done anything of the sort while we had been rehearsing. It hurt a lot."

Choikang Changmin's action hurt so much that U-Know Yunho had to go up to him and ask, "Changmin, please don't hit me too hard."

The younger member agreed to U-Know Yunho's plea and began pushing the latter's chest instead of hitting it. But U-Know Yunho admitted that he still feels nervous whenever he gets on stage to perform the song.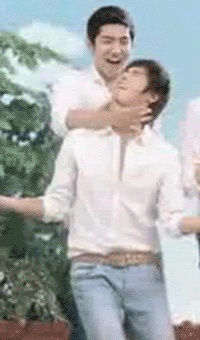 mind. in. gutter.



tohosomnia | mdtoday + Yuaerubi
Translation credits: jeeelim5@tohosomnia.net