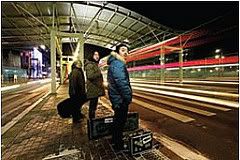 Already among the top underground bands in South Korea, Seoul hard rockers Apo18 are ready to take the proverbial 'next step' in their career.
During their two-and-a-half years together, Apollo 18 have released three albums, been crowned the Hello Rookie 2009 winners and Rookie of the Year at the 2010 Korean Music Awards, gigged in clubs throughout the country and at the likes of the Jisan Valley Rock Festival and the Incheon Pentaport Rock Festival, and have played in Japan.
They will soon be able to add an American tour to their list of accomplishments. The post-hardcore and post-rock hybrid trio has been invited to perform at the 2011 South by Southwest (SXSW) Music and Media Conference in Austin, Texas.
"SXSW is like a huge musical playground," says bassist Kim Dae-inn excitedly. "Korea is a small playground. We want to go and play on a bigger playground."


Now in its 25th year, SXSW will run from March 16–19. The renowned event's 2010 edition included 2,000 bands from nearly 50 countries showcasing their talents on 80 stages in downtown Austin. With so many acts, it is not surprising that SXSW attracts thousands of music industry staff from all around the world.
"We'd ultimately like to talk with some record labels from America and other countries," said guitarist Choi Hyun-seok. "Making new friends is very important to us, too. We want to meet more bands and music fans from all around the world."
"We also want to drink Texas beer and see lots of shows," added drummer Lee Sang-yun with a smile. "There's going to be so many great bands there. We definitely want to set aside some time for fun."
The group members are brainstorming ways to advertise at SXSW. They plan to make 500 Apollo 18 iPhone cases to hand out for free at the festival. They are also creating a promotional compilation CD featuring tracks from their "Red," "Blue," and "Violet" Korean records. With so much to do, are they concerned about having to perform and mingle while being jet-lagged?
"We won't be tired," says Choi. "This is our first time to travel to America. We are really nervous, but we're ready. My mind is always awake and energetic. I want to show everyone exactly what we can do."
"I'm a little scared of the plane ride," Kim said. "Once we land in Texas, though, I have no worries about us being able to do a great job."
After SXSW, they will play a week's worth of concerts in surrounding areas. Although their full itinerary has not been finalized, Apollo 18 confirmed they are appearing at Arkansas's Valley of the Vapors Independent Music Festival.
The costs of plane tickets, an American entertainer visa, and van and equipment rentals are very high. Turning to local music lovers for help, Apollo 18 will host a Seoul fundraiser gig on Feb. 26. There will be live sets from some of the city's premier bands and Canadian bellydancer Eshe and her Navah troupe.
In April, Apollo 18 will begin writing and recording their next album. Viewing the awesome, acclaimed "Red," "Blue," and "Violet" discs they issued in 2009 and early 2010 as experiments, they consider their upcoming full-length their first official release.
"We want to put our new record out in May or June," offers Lee. "We aren't sure what it will sound like."
"I think it's going to have a heavier sound, but we don't know yet," says Choi. "It's going to be strongly influenced by what we experience during our American tour."
For more info on shows, visit: www.koreagigguide.com

Guys need your support, music lovers and rockers!
On their facebook guyz are asking for help in staying somewhere in US and other...





Sourse: korea-blog