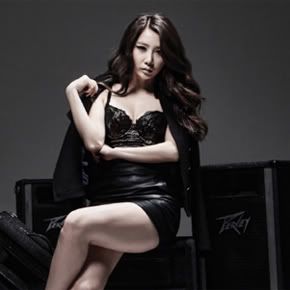 Girl group members of Brown Eyed Girls, Miryo and Jea, and JQT are the latest models for MAXIM Korea in this month's magazine release. Miryo and Jea show off their body figures, while JQT shows off their cute, but sexy side.

With the concept of "The Muses", Jea wears a tight, black leather mini-dress and a black jacket on her shoulders as she poses charismatically sitting on top of giant speakers. Miryo, on the other hand, gives more of a cutesy feeling with her hair tied up and light makeup. Unlike Jea's more sexy outfit, Miryo wears a red, off-shoulder sweater with black-striped gray pants.

Four-member girl group JQT is also featured in this month's magazine. In the released photo, the JQT members are given brighter clothing compared to the Brown Eyed Girls members. All of the JQT members are wearing short-shorts and give off a young and cute aura.

The editor in charge showed his satisfaction towards Brown Eyed Girls' shooting and said, "The atmosphere of the photoshoot was very good."

MAXIM Korea asked Jea and Miryo, "Who is your favorite female vocalist?" to which they answered, "Lee Hyori and Uhm Junghwa. They both build strong images for themselves." When asked which male idol they'd like to collaborate with, Jea answered Big Bang's Taeyang, while Miryo answered, "He's not an idol, but Tiger JK."








Sources: OSEN, TheMaximkorea, MAXIM Korea, and Newsen 1, 2
Credit: koreaboo
Shared by: Love Is...@4everlastings


Looking for HQ scans plox.

Also, there are rumours that Ga-In and Narsha were at Big Bang's concert on the 25th. Narsha was also spotted at the airport going... somewhere! I would love Miryo to collaborate with Tiger JK... or Tasha. Or both.