Old news will be in italics.

Omona! Yes, you read that correctly, [as previously posted] EunJung will be getting married on MBC's We Got Married (WGM) by the end of this month! She and her "husband" will be replacing the Goguma (Sweet Potato) Couple, following the departure of CN Blue's leader, Jung YongHwa and SNSD's maknae, SeoHyun from the show.




On March 30th, singer Kim Jung Min (one of the MCs for WGM) tweeted that he was moved to tears while watching the last episode for the Goguma Couple on the show. He was also touched when SeoHyun personally came into the studio later that day, to give her thanks to the show's crew members. So, for fans of WGM, do remember to catch the last episode of the Goguma Couple this weekend! It will definitely be a bittersweet ending for this make-believe coupling.

Following that, T-ara's Ham Eunjung will be joining the We Got Married series together with actor, Lee Jang Woo. For those of you who do not know of Lee Jang Woo, he was a member of the SM project group, 24/7 with Hyun Woo (currently Music Bank's MC) as well as another former member of Trax and SM actor, Noh Min Woo, back in 2009. He is currently in the drama Useora Donghaeya (Smile, DongHae).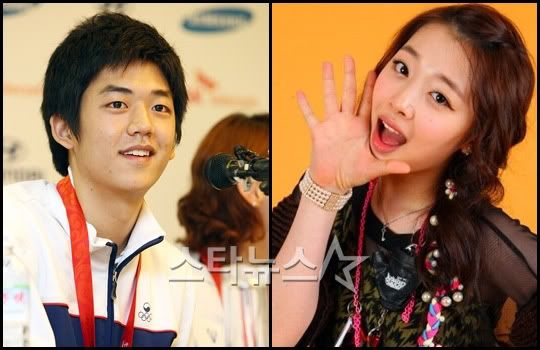 Meanwhile, Korea's most popular badminton player, Lee Yong Dae* will also be making a surprise appearance on WGM with f(x)'s Sulli in an upcoming episode for the Khuntoria couple, to be aired at the end of April. Eye-witnesses claimed that the couple together with their special guests were spotted filming in Dongdaemun and having an enjoyable time together. This was also backed by a tweet from Judo athlete, Wang Ki Chun on March 29th. [Sounds like a double date to me.]

So, looking forward to the next episode?
*EXTRA: Just got linked to this today, Lee Yong Dae's messaging account hacked.

Source: K-popped!.